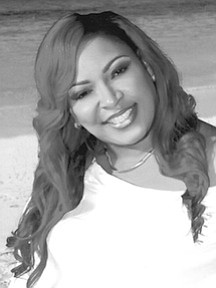 Tina Zackel Alvera Strachan-Freeburn
unknown - unknown
Funeral Service for the late Tina Zackel Alvera Strachan-Freeburn age 38 years of Golden Isles Road will be held on Saturday, February 11th, 2017 at 11:00 a.m. at Potential Church, J. F. Kennedy Drive. Officiating will be Pastor Eric Wallace. Interment will follow in Southern Cemetery, Cowpen and Soldier Roads.

Tina memories will for be in the hearts of her Husband: Tamar Freeburn; Children: Angelique Stuart, Taneil Strachan, Dominique and Donovan Ferguson; Step Children: Lemardo and Nickolas Freeburn; Son-in-law: Charles Stuart Jr.; Grandchildren: Demetrion Ferguson, Charvaz Stuart, Sa'myri Lewis; Father: Alvin Strachan; Grand Father: Eddie Strachan; Brothers: Lionel Storr and Deargo Ingraham; Mother-in-law: Pauline McIntosh; Father-in-law: Leonard Freeburn; Sisters-in-law: Akira Storr, Andreen, Sheniqua and Johan Freeburn, Kerrian Seaton; Aunts: Geletha Archer, Christian Maingot, Cindy Neil, Bernadette (Bunny) and Glenda Storr, Joycelin Rolle, Beverly Hamilton, Ruth Hamilton, Haizel Hamilton; Uncles: Ricardo Riley, Gary Alexis, Edward, Charles and Mario Strachan, Charles, Calford and Sherlock Hamilton, Jackson, Kenneth and Carol Storr, Sly Roker, Odel Neil; Nieces: Loren, Anastacia, Y'Andra, Skylecia, Trudia, Tashika, Dominique, Anore; Nephews: Akeem, Wayne, Ayson, Timon, Ricardo, Leonardo, Nicardo; Cousins: Quincy, Odel, Fredrick, Lemorn, Junior, Dina, Shantell, Peggy, Lorriane, Alice, Terrance, Jarry, Monalisa, Allington, Kneeley Jr., Seeby, Sasha, Anischka, Latiska, Talya, Ricardo Jr, Jamal, Bryant, Jasmine, Ricara, Ashley, Lashanda and Brandin; Godchild: Janae Adderley; Relatives and Friends: Shavon Moss & Family, Lashanda Albury & Family, Linda Adderley & Family, Samuel Lewis Sr.& Family, Samuel Lewis Jr., Olney Higgs & Family, Adamae & Francis Guilliume Family, Michelle & Harley Davis Family, Rickey & Edith Brown Family, Ray & Geraldine Pratt Family, Peg and Judy Martin Family, Sasha Martin, Burket & Louise Dorsett &  Family, Nathalie Strachan & Family,  Bricemae Gibson, Staff Of Grounds and Beautification, Theresa Ferguson & Family, Ashley Ferguson, Maryann Lindsay & Family, Latoya Charlton & Family, Elizabeth Rolle & Family, Denver Hanna & Family, Anthony Cartwright & Family.

Viewing will be held in the Irenic Suite at Restview Memorial Mortuary and Crematorium Ltd., Robinson and Soldier Road on Friday from 10:00 a.m. to 6:00 p.m. and at the church on Saturday from 9:30 a.m. until service time.