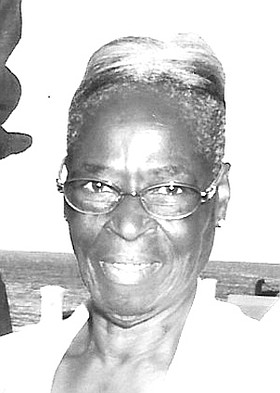 Alice Mae Ferguson
unknown - unknown
Funeral Service for Mrs. Alice Mae Ferguson, age 79 years, of Washington Street, and formerly of Pinefield Acklins, will be held on Saturday, February 25th, 2017, 10:00 a.m., at Evangelistic Temple, Collins Avenue. Officiating will be Dr. Vaughan Cash, assisted by other ministers of the Gospel. Interment will follow in Woodlawn Gardens, Soldier Road.
Alice was predeceased by her: two grandchildren: Princess and Alexander; two brothers: Rollington Miller and Rev. Dr. Elkin Symonette; three sisters: Elizabeth Miller, Carla Rolle and Mavis Shepheard.
Left to cherish her memories are: Five (5) children: Ralston Ferguson, Min. Shervin Hanna, Min. Kingsley Hanna, Prison Sargent Stephanie Minns and Karen Minns; Two (2) Sons-In-Law: Thomas Minns and Prison Sargent Micheal Minns; Four (4) Daughters-In-Law: Margaretta Hanna, Brenda Hanna, Janet Hanna and Elizabeth Ferguson; Thirty-Eight (38) Grandchildren: Pachridee & Dwayne Ferguson, Patrice & Garvin Carey, Jeffrey & Lakera Moxey, Sean & Nadia Minns, Kaylisa & Javon Collie, Jamallah & Valerio Rigby, Shivonne & Henry Taylor, Alrena and David Dantler, Kay & Zchavago Roxbury, Brian, Sherwin Jr., Philano, Tanya, Aniska, Chiquita, Kelsey, Karissa, Kerzner, Kingsley Jr., Javonia, Jaden, Keyon, Thomas Jr., Clifford, Alice, Elseia` Whitner; Forty-Two (42) Great-Grandchildren: Lashonda, Jed, Jerome Jr., Kendera, Garvinisha, Patricia, Grace, Destiny, Gabriella, Wilfred, Antoine, Peyton, Zchavargo, Jacob, Kaithlyn, Henry Jr., Shamar, Jocobi, Schuyler, Sijourney, Alexia, Zion, Livinae, Deangelo, Alexandria, Rasean, Shawn (China), Seaneka, Tiavonia, Sean Jr., Seantino, Seanalee, Seandeia, Keymani, Joshua, Jasmine, J'Kia, Jeff, Rideja, Jamari, Judenique and Aciano; Three (3) Great-Great Grandchildren: Ambreon, Liam and Philano Jr.; two (2) Brothers: Solomon & Edward Miller; five (5) sisters: Rev. Marietta Moss, Francina Dawkins, Doris Rolle, Hazel Davis, Carmetta Bodie; One (1) Brother-In-Law: Eden Moss; Two (2) Sisters-In-Law: Inez Symonette and Ernestine Miller; Nieces and Nephews: Min. Pachley & Reginald Forbes, Rev. Franklyn & Antoinette Moss, Min. Annamae & Edley Sargent, Rev. Lorenzo & Rosa Moss, Alerine & Min. Leon Miller., Dr. Nadia Miller-Edgecombe, Dr. Petra Forbes, Alexandria Demeritte, Deborah & Inspector Rodrick McKenzie, Evangelist Patricia, Melverlyn and Melvern Symonette, Sharine Charlton, Renea Saunders, Alexander Jr. and Rev. Dr. Michael Symonette, Joel & Holly Miller; Edith Rolle, Ethel Barr, Captain Kendall & Ruby Ingraham, Gregory Ingraham and numerous others; Also a host of other relatives and friends including Playdell Newton, The Moxey Family, The Bridgewater's, The Cooper Family, Pat Jolly & Family, Patricia Lewis, Millicent Munroe, Priscilla Dean, Patisamae Ferguson & Family, Rosanna, Shelia and Agnes Miller, Elder Barbara Edwards and Vernita Clear. Special Thanks: The Entire Evangelistic Temple Family, Senior Pastor Dr. Vaughn Cash, Pastor Dave Cash, Pastor Bradick Clear and other Ministers of the Gospel and Clergymen, Ms. Larleen (Alice Care Taker), Dr. Farquharson & Medical Team, Dr. Harrold Munnings & Team, Special mention of Dr. Ashton Ferguson at PMH; the Staff of PMH Female Surgical II and Female Medical I, Wings As Eagle Redemption Ministries Family; The Ebenezer Mission Baptist Church family and the Pine Field Association Choir.
Relatives and friends may pay their respects at Cedar Crest Funeral Home and Crematorium Ltd, Robinson and Baillou Hill Roads, on Friday from 12:00 noon to 6:00 p.m., and at the church on Saturday, from 9:00 a.m. until service time.