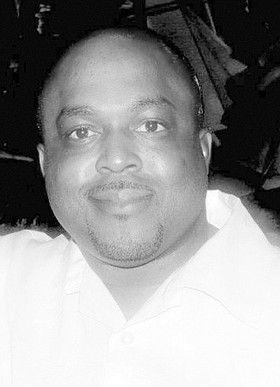 David James Forbes
unknown - unknown
Funeral service for
David James Forbes, 44
a resident of Linkford Road, will be held at St. Cecelia's Catholic Church, Coconut Grove, on Sturday 25th February, 2017 at 10:00 a.m.  Officiating will be Monsignor Simeon Roberts & Fr. Noel Clarke.  Interment follows in Catholic Cemetery, Tyler Street.
Left to cherish memories of David's life and legacy are Wife:  Grisnely; Sons: Christopher & Nazair; Father: Deacon Raymond Forbes; Siblings: Canon Curtis Robinson (Myrtle), Valerie Missick (Matthew), Herbert Oembler (Shaunelle), Barry Forbes (Jane), Cecilia Forbes- Levarity (Hartley), Honorable Arnold Forbes (Anissa), Patrice Forbes-Hall; Mother-in-law: Eulalia Diaz; Nieces & Nephews:  Gary, Rouen, Taminique (Elijah), Canovia (Ravanno), Tabori (Tiffany),Thormaine, Aulenna, Tronn, Rashad, Baron (Kelly), Cathanina, Alexandria, Ashley, Deandre, Trenton, Jathan, Amina, & Aaron; Grandnieces and Grandnephews:  Garanique, Ghareish, Gary, Torrae, Joshua, Tristan, Jaden, Kayla, Celeste, Navi & Garion; Aunts:  Agatha Butterfield (Lester), Eliza, Freda, Lois & Clementina Seymour; Grand Aunts: Inez Dorestant & Hazel Sturrup; Sister-in-law: Keirys Diaz; Cousins:  Rodney, Douglas, Harold, Irene, Barbie, Paula, Lindsay, Neil, Monique, Kevin, Jeffrey, Felix, Talia, Lou, Bradley, Clay, Stephanie, Floyd, Daniel, Harold, Elias, Florence, Harold, Vivienne, Barbara, Wilfred, Clayvonne, Andre, Cynthia, Nelly, Lathan, Lucy, Cindy, Michelle, Blondie and their families; Loyal Friend:  Preston Albury; Other relatives and friends including: The children of the late Castella Rolle, Mario Rahming, Dr.  Judith Hall, Betty Frazer, Reynaldo St. Cyr, St.  Augustine's College class of 1990, Thea, George Knowles, St.  Cecilia's and St.  Anselm Parish families, Dialysis Unit staff & Sister Roker, Daveann and Keishler Johnson, Dialysis/ Visual Impaired Support Group, Principal, staff and students of St.  Cecilia's School, and many others that are too numerous to mention.
If we have failed to mention your name, please pardon us at this time.
Friends may pay their last respects at Demeritte's Funeral Home, Market Street,from 12-6:00 p.m. on Friday & on Saturday at the church from 9:00 a.m. until service time.