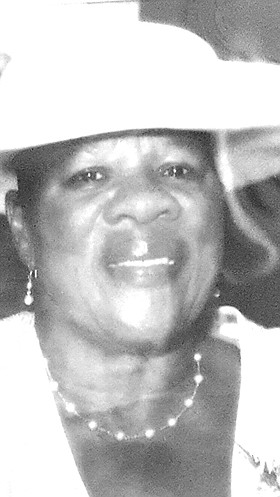 Delvira Velma Cash
unknown - unknown
Funeral Service for Delvira Velma Cash age 82, affectionately called "Velma" a resident of Lower Bogue Eleuthera who died at her daughter's residence Constitution Drive February 8th, will be held 11:00 a.m. Saturday February 25th, 2017 at Church Of God Lower Bogue Eleuthera. Bishop Simeon Stuart District Overseer assisted by Bishop Crestwell Cash and Bishop Cedric Albury will officiate and interment will in Henderson View Public Cemetery Lower Bogue Eleuthera.
Cherished memories are held by:
Husband: Harry Cash
Brothers: Bishop Ivan Neilly and Reginal Neilly
Sisters-in-Law: Cassie Neilly, Sybil Cash, Anita Albury, Mercia Cash
Brothers-in-Law: Eardley Neilly, Roland Albury Sr.
Sons: Godfrey Cash , Superintendant Hilton Cash(Nurse Vanessa Cash), Gladstone Cash (deceased), Superintendant Solomon Cash(Valeria Cash), Sargeant Elsworth Cash(Stacey Cash), Detective Inspector Harris Cash(Margaret Cash).
Daughters: Daphne McIntosh, Donna Heastie(David Heastie), Eloise Gibson(Hank Gibson Sr.), Shamene Johnson(Franklyn Johnson), Christine and Marissa Cash
Adopted Daughter: Tealeah Rolle(Kirk Rolle)
Grand Children:
Scottland, Jordan, Eyvette and Alicia Albury, Sophia, Hilvana, Hilvin, Hilvonia, Willard(Kia Cash), Crystal, Solovon, Solomon Oneil, Kira, Gabriel, Kyle and Harris Cash Jr., Timika Dames(Ulric Dames), Shakera Burnside, Latisha and Maurice McIntosh, Wesley, Quinton and Franosha Johnson, Deidre Barry(Antone Barry), Denique and Donnalissa Heastie, Lavonia Cooper(Gerard Cooper), Marine Mechanic Renaldo Wilkinson(Deandra Wilkinson), Deandra and Hank Gibson Jr. ,Delano and Karisma Rolle
Great Grands:
Lashae Sturrup, Rico and Rihanna Smith, Renaldo I. Wilkinson, Mauricia, Maurice and Marino McIntosh, Maliah Benett, Tia, Trinque, Nikell and Sulliyah Cash, Arianna Dean, Tyrek Ingraham, Antonio Barry, Don Johnson Jr., Denyaja Paton, Alicia Brazela, Gerrica, Lavardo and Gerkario Cooper, Nelson Johnson
Nephews and nieces:
NAOMI, FLORINE, ANNETTE, ROSEANN, KAYLA, HELENA, ANGELA, CALIMAE, PAULETTE, CINDY, TONICKA, VERNISHA, DOREEN, DORCAS, SALOME, FELIX, ELLIS, HOSEA, EZRA, HOWARD, WAYDE, FRANK, PEDRO, SIMON, CLARRICE, DEANNE, STARLIN, DION, GREGORY, DERECK, LAVINA, PASTOR FLORA, LORA, DORA, WALLACE, CHARLES, PATRICE, RANDOLPH, EUGENE, JENNIFER, DESMOND, STEADMAN, HUMPHREY JOSEPH, MICHEAL, CHARLES JR., IDELL,
Numerous Grand nieces and nephews too many to mention
Special Relatives and friends
Stephen and Durant Smith, Evadne Bascom, Agnes Kemp, Helena Bethel, Orane Frazier, Annette and Bishop Dudley Kelly, Larry Johnson, Rev. Christopher Neilly, Fred Neilly, Calvin Neilly, Thadia Kelly, Yvonne, Willamae and Valerie Albury, Donald, Paula, Zerlene , Emerald, Lucille Orean Cash and family, Vannie Cash and Family, Fred, Dion Neilly and Family, Rosemary, Rosie, Evelyn, Mayfield, and Abraham Johnson, Beverley Roberts, Marcel Wilkinson, Mary Farrington, Dianna Williams, Altonette Ferguson, Rudy Penn, Royal Bahamas Police Force, Royal Bahamas Defence Force, Bahamasair, The Lower Bogue Clinic, Princess Margaret Hospital, Dr. Dwayne Bowe, Nurse Priscilla Scavella, The Lower Bogue Community, The Kelly Family, The Frazier Family, Johnson Grocery and The Johnson Family, Rev. Carla Culmer , Thomas Albury, Cecil Pinder and family.
God Children
Mitchell Ingraham and Evangelist Sandra Saunders
Relatives and friends may pay their last respects at THE NEW COMMONWEALTH FUNERAL HOME INDEPENDENCE DRIVE Friday from 10:00-12:00 noon and at the church in Lower Bogue from 7:00 p.m. to service time on Saturday