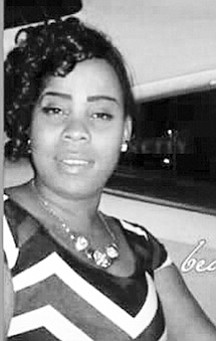 Antoinette "Netty" Chiquita Hamilton
unknown - unknown
Funeral service for
Antoinette Chiquita "Netty" Hamilton, 25
a resident of Carmichael Road, will be held at Word of Faith Tabernacle, Cox Way off East Street, on Saturday 7th January, 2016 at 11:00 a.m.  Officiating will be Dr. Perry E. Newton Sr., assisted by other Ministers.  Interment follows in Woodlawn Gardens, Soldier Road.
Those who will cherish her life and legacy include…...Mother: Sheila Hamilton (Deceased); Fathers: Charles Hamilton and Gregory Darville; Stepmother: Sophia Darville; Sons: Anton Bowe and Avante' Moss; Sisters: Syan Rahming, Gia Darville, Irene McQueen; Brothers: Anthony Hamilton, Gregory Jr, John and Graylyn Darville; Brother-In-Law: Drexel Rahming; Grandparents:  Jestina Pennerman (Deceased), John Darville & Edith Darville (Deceased), Mary Paul; Aunts: Caroline Rigby, Marilyn Olurin, Janice Coakley (Miami Florida), Roslyn Capron, Wendy Hamilton, Earrilee Munroe, Darlene Bethel, Suzette Farrington, Albertha Williams, Stephanie, Yvonne, Orein, Sabrina, Asia Darville, Jasmine Johns, Karen, Sharon, Marsha, Marva &  Tiffany Paul, Cathren Taylor; Uncles: Albert, Phil, and Alfred Taylor, Donald Rigby, Olubukula Olurin, Rev.Merlin Darville, Garette, Edward and Johnny Darville, Henry Farrington, Clarence Dean, Roger, Bercil Coakley (Miami Florida), David & Dion Paul; Grand Aunts: Louise Taylor, Dorothy and Joun Darville; Grand Uncles: Paul Taylor Sr. Mateo, Jason, Harry Darville and Oswald Darville; Nieces: Drenay, Dreanna, Drenysha Rahming; Cousins:  Barry, Bruce & Joel Rigby, Paul Taylor Jr., Eugene Strachan, Stephanie & Raymond Rose, Sharare , Celyku, Kelly, Cinnimon , Savannah , Mateo , Jason , Aaron , Rae-shon , Clarence Jr., Donoven, Alex, Shaquille, Lacoste. D'ante, Carl, Matthew Jr., Jonathan Jr. , Peter, Robert Jr., and Shanika Bethel, Ricardo & Stasia Mackey, Jamie & Wolfgang Miller, Gaynell Minnis, Bernadette, Andrea, Donna, Patrice & Henry Knowles, Davinci, Davia, & John John Smith, Gaynor, Trevor, Dion, Julian, Le'Shawn Smith, Marvin, Duran & Ricardo Hamilton, Tanya, Phillipa, Phil Jr, Alfred Jr. Taylor; GodFather: Anthony Humes; Friends and Relatives including: Bishop Perry & Elder Doris Newton and the members of Word of Faith Tabernacle Family, Mr. & Mrs. Ivan Bowe & Family, Bruce and Margareta Bowe, Albert & Flora Rahming and Family, Allen Newbold & Family, Ricardo Delancy & Family, Anita Wilmott & Family, Monique Paul & Family, Brian Fernander and Family, Dwayne Jr, Kaif, Leonardo, Cameron, Jay Jay, Steven Burrows, Rosalie Aneska,  and a host of other relatives and friends.
Friends may pay their last respects at Demeritte's Funeral Home, Market Street, from 12-6:00 p.m.on Friday & on Saturday at the church from 10:00 a.m. until service time.