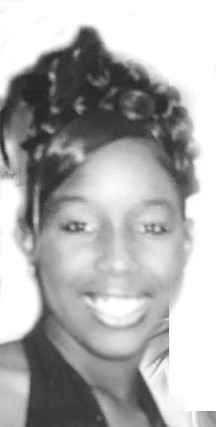 Lyndria Fisher
unknown - unknown
Funeral Service for the late Lyndria Fisher age 31 years of Wilson Tract will be held on Saturday December 7 2016 at Faith United Baptist Church, Faith Way at 11:00a.m. Officiating will be Bishop Shawn McKenzie, assisted by other ministers. Interment will follow in Woodlawn Gardens Cemetery, Soldier Road.
She is survived by: Mother: Lynette Cox; Children: Sharshe Grant, Saintdria Fisher and Neveah Forbes; Sisters: Shikira Fisher, Astranique Gardiner, Lumika Coakley and Keva Clarke; Brothers: Donald Chester Fisher Jr; Niece: Trinity Gibson; Nephews: Donald Chester Fisher Jr., Omith Chester Fisher, Dreano Bodie and D'Jaun Bain; Aunts: Vanessa Jackson, Cecilia Cox, Evangelist Diana Ranger, Ruby Kelly, Geraline Fisher, Sherilyn Fisher, Fernander, Thia Robinso, Denise Rolle, Charlen Johnson, Denise Lewis (Freeport), Dorothy Bethel, Brendal and Shantell Cox, Lory Greenslade, Kristy Roberts, Nicola, Toshika, Nicholas, Laurine, Marcia Cox, Crystal, Kristin and Demeritte Cox; Uncles: Clayton (Spy), Wayne (Block) Cox, Daren Bullard, Jeffery, Pastor Anthony (Tiny) Cox, Joshua, Jameal, Jamienson Cox, P.O. Whitney Johnson, Sidney Kelly, Anthony and George Fisher, Jerome Kelly, Bishop Sandord Fisher, John Stuart, Renardo Rolle & Julius Fernander; Godmother: Debbiah Sears Rolle & Patricia Evans; Godfather: Andrew Stuart; Godsister: Demarcia Knowles and Larissa Rolle; God Brother: Reshad Smith (Freeport & Bimini); Best Friends & Prayer Partner: Michelle Ferguson and Minister Robin; Special Friend: Ricardo Forbes; Grand Aunt: Grace Rolle, Ueva and Alice Bullard (better know as grammie) Elcina Ingraham Smith, Stacy & Camill Bullard; Grand Uncles: Ephriam & Cleophas Bullard, Edwin Ingraham, Harold Johnson, Clifford Adderley, George Rolle; Great Grand Aunt: Carol Young; Great Grand Uncle: George Albury; Numerous Cousins including: Jamaal, Coda, Cory, Venique, Bishop Shawn and Vernika McKenzie, Louis Simmon, Stephino Johnson, Cradisha and Deshawn Edwards, Clayton Jr. and Keishia Cox, Reno, Wayne Jr. and Winifred Cox, Periska Rolle, Shenika Bannister and Vandira Cox, Flicia, Scroogie, Peter Cox, Daren Bullard Jr. ad Danrique, Leshanthia, Ahmad Robinson, Crystal Rolle, Dea Farrington, Supt. Stephen Adderley, PC 3731 Kevin Greenslade and Keva, Price Bethel and Shawn, Michelle Johson, Franklyn Robinson, Krystal and Kristina, Simone Fisher, Stevenia (Jessie) Bowles; Other Relatives and Friends including: Hon. Philp Brave Davis (D.P.M.), Bullard, Cox, Fisher, Jackson and Rolle Families, Arnetter Pinder, Sharshe and Sharie Grant, Audrey and Sonja Gardiner (Eleuthera), Class of 02 Jack Haywood, The Wet Money Crew, The Beach Crew, Teddy and Esther Auther (Freeport), Cordell Munnings, Crystal Tooth and Debbie Gibson, Arnette Stuart and Family (Exuma), Melita Bullard and Family, Nicola, Monique Roming (Freeport), Toya Jones and Family (Freeport), Golden Palm Estates Crew, Doctors and Nurses of Gynae Ward, ICU and Female Medical I, KFC South Beach, Prince Charles and Mall at Marathon, Management and staff at all Subway Restaurants (Freeport), Memories (Buffet Staff), Julie, The crew at Manny Town (Freeport), Tyrone Bullard, Pecker, Ruthmae Kemp and Family, Syntra and Derrica (New York), Patrice Ferguson (Freeport), Philp and Patrice Gibson (Freeport), Melanie Tucker and Family (Freeport), Analisa & Cheryl Forbes, Joseph & Faithann Smith, Vernal William and Family, Brian Bethel, Gail Brice and Family, Ivy Nottage and Family, Bradford Wallace and Family, Theron Cooper (Freeport), Miko and Kennic Balliou (Freeport), Shawnie Albury and Leo Johnson. We apologize for any names not mentioned as we have tried to make it inclusive in the families aforementioned. Your names are not intentionally omitted
Relatives and friends may pay their last respect at Evergreen Mortaury located on Collins Ave & 5th Terrace on Friday from 10:00a.m. – 6:00p.m. and again on Saturday at the church from 10:00aa.m. until Service time.