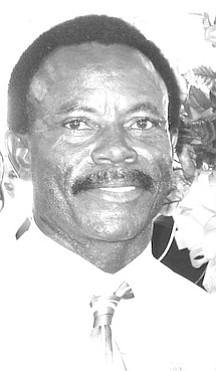 Gabriel Stephen Pratt
unknown - unknown
Funeral Service for Gabriel Stephen Pratt, age 63, of Burnt Ground, Long Island will at Burnt Ground Gospel Chapel, Burnt Ground, Long Island on Saturday January 28th, 2017 at 11:30 a.m. Officiating will be Fr. Richard Wood and Chief Apostle Rev'd Dr. Leon Wallace, assisted by other Ministers. Interment will follow in St. Mary Magdalene Anglican Church Cemetery, Glinton's, Long Island.
Left to cherish his memories are his Wife: Helen Pratt; Daughters: Starlene and Shakeria Pratt, Kastine (Lesco) Pennerman, Nicola (Joseph) Ierna; Nikita (Kenrick) McIntosh & Lorna (Derek) Hall; Mother: Glendina Pratt; Father-in-law: Willard Gibson; Mother-in-law: Hilda Gibson;
Sisters: Sheila Clarke, Emily 'Norma' Adderley, Tryphene Smith, Avae, Tiffany, Marcia, Tamika and Karell Pratt; Brothers: Audley, Harris, Joel, Kirkland and Whitfield Pratt; Grandchildren: Kinero and Brittany Pratt, Xavierand Davin Pennerman, Kendrick Jr., Kenron and Kaylia McIntosh, Cedriera, Dericka, Dedrick and Dekera Hall; Great Grandchildren: Keiron, Jayden, Derico Jr., Deangelo and Dante. Aunts: Charlotte Smith, Idella Adderley, Rowena Gibson, Christina Adderley, Jane Smith, Hilda Major, Freda Major, Geneva Pratt, Roxanne Moxey-Pratt; Uncles: David Pratt, Lernox Taylor, Ezekiel Adderley, Thomas Pratt and Louis Major; Sisters-in-law: Stephine and Christine Pratt, Cathlean Higgs, Angela Major, Michelle Gibson, Elizabeth Rolle, Gaynor Simms, Pauline Paulette Steele, Dianne Gibson; Brothers-in-law: Shorn Gibson, Cyril Simms, Phillip Major, Godfrey Steele, Gary Cooper, Jeffery Rolle, and Cardinal Higgs;
Other Relatives and friends including: Louis Cartwright, Jane Smith, Rowena Gray, Loregis Smith, Pastor Stephen Glinton, Alfred Adderley, Lennox Taylor, Andrew Adderley, Melvin Pratt, Father Ernest Pratt, Father Chester Burton, Father Richard Wood, Pastor Allan Dixon, Rev'd Thelma Gibson, Mineva Pratt, Rosie Adderley, Olease Cooper, Wensil Roker, Theresa Shearer, Ezekiel Adderley, Peter Fox, Kevin Cartwright, Dennis Fox, Wade Knowles, Ramond Miller, Renards Miller, Adrain Miller, Phyllis Smith, Ian Smith, Leamon Burrows, Rosanna Adderley, Ellington Burrows, Jorg Friese, Ambrose Adderley, Fred Smith, Wilfred Alex, Rowena Cooper, Ambrose Smith, Thereasa Miller, Cornelius Miller, Glen Adderley, Wellington Taylor, Romeo Adderley, Ted Adderley, Alfred Knowles, Brenville Miller, Mario Simms, Earl Wilson, Michelle Forbes, Michelle Sears, Flora Deal, Kathy Ritchie, Floyd Moree, Nekia Shearer, Margo John, Eva Wilson, Paul Farquaharson, Tryphene Knowles, Staff of Simms Clinic, and The Management and Staff of Cape Santa Maria.
Viewing will be held at Burnt Ground Gospel Chapel on Friday from 5:00 p.m. until service time Saturday.
Arrangements by Vaughn O. Jones Memorial Center Mt. Royal Ave & Talbot St., Nassau, Bahamas.