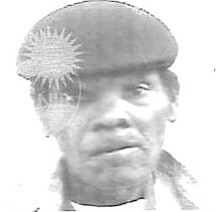 Godfrey Lewis Curtis
unknown - unknown
Last Rites for Godfrey Lewis Curtis age 73 of Whites Subdivision off Kemp Road and formally of Barretarrie, Exuma will be held at 11:00am on Friday January 25, 2017 at St. James Native Baptist Church, St. James road off Kemp Road. Officiating will be Rev. Dr. Michael C. Symonette and Rev. Dr. Charles Rolle, Assisted by other Ministers of The Gospel. Cremation will follow.
He is survived by 2 sisters: Elder Enamae Wright and Rosemary Curtis; 2 Aunts: Elsie Rolle and Ramanda Bowie; 1 Uncle: Robin Curtis; 13 Nieces: Louise, Becky, Emily, Rochelle, Daphne, Millie, Netty, Kenny, Deann, Annmae, Judy, Marilyn, Linda; 12 Nephews: Bishop Patrick Rhodriquez, Hollie, Leslie, Otis, Lavardo, Kindsley, Kendal, Thervas, Donald, William, Edison and Denvon Sr.; other relatives and friends including: Jasonique, Kyle, Dericko, Godfrey, Blaze, L.J., Kenron, Lydrick, Lydavion, Kearji, Ronnie, Dino, Alyssa, Chrissy, A.j., Patreka, Patacia, Pacioueka, Perron, Patrick Jr., Earlisha, Kaynisha, Brenotae, Cara, Tameko, Tameka, Shann, Sheon, Deandell, Latrell, Vando, Denvon Jr., Samantha, Lisa, Javis, Elizabeth, Trinda, Shyvette, Garnette, Mr.Sudlin Black , Mr. Blaze Darling Sr., Mrs. Toya Wright, Mrs. Denise Black, Mr. Ludea Storr, Mr. Tanj Cartwright, Mrs. Vonnie Mckenzie, Sharon Taylor, Mr. Davis, Lora Rolle and Family, Sudell Sweeting and Family, the White Addition Family.
The body would be repose at the church from 10:00am until service time.