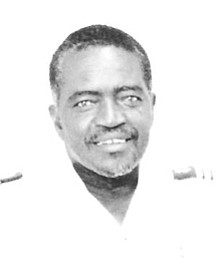 Leifred "Allie" Alfred Gibson
unknown - unknown
Funeral Service for Leifred Alfred "Allie" Gibson, age 69 of Acklins Street who died on January 17th 2017 will be held on Saturday at 10 a.m. at Prayer & Praise Assembly, Ragged Island Street. Officiating will be Bishop Hubert R. Kemp assisted by Pastor Cynthia Pratt. Interment will follow in the Southern Cemetery, Cowpen & Spikenard Road.
He is survived by his wife: Marie Gibson; Children: Alfred Leafred Gibson Jr., Priscilla Gibson-Brennen, Levardo, Janice, Bernadette, Aaliyah, Lee, Annette & Kamika Gibson and Gilbert 'Chris' Gibson; Step Child: Patrick Rolle; Son in law: Terrance Brennen; Daughter-in-law: Simone Mackey; Grandchildren: Shane, Sean, Johnny Grant, Montano, Lawrence Gibson, Laronda, Latoya, Lashay, Laquel Gibson, Nikita Hinsey, Marissa Deleveaux, Mickale, Michalia Duncombe, Lee Miller, Jade & Brianna Gibson; Greatgrands: Jonathan Jr., and Seannae Grant; Siblings: Mavis Gibson, Brenda Greene, Kendal Lewis, Willamae Pennington, Sylvia Phillips, Leticus Gibson Jr., Maryellen Ferguson, Benjamin Gibson, Florence Gibson and Michael Gibson Sr., Sisters-in-law: Elizabeth Lewis, Doralene Gibson, Melva Gibson, Myrtis Gibson, Genet Gibson and Miriam Gibson; Brothers-in-law: Floyd Pennington, Richard Ferguson, Sormon Mackey; Aunts: Prudence Rolle, Enith Smith, Victoria Smith, Mirthlyn Burrows, Luella Rolle; Uncles: James Smith, Jeremiah Gibson; Numerous Nieces & Nephews including: Edward Jr., Garnell, Maxine & Leslie Knowles, Delores McKenzie, Isaiah Strachan, Sharon Williams, Sherise Miller, Anthony Andrews, Ronetta Andrews, Latera Russell, Ingrid Forbes, Shanique Turnquest, Shermer Greene, Alderine & Kimberly Fernander, Johnathan & Natika Telisnord, Lashan, Kendal Jr. & Karrison Lewis, Shemita Rolle, Henry McPhee, Cindy Duncombe, Demond Wallace, Raymond & Floyd Jr., Pennington, Verniqua Fynes, Glen, Omiqua, Shashe & Cameron Pennington, Nelson Phillips, Elisha Phillips, Eddison & Jonathan Gibson, Patrice Gibson, Retia Gibson, Regina Sands, Barbara Pyfrom, Solomon Gibson Jr., Tanya & Monique & Sherman Ferguson, Geneva Gibson, Benet & Tameka Gibson, Nikitress Cartwright, Chavon & Damien Hart, Michelle & Nellie Gibson; and a host of other relatives and friends including: Harriett Gibson, Phillip Greene, Pastor Fairdale Smith, Lela Knowles, Shane Grant Sr., Carolyn, Sophie, Lonnie, Maxine, Geneva "Wifey", Sandra, Mr. & Mrs. Dawkins, Patrick, Mr. Davis, Mr. & Mrs. Turnquest, Mr. & Mrs. Lesiy & Leien, Willie, Fat boy, Mr. & Mrs. Parma, Anthony, Basel, Mark, Dan, Sophia, Daley, Shalea & Javanie and the residents of Crooked Island Street, The Grove.
Friends may pay their last respects at East Sunrise Mortuary, Baillou Hill Road & Cordeaux Avenue from 10 a.m. to 6 p.m. on Friday and again at the Church from 9 a.m. on Saturday until service time.