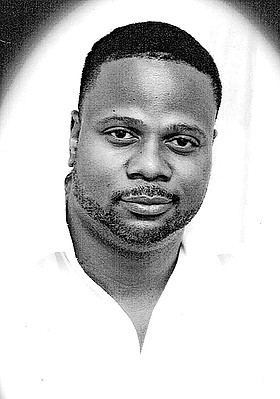 JAMES SAMUEL PINDER JR
unknown - unknown
Funeral Service
JAMES SAMUEL PINDER JR., 39
affectionately called "Bingo"
of Seven Hills Estates, will be held on Saturday, July 15th, 2017 at 10:00 am at Southwest Cathedral Church of God, Carmichael & Shrimp Roads. Officiating will be Bishop Dr. Donnie Storr, assisted by Rev. Carlton Adderley. Interment will follow in Lakeview Memorial Mausoleums Gardens John F. Kennedy Drive and Gladstone Road.
Precious memories will linger in the hearts of his Brother: Roger Pinder; Sisters: Nurse Marian Pinder, Patricia Hamilton-Pinder, Curline Pinder-Hanna, Niece: Rachel Millieann Hanna Nephews: Tenaj Pinder of Dallas Texas, Mieguel Hamilton, Travis & Travone Pinder, Alex Hamilton & Troy Hanna Jr. Brother in law: Rev. Troy Hanna Sr. Sister In Law: Janet Pinder. Uncles: Wilfred E. Moss of New York, Minister Clayton Moss and Rev. Hilton Pinder of George Town Exuma. Aunts: Min. Dorcas Ferguson, Elvy Pratt, Ida Johnson and Deaconess Pandora Hall, Nurse Julia Green, Muriel Pinder, Sara Adderley and Minister Dora Hepburn. Cousins: Reginald Ferguson, Nursing Officer Pearline Williams, Pastor Philip Ferguson, Dr. Wilfred Ferguson, Min. Shirley Ferguson, Pastor Emeritus Eliakim Ferguson, Anthony Ferguson, Althea Williamson, Yvonne Moss, Joe Moss, Neville Moss, Attorney Mavis Collie, Leslie Johnson, Keith and Kevin Beneby, Sylvia Williams, Alexander, Richard, Philip, Mark, Ruth, Theresa Whitmore, Eunice Morrison, Oden Jr., Dellamae, Angie, Christopher and Witney Moss, Wilfred Moss Jr., Tom, Michael, Sharrel, Ruth, Thelma, Elvy and Apostle Flossiemae Cooper, Min. Ethan, Alvin, Cherise, Camille Moss, Claudia Rolle and Joyce Taylor, Marcia, Felice and Felix Moss, Douglas, Clara, Calvin Greene, Shantell and Benjamin Hepburn, Pauline, Rodger, Prof. Rupert, Dr. Patrice & Roland Pinder, Deandra, Deshan, Prison Officer Donna, Darren, David Jr. & Shanell Adderley; Other relatives and friends including: Bis. Dr. Donnie Storr & Family also Southwest Cathedral Family, Roger & Rose Pinder Family Reunion Foundation, William & Hetscema Moss Family Reunion Foundation, The Adderley's, Family of the Late Samuel Knowles, Samuel Butler & Family, Nora Taylor & Family Gray's, Elgin Rahming & Family, Moncur's, Dorothy & Malvese Knowles, Leon Taylor & Family, Beneby's, Jones, Central Church of God Family Small Hope Andros, Min. Carlos Melgar & Lilian of Mississippi, Staff of Princess Margaret Hospital, Principal Neymour & Staff of Lowe Sound Primary School North Andros, Abaco Fresh Market Group of Companies, Marva & Monique McKenzie & Family, Seven Hills Community Association, Bamboo Town Constituency Association, Church of God National Office Bahamas. Bis. Dr. Moses A. Johnson & Family
Viewing will be held in the Serenity Suite at Restview Memorial Mortuary and Crematorium Ltd., Robinson and Soldier Roads on Friday from 10:00am to 6:00pm and at the church on Saturday from 8:30am until service time.