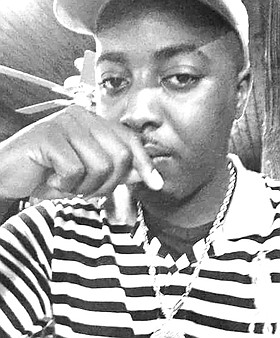 Raoul "Heads" Wilton Hart
unknown - unknown
Funeral service for
Raoul Wilton "Heads" Hart, 28
a resident of Samson Street, Nassau Village, will be held at Church of God, Southwest Cathedral, Carmichael Road, on Saturday 17th June, 2017 at 11:00 a.m.  Officiating will be Rv. Linward Knowles, assisted by Rev. Dr. Alfred Fernander.  Interment follows in Woodlawn Gardens, Soldier Road.
Cherished memories are held by his family, Mother: Rhonda Adderle; Father: Wilkah Hart; Daughter: Shantya "Taya" Kelly; Sisters: Shandera Johnson, Felencia Hart, Jordan Hart; Brothers: Jonathan, Joshua and Ramon Hart; Aunties: Trina March, Denise and Tessa Adderley, Elvina, Cindymae, Sharon, Lorna, Letechia, Rebecca, Yvonne, Scherika Hart, Iena Smith, Bernadette Stubbs, Clarice Hart and Jennifer Adderley; Uncles: Clay Sr., Kent, Glenn, Allan, Adrian and Selvin, Tamaris and Fabian Adderley, Erskin Hart, Roderick Hart, Henry Nelson and Percy Smith; Grandaunts:  Florence Bonaby, Julia, Ruth, Veronica, Gene and Shirley Pratt; Granduncles: Ellenton, Falcon and Rev. Ekron Pratt; Cousins: Demetetrius Taylor, Demetrius Jr. Maliyah, Joshua March, Clay Jr., Clashandra, Clanesha, Claniqua, Shamyah, Tayten, Adria, Adrian Jr., Crystal and Alvin Adderley, Rayshando Neely and Cameron Louis, Shenique, Troyvonte, Chanti, Alethia, Deshawn, Tyerese,Amelyah,Tylo, Eltin, Taylor Hart, Latheo Miller, Keyanna Mackey, Devonique Kerr, Raquel, Trace and Trenece Nelson, Davonne Young, Cintino Miller, Edward and Erin Buchanan, Sadiya, Renaldo and Gino Stubbs, ShandrikaDamers, Marques Strachan,Theron Archer, Oneshia, Arianna, Faith and Tamaury Smith, Pedro, Peron, Pedreanna, Perez, Jadan, Jaran Gibson, Mickhell Pratt, Dajah Dean, Antanie and Celine Sturrup, Shatika, Amanda and Raven Deveaux, Suzan Russell, Sean Newbold and Taravan Brown; Godparents: Dale Romer, Eulie Bain and Ali Hart; Special Family: The Pratt, Fernander, Johnson, Francita and Remelda Seymour Family, Theresa Roker, Lionel, Avon, Dale &Gererd Bethel, Sharon & Andrea Seymour and family, Janice McKenzie and family, Casharell Taylor and Vincent Johnson; Close Friends: Radley Collie, Deangelo McPhee, Thorn Moss, Julian Stuart, William Edwards, DillionRolle, Kim Gardiner, Rissa Olivia Newbold, Tanzania Ferguson, Keishell Hall, Earthamae Johnson, Camille Taylor, DoneishaArahna, Jerome Davis, Alexandra Brown, Sharvago Mackey, Waynet Johnson.
Friends may pay their last respects at Demeritte's Funeral Home, Market Street, from 12-6:00 p.m. on Friday & on Saturday at the church from 10:00 a.m. until service time.