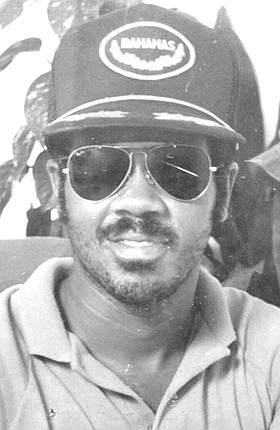 ALBERT "SPY" RANDY GIBSON
unknown - unknown
Funeral Service for the late ALBERT RANDY GIBSON affectionately called "SPY" age 57 years of Nassau Village and formerly of Savannah Sound, Eleuthera will be held on Saturday, October 14th, 2017 at 11:00 a.m. at Wesley Methodist Church, Savannah Sound, Eleuthera. Officiating will be Rev. L Carla R. Culmer. Interment will follow in Public Cemetery.
Left to cherish his precious memories are his Dear Mother: Margret Jane Gibson; Sons: Elterrio Pinder and Keith Davis; Daughter: Randlese Gibson; Grand Children: Amari Bonaby and Malik Dean; Sisters: Sheila, Sherry, Sheril and Sharon; Adopted Sister: Jackie Gibson; Brothers: Dale Gibson Sr., Retire Force Chief Ralph Gibson Sr. R.B.D.F, Clyde Gibson and Michael Gibson Sr.; Step-Brother: Kevin Johnson; Adopted Brother: Evan Evans; Sisters-In-Law: Shirley, Clarissa, Valarie, Joann, Valarie Gibson; Nieces and Nephews: Woman Police Constable 3271 Rhonda Gibson, Able Woman Marine Abigail Gibson, Woman Police Constable 3686 Deanna Gibson, Marine Seaman Ralph Gibson Jr., Dr. Kristy Whyte (Atlanta), Tamika, Tamara, Dale, Craig, Carlton, Akandi and Alia, Kennthe, Michael Jr and Michael Gibson, Wayne Douglas Jr, Eddinique Albury, Raneisha St. Louis, Delronae Mitchell, Malachi Rolle; Aunts: Irene Major, Doris Hanna, Annika Sands; Uncle: Carlton Hanna; A host of other relatives and friends including: Caleb Gibson, Marsha Gibson, Paulette Strachan, Diana Wallace, Lester Gibson, Shirley, Douglas, Suzann and Pamela Major, Pat and Andrew Hanna, Bill, Beryl, Donnie, Judy, Stevie, Kendal, Kevin Sands, MacArthur Fernander, Frank Cooper, Roberto and Kermit Graham, Kenneth Bain, Saul Martin, Lucille Culmer, Oscar Sand, Trevor Cooper, Joyce Culmer, Robert Gilbert, Rev Hon. Philip Bethel, Una Clarke, Rev. Melda Carey, Annis Antrobus, Jane Williams, A. Melissa Rolle and Rose McKenzie, Dorothy Rahming, Selma Bethel, Carlita Culmer, The Fast and Slow Pitch Community, The Talbot Street (Nassau Village) Community, The team of nurses and Doctors of the PMH especially Male Surgical III, The Savannah Sound and Whole Eleuthera Community.
Viewing will be held in the Serenity Suite at Restview Memorial Mortuary and Crematorium Ltd., Robinson and Soldier Roads on Thursday (TODAY) from 10:00 a.m. to 6:00 p.m. and on Friday at Wesley Methodist Church, Savanah Sound, Eleuthera, from 7:00 p.m. until service time on Saturday.