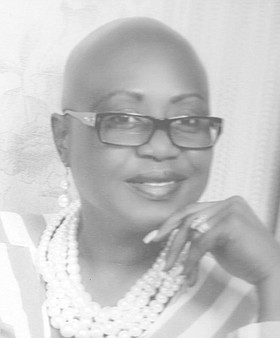 Bernadette Hunt-Smith
unknown - unknown
Funeral Service for Bernadette Hunt-Smith age 57 years and a resident of #519 Jamaica Ave. Freeport and formerly of San Salvador, will be held at 10:00 a.m. on Saturday 14th, April, 2018 at Mary Star of the Sea Catholic Church. Officiating will be Fr. Simeon Roberts. Interment will follow at Hunters Public Cemetery.
Left to cherish her memories are her husband: Elmore Smith; brothers: Winslow, Clement, Edmund, Edwin Hunt, Vincent Williams; step mother: Stevanie Hunt; aunts: Sister Agatha Hunt, OBS, Rosmarie, Virgil and Carrimae Hunt, Pamela Hanson, Beulah Carroll, Christine and Jacqueline Gibson, Robertha and Carnetta Knowles, Leila Gibbs, Sheila and Marcia Smith, Larrain Pennant, Barbara E. and Barbara R. Gibson, Lydia Curtis, Jackie Gibson and Dian Nairn; uncles: Martin Hunt, Ian and Darin Knowles, Michael Carol, Cyril, Robert and Don Gibson; nieces: Lashunda Barrios, Raquel Huel Huyler, Avis (Nikki), Clemika, Meoshe, Julia, Kristen, Shameka, and Winnae Hunt, Lenice Burrows, Ekeila, Khandi Patricia and Sophia Smith, Davia Sutherland, Samara Neely; nephews: Delano, Gregory, Garrett, Garvin, Jeremy, Mario, Juwan, Edmund Jr., Cameron, Sentenial, Serano Hunt, Jamahaal Smith, D'Mettrie Demeritte and Austin Cooper, Davon and Tasman Sutherland, Anthony Weech; brothers in-law: Alpacino Cooper, Charles, Jude, Andrew, Henry Higgins,Walter and Leroy Smith; sisters in-law: Patrica Hunt, Lana and Victoria Smith, Dr,Ann Higgins; grandnieces: J'Mia Williams, Cirena Burrows, Aalyah and Halie Hunt, Krissier Adderley, Keanna Forbes, La'Quey Smith, Av'rie and Andrea Scott, Jada and Jahynier Hunt; grandnephews: Brent Ellis, Stephen Madison, Shilo and Zion Hunt, Kenton Forbes, Karmelo Neely, Jahkiel, Jaydon, Antonio Smith and Lennarie; cousins: Veronica, Stanford, Kimberly, Kensa, Jovan, Nickie, Christopher, Ricardo, Curtis, Jacinta, Janice, Janis Hunt, Courtney Karen, Michaela, Flora and Zendra Strachan., Paula Jones, Sandra Bethel, Portia Barnett, Sharon Whites (Fla.) Special Friends: Cathy Bellot, Princess, Flora, Diane, Sonia, Carlton, Trevor, Brian, Steven, Thomas, Patrice, Alice, Shaun, Terry, Sonie, Cynthia, Monique, Trevor, Adrian, Beryl, Elva and Pam.
Relatives and friends may pay their respects at Yager Funeral Home & Crematorium, Queen's Highway on Friday from 12:00 noon until 6:00 p.m. and at the church on Saturday from 9:00 a.m. until service time.