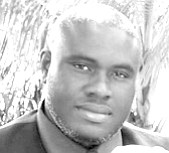 Minister Larry Clint Daxon Sr
unknown - unknown
Funeral Service for the life of the late Minister Larry Clint Daxon Sr., aged 43 years of #73 Graham Drive, Yellow Elder Gardens, who on Friday, 30th March, 2018, will be held at Cousin McPhee AME Church, Carmichael Road, on Saturday, 14th April, 2018 at 11:00 a.m. Reverend Ordette Wells-Simms assisted by Reverend Jennifer Carey, Bishop Jeffrey Knowles and other Ministers of the Gospel will officiate. Interment will follow in the Catholic Cemetery, Infant View Road.
Cherished memories remain in the hearts of his loving Wife: Nettica Culmer-Daxon, Two (2) Sons: Larry Clint Daxon III "Trae" and Edvardo Burrows Sr., Two (2) Daughters: Dwynette Sawyer & Dwynique (Wesley) Ferguson, Three (3) Grandchildren: Calayah Cummings, Ellisa Ferguson, & Edvardo Burrows Jr., Mother-In-Law: Gloria Rose Culmer; Father-In-Law: Revis (Francina) Anderson, Stepmother: Maxine Daxon; Four (4) Sisters and their offspring: Elizabeth & Manford Salice, Kenneth Forbes (Jay, Neko and Kenresa), Kendal Forbes (Kendal Jr. and Kendisha), Kenesine & Glenroy Pratt (Phylicia, Nathan, Gabrielle and Shakira) Kenva & Delano Simeon (Delano Jr., David, Destiny and Diamond), Kenninique Forbes (Delano Jr., and Kai); Judith & Robert Cartwright, Natasha & Gawain Bosfield (Gabrielle and Madison Bosfield), Robert & Natassia Cartwright (Tajahnique, Robert Jr. and Eden), Michael & Crystal Cartwright (Michael Jr., Kristen, Ashley and Miley); Sherry & Michael Sands, Jatara Sands (Tiara Sands), Sheila Daxon, Kishlene Lightbourne (Andrea Angel, Anwar and Adele), Kelson & Monique Lightbourne (Kayden and Malik); Six (6) Brothers & their offspring: Cedric & Cheryl Daxon, Herbert Daxon Jr. (deceased) and Jane Daxon, Shaneka & Everton Bastian (Kendrick, Brittney, Everton and Destiny), Sheena Daxon Smith (Kassidy, Krystal, McKayla and McKaya), Clint (aka Louie) & Tiffany Daxon (Clint Jr. and Clineisha), Noelle Daxon (Noelle Jr., and Nathan), Herbert (aka Juney) & Sasha Daxon (Jerone and Janee), Jonathan and Jason Daxon; Paul & Nellie Daxon, Nathaniel Cambridge (Nathaniel Jr., Nashon, Martineshio, Nashan, Kiara, Shania, Nathan, Leonardo & Natalia, Shakera Sands (Deval and Dylon); Jethro & Alexstine Daxon, Jethro "Jay" Daxon (Jayton and J'niya), Jatera Daxon (Kiara, Terriya and Terrell Jr.), Jethro Jr. Daxon (Jayden and J'quan), Kermit & Christine Daxon, Latoya & Lavaughn Baillou (Javar, Trent and Blair), Delvon Daxon (Delvon Jr. and Delvin), Delroy Daxon - deceased (Morgan and Madison), Kermit Daxon Jr. and Kermit Isaac Daxon; Berkley & Constance Daxon, Berkley Daxon Jr., Berkesh Daxon (Donte and Lanique), Jonathan Daxon, Shakara Daxon, Lawrence (deceased) & Ronnie Daxon, Latrice & Relik Johnson (Rakhai); Latrika Daxon; Arrindle & Patsy Nesbitt; Five (5) Brothers-In-Law and their offspring: Gervaise Culmer Sr., Gervaise Culmer Jr., Gervon Culmer, Gernico Culmer, Gervaine Culmer, Ashley Culmer (Amani), Sabena Culmer, Gernique Gaitor, Shervaise Russell (Jamari), Quentin & Tracey Culmer, A'Jani & A'Jai Culmer, Gerard & Christina Culmer, Gerard Culmer Jr., Gervado Culmer, Celena Culmer, Craig & Tiffany Culmer, Ervin, Craig Jr., Cameron, Coby, Krizia, Keisha, Ominique, Cassiel Culmer, Christovia Linden; Eardley Culmer II; Three (3) Sisters-In-Law: Monique Pratt, Sabrina & David Duncombe and Tanya Culmer; Godchildren: Terniska Cartwright, Angel Kelly, Jayden Cartwright and Tyrique King. Other relatives and friends including: Anthony Findley, Maurice Fawkes, McKell McKenzie, Michelle Rolle, Rochelle Major, Naomi Bonaby, Ruth, Annette, Mary and Dockers Daxon, Don, Stephen, Lawrence, Herbert, Phillip, Robert, Kevin and Timothy Daxon,Barbara Ashby, Theresa, Paulette, Patrice, Gloria, Felix and Phillip Daxon, Henry, Clifford and David Daxon, The Coakley Family, The Jones Family, Pastor Ordette Wells-Simms, Rev. Jennifer Carey and the entire family of Holy Trinity A.M.E. Zion Church, Scotia Wealth Management, St. Francis & St. Joseph Class of 2017, Showtime Basketball Club, Daxon's Auto Electrical Family, Patrice Dean & Family, Claudette Young & Family, Kenneth & Carol Pinder, Shafegah Duncanson, Lynn Young & Family, Angelo Hart, Pandora & Frank Pratt, Linda Rahming, Dr. Kirkland Culmer & Family, Phillip Johnson, Alethia Bain, Claudia Armstrong, Tiffany Charlton, Samuel Berry & Family, Kenedate Kelly & Family, Carlisa Gray, East Dennis Court Families, Juan Cartwright & Family, Janiska (aka Nana), Joyce, Joniece, The Stuart Family and the entire Yellow Elder Community, The Rose and Culmer Family, The Bahamian Club, Bishop Jeffrey Knowles & the Ernest Street Love Centre Family, The entire North Eastern Episcopal District of the USA and Bahamas Island Conference of the A.M.E. Zion Church Families. And to you who we may have missed on paper, thank you for your love, support and understanding. You are special to us and forever in our hearts.
Relatives and friends may pay their respects at Grace Funeral Home, #36 Rosetta Street (Palmdale), on Friday from 10:00 a.m. to 6:00 p.m. and on Saturday at the Church from 10:00 a.m. until service time.