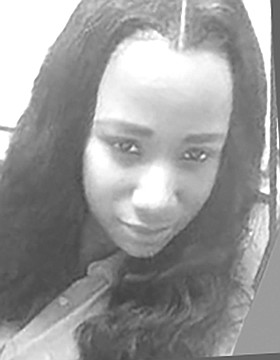 DEBORON TARA MOXEY
unknown - unknown
Funeral Service for the late DEBORON TARA MOXEY age 31 years of Hampster Road will be held on Saturday, 21st April 2018 at 12:30 p.m.at Wesley Methodist Church Baillou Hill and Chapel Streets. Officiating will be Rev. Lester T. Ferguson assisted by: Deacon Jamicko Forde. Interment will follow in Lakeview Memorial Gardens & Mau John F Kennedy Drive
She Was Pre-deceased by her Father: Arthur Moxey
Left to cherish fond memories are her Mother: Charlene F. Moxey, Sisters: Megan Brown and Shelly Moxey; Aunts: Cynthia " Mother" Pratt, Janet Ferguson, Ann Taylor, Michelle Miller , Patsy Parker of Florida, Paula Ranger(deceased), Fredericka Roberts, Mary and Jenny Bowleg
Uncles: Brian Cambridge, Shirlyn Taylor, Charles(Sheila) Moxey; Edmundo (Patricia) Moxey; Fred and Charles Bowleg; Brother-in-laws: Andrew Brown, James Gyane and Wesley Ferguson; SpecialFriend : Taurean Bethell and Family: Nephews: Vernon, Miquel, Ethan, Kriston, Kristoff, Shadrach; Nieces: Mercedes and Andreyah; Cousins: Brian Cambridge Jr., Althea Cambridge, Rachad Taylor, Trudia, Breon and Zion Cambridge, Rachad Jr. and Richae Taylor, Pierre, Don, Barry, Juan, Julian, Nicole, Anthony, Sandra, Lloyd, Daryl, Anthony, Livingston, Shenika, Jason, Marvalette, Kevin, Nikki, Mario, Alex, Sandra, Deborah, Brenda, Kinsgley Jr., Patsy, Naomi, Roselyn,Hermanette and Dansheena Higgs, Isleneka, Benjamin, Leslie, Geo and Charity Thompson, Justina , Precious and Jucinta Mcphee, Sallymae Higgs and Family, andTavares Roberts; Pierre Grand-Aunts: Merlene Albury and Oralee Thompson, GrandUncles: Herman Higgs of Harbour Island; Godchildren: Ayana Johnson, Sahnar & Sy'Ri Pinder;
Other relatives and friends including: Persis Bullard and Sophia Hunter and Family, The Brown Family, Amy Knowles, Reah Thompson, Diantinique Johnson,Christine Johnson,Khshan Poitier, Nazzma Glinton, Tonjah and Family, David Hoyte, Gardedra McKenzie, Brooke Evans, Shantell Fawkes, Arthel Kip Gibson, William Rolle, Kamaal, Tara Jetter, Cecy Bryant, Nadia Bastian, PQC International Association, PQC Alumni's, Hunter's Cove Family, Bahamas Olympic Association Office, Shamarra Ward, Karen, Dorine, Rashad, Sade and Family, Lewis Street Family, Shanika Hepburn and The Hepburn Family, The Taylor Family, 2004 Class of Kingsway Academy, Staff of A.F. Adderley, Staff of CIBC FirstCaribbean, Members of Grants Town Wesley Methodist Church, Prayer and Praise Church Family, Members of Golden Gates World Outreach Ministries, Members of the Legend of Mary Group, St. Francis Catholic Church, The staff of Esquire and any other others too numerous to name. If we omitted anyone, please pardon us during this time.
Relatives and friends may pay their last respect at Evergreen Mortuary located on Collins Ave & 5th Terrace on Friday from 10:00a.m. – 6:00p.m. and again at the church on Saturday from 11:30a.m. until service time.