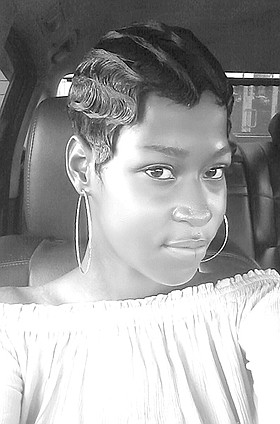 Delecia Alexandria Rolle
unknown - unknown
Funeral Service for the late Delecia Alexandria Rolle age 26 years of Malcolm Road will be held on Sunday, April 22nd, 2018 at New
Providence Seventh day Adventist church Soldier Road 11:00 Officiating will be Pastor Paul Scavalla
Pastor Peter Joseph, Pastor Asha Dean Duncan, Pastor Larry Greene, Pastor Jon Dorsette
Elder Donnie Rolle, Elder Keble Dawkins. Interment will follow in Spikenard Cemetery, Cowpen Road.
Left to cherish LISA'S memories are:Her loving parents: Albert and Brenda Rolle,
The apple of her eyes: Jamiya and Jamari Butterfield (Jamaine Butterfield)
One sister:Da'Shae Rolle One nephew: Jordan Rolle
Grandmother: Louise Rolle, Grandfather: Prince Albert Rolle, Aunts: Esther Rahming, Genetta Ferguson, Cinderella Kelly, Laura-Mae Forbes, ShavonneTooker, Candice Ferguson, Helen Rahming, Emerald Rahming, CurlainRahming; Uncles: Ross Forbes, Perry Ferguson, Norris Rahming, Lennis Rahming, Eugene Kelly, Isaac Rolle, Phillip Rolle, AlivinRahming (pre-deceased), Lawrence Rahming (pre-deceased), Maxwell Rahming (pre-deceased) and Daniel Rolle (pre-deceased).
Cousins: Emily Watkins (Philip), DonnaleeBethell, Michelle and Keith Stubbs, Precious, Keisha, Brain, and Tracey-ann Rahming, Angelaine, Angeline, Okell and KarleneRahming, Hazely and Welington Blatch, Katie, Kaithlyn, Caroline and EddieMckenzie, Christine, Caroline II, Michelle, Mark, Melissa, O'Neil, Alcott, Anton, Ansel and Tiffany, Deborah, Josette, Jennifer, Trevor, Randolph, Keith, Kevin, Donald, Valarie, Arlett, Terry,Gardell, Paulette,Cynthia,Keishanna, Norrissa, StephanieBodie , Cyntia, Jackie, Lemuel and Heather Rolle, Rushae, Lemece, Astaria,Norman, Peter and Angella Rolle, Ralph and Dorrette Rolle, Richard and Stephanie Rolle, Dwayne, Sherika, Stacy, McNeil, Destiny, Cadero, Sherry, Suzzie, and Norman and other cousins too numerous to mention.
Close friends and loved ones: Andrea and Mrs. Lawrence, Davina, Marra, Dorcia, Trischae, Kristen, Cyrelle, Rabecca, Takeisha, Tonya, Angelique Thompson, Chantelle, Keisha, Nadia, Nurse Pete, Nurse Burns, Nurse Sherman, and other Trained Clinical Classmates. Gwendolyn Bonaby and family, Tiffany Bonaby and family, Keisha Bonaby and family, NishkaBonaby and family, Crystal Humes (Hair Stylist) and family, Minister Kelly Bullard (The Glory House and The Kelly Bullard Foundation) Terry Miller and family, Honquessa (Sunshine Clothing), Bahamas Academy Classmates, Mt. Carmel Preparatory Academy Classmates, The New Providence SDA Church Family, The Bahamas Conference of Seventh Day Adventist, Jackie Smith and family, the Richardson family, Wells Convenience Store and family, The Lupus Foundation.
Relatives and friends may pay their last respect at Evergreen Mortuary located on Collins Ave & 5th Terrace on Friday from 10:00a.m. -6:oop.m. and again at the Church on Sunday from 10:00a.m. until service time.