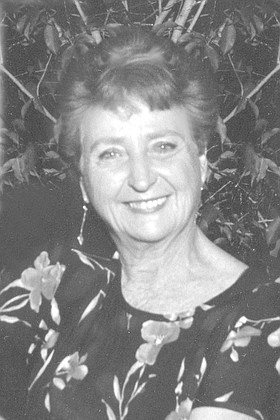 Frances Mary Yvonne Knowles
unknown - unknown
A Funeral Service for Mrs. Frances Mary Yvonne Knowles of Nassau, New Providence, The Bahamas, who died at Doctors Hospital, Collins Avenue, Nassau, on Tuesday, 11th December, 2018, will be held at Ebenezer Methodist Church, East Shirley Street, Nassau on Saturday, 15th December, 2018 at 2:00 p.m.
The Reverend Dr. Godfrey A. Bethell will officiate and internment will follow in Ebenezer Methodist Cemetery, East Shirley Street, Nassau.
Mrs. Knowles was pre-deceased by her father, Kenneth R. Ingraham and his wife, Gwendolyn Ingraham and her brother, Donald Ingraham.
She is survived by her husband, Percy A. Knowles; two sons, Andy Knowles and Bruce Knowles; two daughters, Sherry Knowles and Cindy Knowles; daughters-in-law, Nancy Knowles, Lisa Knowles and Dr. Melanie Halkitis; five grandsons, Dallas (Tamara), Jeremy (Heather) Elliott (Erin), Ryan (Jacquelyn) and David (Mandy) Knowles; three granddaughters, April (David) Savage and Kimberlee and Sharon Russell; seven great-grandsons, Joss, Emit, Mason, Josiah and Colin Knowles and Luke and Levi Savage; five great-granddaughters, Olivia Savage, Karis, Violet, Abigail and Annalise Knowles; a sister, Sheila Russell; a brother, Kingsbury (Ronnie) Ingraham caregivers, Dillis Forbes and Jimmy Tamondong and numerous other family members and friends.
In lieu of flowers, those who wish may make a donation to Ebenezer Methodist Church, P. O. Box S.S. 6145, Nassau or the Bahamas Humane Society, P. O. Box N. 242, Nassau in memory of Mrs. Yvonne Knowles.
Arrangements by Kemp's Funeral Home Limited.