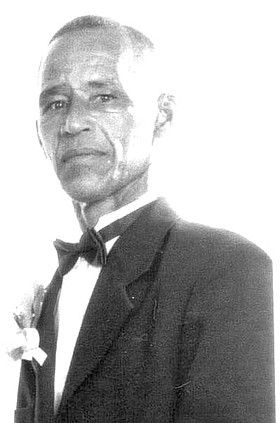 Raymond Deal
unknown - unknown
Funeral Service for the late Raymond Deal age 59 years of Hampster Road will be held on Saturday at St. Matthew's Anglican Church, Shirley Street at 10:00a.m. Officiating will be Cannon Crosley Watlkine assisted by other ministers of the gospel. Interment will follow in the Church Cemetery.
His loving wife: Frances Deal
Children: Rayandra and Rayvantae Deal
Grand-daughter: Kieante' Cephas
Adopted Parents: Pascal and Chantal Hammerer
Adopted Sons: Justin Spence, Kendal Pierre
Brothers: Hubert, Dennis, Kenneth, Kirkwood, Jeffery, Ricardo, David and Benjamin Deal, Chase Taylor.
Sisters: Gerladine Symonette, Leeann Bain, Sandra Deal, Pamela Seymour, Trudy and Marina Deal, Bernadette Strachan
Adopted Brothers: Rodney Davis, Felton Cox, Clint Boyd, Vincent Johnson
Nephews: Dino, Duran, Kirkwood Jr., Khiry, Anthony, Jeffery, Antonio, Dancel, Danrad, Caudray, Aaron, David, Reno, Brando, Marcus, Kirk, Bradley, Troy, Keith, Pedro, Owen, Louis, Obediah, Terrance, Lawrence, Omar,Deangelo and Shawn, Marvin, Kenrick, and Ricardo Brown, Marcus Deal
Nieces: Tanya, Shavonne, Tamara, Lakeisha, Filicity, Antinique, Indonesia, Kenice, Alyka, Chera, Carniela, Janeen, Jillianne, Antoinette, Alisha, Shakera, Stacy, Shantel, Shanessa, Azarria, Claudette and Shanika Taylor, Aretha, Sheena and Ingrid Brown
Brothers in Law: Anthony Seymour, James and Sherman Butler, Christopher and Arlington Brown
Sisters in Law: Zelma, Ruthmae and Mercia Deal, Judy, Betty, Gloria, Linda and Arrieouna
Uncles: Leonard, John and George Knowles, Ronald Knowles, Walter Darville, Kermit Turnquest and William (Bill) Deal
Aunts: Rowena Darville, Myrtle Turnquest, Gloria Smith, Eltha and Gloria Knowles, Hortense Rahming, Remelda Owens, Iris Grant, Ulease Hall, Lolean Carter and Pearl Musgrove.
God Children: Uyri Bowe, Brithney Smith and Trevette Missick
Other relatives and friends: Edwin and Rose Knowles, Keland and Mycal, Barbara Bain, Navada, Lakel, Jamal, Kev'van, Derick and Antoinette Aranah, Andre, Debbie Granger, Norman, Arlene, Cheryl, Julian Knowles of Freeport Grand Bahama Kevin and Dr. Ronald G. Knowles & family, Ulrick & Judy, Ulrick Jr, Ulrica, Teachla & Family, Vincent, Cliffene, Jada, Janiah, Nicolette, Alexis & Alicia,Geno, Pedro, Hugo, Jackie, Lawarence, Agatha, Manlyn, Oral, Cheryl, Shela, Tyrone, Ferne, Suzanne, Don, Shandel, Vanessa, James, Hubert, Robert, Golden Boy, Lavne, Edwin, Linda, Angela, Beverly, Bishop Cannel Swain & family.Michael & Bernadette Saunders, Daniel & Anne Knowles, Shekera, Duran, Althea, Helen Johnson & Family, Uyri Bowe & Family, Steven Davis, Sean Lewis, Danny Capron, Kenrick Chase, James King & Family, Dennis Johnson, Wyatt Thompson, Donicko Brown, Ronaldo Fawkes & Family, The Hall family(Lill Ray), The Campbell family, Father Cannon Walkine & Family, The Members of St, Matthews Church , St Matthews Usher Board, Robert Leo Bethel & Family, Nassau Glass Wendys Macket St The Staff of ICU PMH, The Jet Ski Boys Cable Beach & Paradise Island, Evans Cleaners, Management & Staff BPL
Relatives and friends may pay their last respect at Evergreen Mortuary located on Collins Ave & 5th Terrace on Friday from 10:00am – 6:00p.m. and again at the church on Saturday from 10:00a.m. until service time.