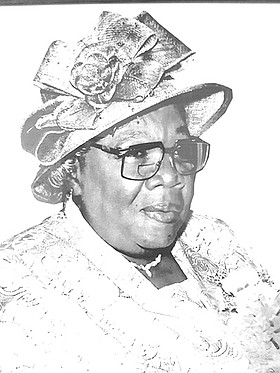 Ruthnell Delancy
unknown - unknown
Funeral Service for the late Ruthnell Delancy age 88YearsServices of Hynes Lane will be held at St. Joseph Roman Catholic ChurchBoyd Road, Nassau Saturday, February 10, 2018 at1:45pm. Officiating will be Rev. Monsignor Alfred Culmer, assisted by Deacon Peter Jones. Interment will follow in the Church Cemetery Boyd Road.
Left to celebrate her life are her Children: Sandra Rolle; Fredlin Delancy of Freeport, Grand Bahama; Iva Butler; Donna Williams of Canada; Pauline Christie; Cheryl Burrows of Freeport, Grand Bahama; Triskey Monique Capron-Smith of Freeport, Grand Bahama; Grand Children:Oralee Wells, Darrin Lloyd, Demetrius Delancy, William Delancy Jr., Kayla Butler, Fred C. Paul Jr., D'Asti Delancy, Portia Duncanson, Charissa Williams of Canada, Stephen Burrows of West Palm Beach , Fred Delancy, Jr.,Great Grand Children: Delando Delancy, Demtria Delancy, Willon Delancy, Wilecia Delancy, William Delancy, Darrin Lloyd Jr., Deshawn Wells, Angel Butler, D'Vonte Lloyd, Elvardo Strachan, Matteo Burrows ;Brothers: Romeo, Godfrey and Benjamin Rolle. Sisters:Margo Foster and Bianca Demeritte; Stepmother: Vernell Rolle ;Sons In Law: Stephen Burrows; Wendell Smith; Elkin Lloyd ;Daughters In Law: Deloris Delancy; Deborah Delancy; Sister-in- law: Antoinette Delancy; A host of Nieces and Nephews, including: Nathalie (Gregory) Cooper; Charlene (Troy) Garvey; Dianne (Ken) Culmer; Steve (Glenda) Rolle; Neville (Keysia) Rolle; Sonia Rolle; Florence Williams; Iris Patton; Carl Patton; Linda (Fabian) Stuart; Kim (Roosevelt) Stuart; Raymond Rolle; Michelle (Don) Ingraham; Delerease (Shimron) Rolle; Rochelle (Billy) Dickenson; Christine (Arlington) Wilmott; Charlene (Gilford) Hinsey; William (Joanne) Rolle; Carolyn (Alvin) Crum. Matrona Taylor; Chamara Taylor; Kendal Wilson; Kelsey Rolle; Godfrey Rolle Jr.; Clyde, Shavonne, Berntal, Dwight, Lynden, Sharon, Marilyn and Melvern Rolle; Romeo Rolle Jr.; Craig Cleare; Shantel Cargill; Sean Cargill; Shaquille Brennen; Special Thanks: Staff of Accident and Emergency of the Princess Margaret Hospital and Melanie Thompson-Social Services; Caretaker: Judith Laurant; Close Relatives and Friends; Judy Dorsett of Atlanta Georgia; Theresa Albury; Jeanette Gumbs of Lauderhill Florida; Charlene, Helen, Bert, Huey, Brad, Tony and Claudette Capron; Theresa Albury; Gregory, Brian, Brian Christie and Family Alfred Forbes; Kendal Pinder; Stanley Jones; Leonard and Wendy Bain; Rev. Lindy Russell; Cecil Thompson; Janet Dillette and Family; Charles Deveaux; Cecil and Cedric Cummings; Keith, Bethsheva and Winifred Delancy; Robinson Family; Davis Family; Lamont and Deborah Saunders; Seymour Family; Patrice Dames;Brennen Family; Adderley Family; Bastian Family; Delvera Knowles and Family; Family Guardian; Jeff Burrows and Family, Kendall Demeritte & Family; Brenda Hanna and Family; Staff of Home Town Café; Terecita Stuart and Family; Maria Thomas and Family; Huyler Family;Lawrence Seymour; Musgrove Family; Janet Bostwick and Family; Malvese Capron and Family;Ambassador Devon and Yolanda Rolle; KDC Church Family; Cyprianna Campbell; Pastor Rikeno Moncur; Word of Life Kingdom Ministries; Pastor Jason and Hilda Strachan; and the staff of TEC (Total Educational Centre), Freeport Grand Bahama.
Relatives and friends may pay their last respect at Evergreen Mortuary located on Collins Ave & 5th Terrace on Friday from 10:00a.m. – 6:00p.m. and again at the church on Saturday from 12:45 until service time.