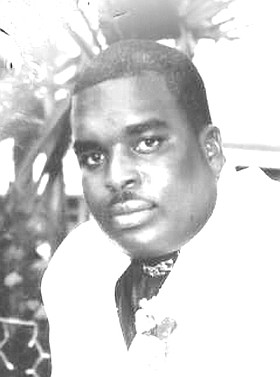 ALBERT JUNIOR MILLER
unknown - unknown
ALBERT JUNIOR MILLER, 46
of Simms, Long Island, will be held on Saturday, 9th. June 2018 at 10:00 am at Beulah Union Baptist Church, Simms, Long Island. Officiating will be Rev. Dr. Joseph Knowles and other Ministers of The Gospel. Interment follows in the Church's Cemetery, Simms, Long Island.
Albert is remembered in the hearts and minds of his Wife: Nataree Miller, two (2) daughters, namely: Allena Burrows and Mattalia Miller (2) sons, namely: Prescott and Leroy Strachan; One (1) sister, namely: Charmine Smith; One (1) brother, namely: Carlton Miller. Two (2) aunt, namely: Nathalie Pinder and Margret Blaise; Two (2) Uncle, namely: Narris Smith and Anthony Blaise; One (1) Sisters-in-Law, namely: Donnel George; One (1) Brothers-in-Law, namely: Wenzel Rahming; One (1) Mother-in-law, namely: Mona Henry Three (3) Nieces, namely: Sheniqua, Tieshea, Kelsine Smith; Six (6) nephews, namely: Rusco, Matthew, Kelson, Jared, Rafford, Michael; One (1) Nieces-in-law, namely: Natallia Miller; Three(3)Grand-Nieces, namely: Gabrielle, Janae & Ramaiya; Forty-Seven (47) Cousins, namely: Sharlene, Shantel, Deon, Shanell, Antella, Azariyah, Christian, Christopher Williams, Vilda and Terrance Carol; Percy, Erkun, David and Stacy Pinder; Elizabeth, Angela, Daphane and Mano; Omar, George and Shantell Smith; Tia, Irene, Timia, Shemeka, ELka, Hazel, Brendina, Steffie, Dave, Tiffany, Dorminic and Desmond, Kayana, Steven, Emmanuel, Jeremiah, and Dominic Moss, Chedster, Edroy, Andre, Andrea, Shemar and Rihanna; Pedro, Pedrean Smith. Twelve (12) Other relatives and Special Friends, namely: Emmerine Gray, Nadia Pennerman, Nellena Burrows, Mario Smith, Tamika Knowles, Tracey Styles, Anthony Adderley (AKA Kalik), Pedro Marcellus, Chester Fox, Judy Pinder, Ressa Miller, and Hermis Knowles.
Viewing will be held at Beulah Union Baptist Church, Simms, Long Island on Friday, 8th June, 2018 from 1:00 p.m. until and  on Saturday from 8:00 am until service time.
Funeral Arrangements are being handled by House of Paradise Mortuary.