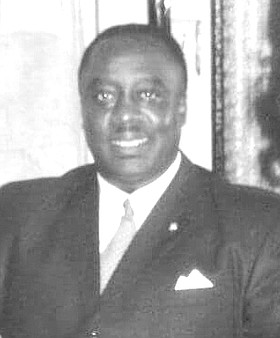 Shelton "Coolo" Taylor
unknown - unknown
Funeral Service for Shelton "Coolo" Taylor, age 55 of Bird Street, Golden Gates #1 who died on Saturday, May 19th, 2018 will be held on Saturday, June 9th, 2018 at 10 a.m. at The Remnant Tabernacle of Praise, Carmichael Road. Officiating will be Pastor Melvin Grant assisted by Ministers and Deacons. Interment will follow in Lakeview Memorial Gardens, J. F. K. Drive.
He is survived by his Wife: Sharon Taylor; 2 Children: Shanteisa Taylor and Shelton Taylor II;
5 Brothers: Clifford (Kimberley), Corrections Officer Steve (Yvette), Superintendent of Police, Kenwood (Superintendent Kimberley), Peter (Trish) and Livingston Taylor; 3 Sisters: Shirley Taylor, Iona Davidson and Corrections Officer Erica Taylor; 1 Uncle: Clement Williams; 3 Aunts: Iona Williams, Delores Russell and Alice Russell (Orlando); 3 Brothers-In-Law: Rev. Kenny V. Mackey I, James 'JC' Smith (Lorraine) and Keith Smith (Antonia); 3 Sisters-In-Law: Susan Smith, Carol Braynen (Neville) and Dale Carey; 21 Nephews: Kenny V. Mackey II, PC3627 Carrington Mackey, Able Marine Seaman Kavon Taylor, Clifford II, Steve II, Peter II, Antonio, Calvin, Brian, Royneico, Livingston II and Petarri Taylor, Zhavargo Dames, Jason Rahming, Jamaal, Javano, Jarrell, Keithan, Jace and Kameron Smith and Zachary Isaacs; 9 Nieces: Keshani Humes, Kenria Taylor, Lashawn, Gina and Richea Bain, Leonissa, Niketa (Kele) Isaacs, Natara and Neveah Braynen; Best Friend: Anthony 'Tony' Longley (Jackie); 2 God Children: Antonia & Alissa Longley; And a host other Relatives and Friends including: Stephen Briggs, Everett Armbrister, Anthony 'Tony' Morley, Howard McIntosh, Prescott Ross Hanna, Superintendent Warren Johnson & family, Evangelist Victoria Flowers & family, Claretta Duncombe & Family, Brenda Davis & family, Linda Johnson & family, Dianne Rolle & family, Coral Forbes & family, Claudia King & family, Judith Clare & family, Barbara Archer & family, Shanique Cleare, Michael Dorsette, family of the late Gwendolyn Turnquest, Hilda Rolle and Pearl Turnquest, Pastor Melvin & Sis Donna Grant, Officers and Members of The Remnant Tabernacle of Praise Church, Dr. The Hon. Duane Sands, Minister of Health, & The Permanent Secretary & Staff of the Ministry of Health, Scotia Bank Bahamas Ltd, Bahamas Telecommunications Corporation (BTC), Management, Staff & Customers of Super Value Food Stores, Harbourside at Atlantis family, Royal Bank of Canada, Atlantis – The Cove, Coral & Beach Towers, Department of Correctional Services, The Royal Bahamas Police Force (Grand Bahama District), First Bahamas Branch Toastmasters Club 1600, Lodge Fort Nassau, S.C., Domingo Heights and Golden Gates communities and Class of 1980 Government High School.
Friends may pay their last respects at East Sunrise Mortuary, Baillou Hill Rd. & Cordeaux Avenue from 10 a.m. to 6 p.m. on Friday and again on Saturday from 9 a.m. at the church until service time.