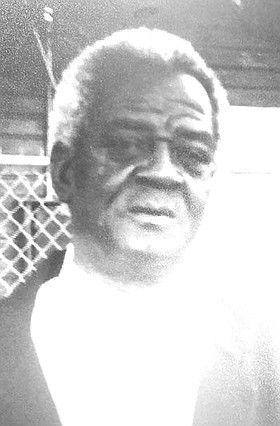 Achiel "Nacca" Moss
unknown - unknown
Achiel "Nacca" Moss Age:73 of Dunmore Street, Formerly of Lily and the Valley Corner Funeral Service will be held on Saturday 3rd March,2018 at 10:00a.m. at The Apostle of the Endtime Church located on Ferguson and West Streets. Officiating will be Pastor Carlos Wallace. Cremation will follow
He was predeceased by his parents Will Moss and Dorothy Marshall
Left to cherish his memories are his: Son: Fredrick Moss (Rosalie Moss)
Daughter: Makise Burrows Brother: Fredrick Davis Grandsons: Firnas and Farrell Smith
Granddaughters: Fredricka Moss, Lakeisa Davis, Nekeiva Romer, Ashley Williams.
Sisters-in-law: Brenette Davis and Sylvia Moss
Nephews and Nieces: Dedrik Ingraham, Spurgeon, Tyrone, Colin, Mario, Jetson Ingraham, Krystal Davis, Dorothy, Andrea, Debbie, Marie.
Grand Nephews and Nieces: Damien, Lavon, Deangelo, Kristman,Damon, Zoe, Phillip, Nadia, Marisha, Kataran, Arsenio,Dominique, Brittany, Dedrie Ingraham, Daija, Deandre, and Rhodesha.
Cousins: Gregory Williams and family , Portia Cartwright and family, Lorenzo Ingraham and family, Bugg and family, Rhoda Williams and family, Alcena Smith and family , Raymond, Arthur Albury, David Fester and family, Anthony Fisher, Gregory Fisher, Sheryl Fernander, Dianne Kelley, Jerome Kelley, Sidney Kelley, Reube Kelley, Ivan Marshall and family, Mitchell Ingraham.
Other relatives and friends: Kathlene Ferguson, Pastor Carlos and Mrs. Wallace and family, The Apostle Of The Endtime Church Family,Doctors and Nurses of Male Medical Ward 1 of The P.M.H. , Doctors and Nurses of the I.C.U. Ward at P.M.H. especially Nurse Hanna, Michael J. Munnings, Barry Thompson, Dereck Harvey Sr. and Jr. Demetrius Thompson, Gary Bethel, Stafford Rolle, Conrad Rolle, Steven Knowles, Mark Knowles, Ty Orlando, Mark Ingraham, James Ingraham, Millie Hepburn, Mr. Rahming and family, Janet and family, Thelma Walkes and family ,Mary and family, Mr. Lightbourne and family, Rayvanna Johnson, Craig Culmer, Phily, Tony, Kervin Oliver, Mr. and Mrs. Ferguson " Nacca" and family, Nay and family , Jeffrey Saunders and Family, Marguarite and Family, Jack , Rolly, Lily of the Valley Corner Community and Bain and Grants Town Community.
Friends may pay their last respects at Last Mile of The way Funeral Chapel Ltd. located Off Shirley Street, Freetown Lane on Friday 2nd March,2018 in the Zion Suite from 12:00 p.m. until 5:00 p.m. and again at the church from 9:00 a.m. until service time.
May his soul rest in peace.