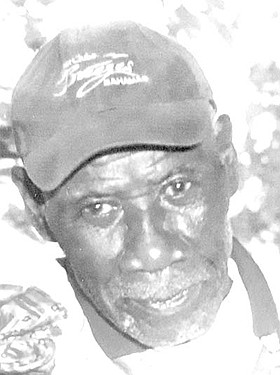 Wilfred Strachan
unknown - unknown
Funeral Service for Wilfred Strachan, 83
of Mangrove Cay, Andros, The Bahamas will be held on Saturday, March 3rd, 2018 at 10am St Matthew's Anglican Church, Shirley & Church Streets. Officiating will be Cannon Crosley Walkin and Cannon Archer. Interment will follow in the Southern Cemetery, Spikenard and Cowpen Roads.
Leaves behind to cherish his memories are his Children: Hansel & Leotha, Matthew & Geraldine Samuel & Tarmine, Prince & Pauline Antonio & Raquel, LLoyd, Gregory, Glenroy Calsey, Freddiemae, Audrey Strachan, Susan & John Davis, Pastor Lorene & Ricardo Stubbs Sr., Audrey & Strachan, Talbert, Sherman; Grandchildren: Hancel Jr., Geovanni, Jarad, CalseyJr., Keyshawn, Aden Strachan, Dr. Pastor Valentino & Ricardo Stubbs Jr., Jarad, Denis, Gregory, Darrio, Travano, Lawrence, Rashad Davis, Tamara Davis, Latoya, Shenequa, Ashley, Anishka, Asheka, Amanda, Valencia, Antonia, Arden-Maria Skye, Kemera, & Cassidy Strachan; Great Grand hildren: Quintin, Kaream, Aniqua, Tyresse, Azeria, Dion, Devon, Celine, Kenrick Jr., Garbriel, Derania, Ashton, Alicia, Kizia, Ricardo, Kyrie; Great Grandchildren: Alayha, Shamaria, Sheffield, & Tamari Wilson; 2 Sisters: Evangelist Beatrice Stubbs & Victoria Missick; 1 Brother: Vernal Strachan; Sister-in-Law: Mavis Strachan; Brother-in-Law: Rev. Dr. Wilfred Stubbs; Nieces: Marjorie Pratt, Missionary Terryann Moxey, Esthermae Hepburn, Melvene, Laverne Stubbs, Nurse Telcine Stubbs, Rose, Brandhilda, Maevene, Arlene Strachan, Prnetta Antonio, Sharon Clare, Shirley, Alice, Poemal, Patrice Strachan, Clara Morgan, Cynthia Barr-Rolle, Sylvia Rolle, Nicola Stubbs, Gloren Davis, Melvina Bowleg; Nephews: Joel Officer 1223 Andrew, Dwayne & Adrian Stubbs, Robert Missick Jr., Bradley, Dwight, & Ricardo Missick. Rosten, Ezekiel, Strachan Dr. N. Morgan, Prison Officer Marcus Strachan; Other family and friends including: Gerade & Antoinette Smith, Patsy Sherman, Prescola Ferguson, Andy & Essielyn Lawrence, Andrew & Daslyn Miller, Mrs Donna Johnson, The A & A Comfort Care Family and the Mangrove Cay Community and numerous other realtives & friends too numerous to mention.
Relatives and friends may pay their last respects at Newbold Brothers Funeral home, Palmetto Avenue and Ackilns Street on Friday, March 2nd, 2018 from 11am to 5pm and at the church from 9am until service time on Saturday, March 3rd, 2018.