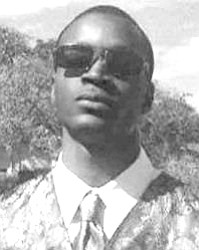 De'Angelo Outten
unknown - unknown
Funeral service for the late De'Angelo Outten age 30 years of Bread Fruit Street, Pinewood Gardens will be held on Saturday, March 10th, 2018 at 10:00 a.m. at Mount Tabor Church, Willow Tree Ave. & Mount Tabor Drive, Pinewood Gardens. Officiating will be Pastor Hervis Bain III. Interment will follow in Woodlawn Gardens, Soldier Road.
He was survived by his son: Deandre Outten;
Left to cherish his legacy are his Mother: Antoinette Curtis, Father: Robert Outten Sr., Son: DeShaun Outten; Daughter: J'leyah Outten, Sisters: Chineme Sands and Robyn Outten, Brothers: Leon Cooper, Sebastian Curtis and Dekotdeo Outten, Grand Mother: Perris Outten, Brother in law: Sean Sands, Sister in law: Deshay Curtis, Adopted Sister: Tedra Johnson, Aunts: Clarice Hamilton, Kimberley Stubbs, Cecile, Judy, Karen Outten, Sherry Wilkinson, Sharon Minnis, Michelle Wells, Linda Rahming, Marvette Minnis, Shelly Stubbs, and Elma Smith, Adopted Aunt: Deborah Nesbitt, Uncles: Derek Smith, Shane Stubbs, Robert Stubbs, Patrick Minnis, George, Winifred, Johnny and Macffallon Outten, Andre Hamilton and George Wells, Grand Uncle: Christopher and John Outten, Grand Aunts: Mary Ferguson, Tereista Miller, Gloria, Francia, Winifred Outten; Nieces: Chamya Hinzey, Rashay, Antonia, Toneisha Curtis and Alex Pinder, Nephews: Donte Davis, Sebastian, Anton, Antonio Curtis, Avion Sands, Leon Jr. and Ethan Cooper, Robert Outten III, Dari Outten, Cousins: Brianna Bethel, Santino, Shandel Outten, Micheal, Jamaal and Jayden Hamilton, Derek Jr, Kyle and Kevin Smith, Deshante, Lodgan, Tredika, Trelandre Davis, Shaniqua, Warren, Kodin and Ethan Rayford, Kadassa Davis, Javette Rahming, Creonvantae Wells, Antoniea Brice, Kendrick, Clementina, Ruth, Rebecca and Emmanuel Minnis, Betty Bain & Family, Vivian Minnis, Tyshawn, Sheena, Lashon, Tamara, Robert Jr., Tyrone and Tyrona Stubbs, Tino, and Taneisha Rahming, Tia Evans, Godmother: Marsha Deveaux, God Child: Vintory St. Louis; Other Relatives and Friends: Theresa Hepburn & Family, Michelle McIntosh & Family, Samantha McIntosh & Family, Wayne McIntosh, Christa and Helen Nesbitt, Shirrel Douglas, Kendrick Davis, Dario McKenzie, Zhavargo Adderley, Mr. McQuay & Family, Faybain Rolle, Annika Bain, Lakeisha Smith, Shavargo Thompson, Mr. & Mrs. Maycock & family, Earlin Burrows, Terry Kemp, Shanay Hamilton, Jerissa Deleveaux, Mrs. Bowe & Family, Lealand Beckford, Chenique Clarke & Family, Sandra Smith & Family Ms. Davis & Family, Ms. Forbes & family, Emily Robinson, Mr. and Mrs Moss & Family, Keisha Bowe, Michellen Sands, Outten Family, Lightbourne Family, Moss Family, Cox Family, Penn Family, Hall Family, Hamilton Family, Demeritte Family, Green Family, Shanell Ferguson MP of Fox Hill, Atlantis Staff, Kelly's Home Centre Staff, Kentucky Fried Chicken Staff, Bahamas Cheque Service Staff, Mt. Tabor Church Family, Pinewood Gardens Community, C. V. Bethel Class of 2004, Cleveland Clinic in Fort Lauderdale, Dr. Curling, Princess Margaret Hospital Staff and other relatives and friends too numerous to mention.
Viewing will be held in the Celestial Suite at Restview Memorial Mortuary and Crematorium Ltd., Robinson and Soldier Roads on Friday from 10:00 a.m. to 6:00 p.m. and at the church on Saturday from 8:30 a.m. until service time.