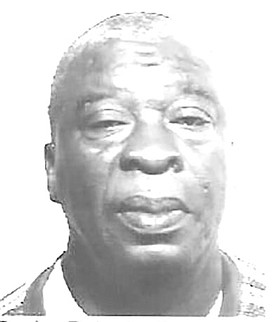 Roger Lunn Taylor
unknown - unknown
Funeral service for
Roger Lunn Taylor, 80
a resident of Vernon Street, Kennedy Subdivision,  & formerly of Governor's Harbour, Eleuthera, will be held at Hillview Seventh-day Adventist Church, Tonique Williams Darling Highway, on Sunday, May 27, 2018 at 2:00 p.m. Officiating will be Pastor Neville E. Scavella, Pastor H. A. Roach, Pastor Melvin Lewis, assisted by other Ministers & Elders.  Interment follows in Southern Cemetery, Cowpen & Spikenard Roads.
Precious memories will forever linger in the heart of his wife Ivy, of 56 years; Sisters: Marina Fernander, Isabelle Pratt; Brother: Arlington Allen; Sisters-in-law: Inez Taylor, Cynthia Taylor, Maggie Rolle,Vernell Albury, Betty Rahming, Patsy Roberts, Norma Mackey, Cooliemae, Verniece and Rehesar Francis; Brothers-in-law: Jim Fernander, Ansel Pratt and Colin Francis; Grand-children: Able Seaman Rashad Taylor (R.B.D.F.) Keilunn Taylor, Michael Lavarity Jr.; Great-grand son: Roger Taylor lll; Great-grand daughter: Aria Taylor; Adopted son: Kevin Solomon; Aunts-in-law: Icelyn Grant, Whillamena Brennen; Son-in-law: Hugh Clarke; God-children: Adrian Rollins, Daniel Curry, Joan Bain; Nieces: Carol Brennen, Shacarra Curry, Melanie Taylor; Nephews: Alexander Fernander, Martin, Kirk Francis, Michael Bowe, Derrick Rahming. Garth (Hop-Sing), Gary Roberts; Friends: Hugh Rollins, Rod, Willard Cleare and Family, Wendal, Robyn Clarke, Cheryl Ford and Family, The Gomez Family, The Brennen Family, Stewart and Lightbourne Family. The Winder, Pople, Dean and Bullocks Harbour Community, Mrs. Vylma Curling and Family,, Rev'd Mary Deleveaux, Ingrid Hunt, Sir. Sidney Poitier and Family, Q.C. Desmond Edwards, Q. C. Anthony McKinney, A.S.P. Raymond Butler and Family, Mr. Jerome Woods and Family, Ruby Fox and Family, Pat and Jan Thurston Sharon Morley and Family, Vinette Davis and Services, Kennedy Sub-division Families, South Beach Families; Caregivers: Loretta Ferguson, Pat Mortimer, Maria Lynes, Herbert Grant, South Beach Clinic, District Community Nurses, Trauma Room Staff P.M.H. Dr. Sinclare, Dr. Unwalla, Dr. Robin Roberts, Dr. Johnson, Dr. Elwood Donaldson, the Staff of Male Medial Wards 1,2,and 3; Pastors: H. A. Roach, N.E. Scavella, John Carey, R. I. Hanna, Paul Scavella, Leonard Johnson, Englerston, Centerville, Grants Town, Johnson Park, Maranatha and the Hillview S.D.A. church Families, St. Barnabas' Parish Family and the Voice of the Watchman Evangelistic Association; and a Host of other families and friends to many to mention.
Friends may pay their last respects at Demeritte's Funeral Home, Market Street, from 9-5:00 p.m. on Saturday & on Sunday at the church from 1:00 p.m. until service time.