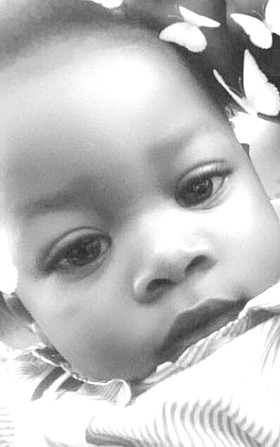 JAMARION ARMBRISTER-YOUTE
unknown - unknown
Funeral Service for the late JAMARION ARMBRISTER-YOUTE age 1 year of East Street South will be held on Saturday, November 3rd, 2018 at 11:00 a.m. at Prayer and Praise Assembly, Ragged Island Street. Officiating will be Bishop Hubert R. Kemp assisted by Dr. Cynthia Pratt. Interment will follow in Old Trail Cemetery, Old Trial Road.
Precious memories will linger in the hearts of his Mother: Shakera Youte, Father: Johnson Youte, Sisters: Johnnisha Armbrister, Jayiquiniue and Johnesia Youte; Brothers: Jaquin Armbrister and Miguel Bowleg; Great Grand Father: Alberth Armbrister; Grand Mothers: Raquel Armbrister and Parolite Youte; Grandfather: Emelin Octeus; Aunts: Sophia Bryan, Tremaine Hart, Jacquel Pierre, Annie Pierre, Davrell Tinto, Brendia Coleby, Samantha Williams, Emilien Cartwright, Miola Octeus, Sonia Youte, Nicole Octeus, Ginette Louis Pierre, Chantal Charity, Addline Knowles, Keva Greenslade, Ivanna; Uncles: Theo Armbrister, Renardo Brown, Ricardo Brown, Gary Tinker, Patrick Youte, Seneque Youte, Renel Youte, Yves Pierre; Grand Aunts: Nicola Richard, Sheena Kemp, Joyann Bain, Telvern Dean, Madeline, Nesbit, Adelia Wallace, Rhonda Armbrister, Medleo Brown, Donna Brown, Idella Brown, Bridgette Kelly, Laketha Sealy, Flossie Brown, Sabrina Brown, Estller Youte, Nana Octeus; Grand Uncles: Pedro Goodman, Camilis Octeus, Soliver Dorsvillien, Patrick Brown, Brian Brown, Ed Brown, Ricky Sealy, Jack; Cousins: Skyler, Theo Jr., Syed, Ian Jr., Trenardo Jerrard Storr, Bethany Deveaux, Deandra Hart, Deandra, Deangelo, Angela Cartwright, Adrianna, Brandisha, Shanika, Marco, Jean, Geno, Renell, Evanya, Gevante, Taniyah, Senario, Isiah Roslie, Peter, Caroline, Francis, William, Jackie, Tony, Metlen, Enoch, Remington, Wilkie, Yvette, Monique, Isny, Kayshon Kaylen, Aden, Shakara, Etheyn, Patrick Jr., Brineie, Santrinque, Brianna Jaren, Deangelo, Ricketha, Ricky Jr., Ed Jr., Jacquel, Ethel, Cardo and Joel, Monique, Sheniqua, Shenory, Shermia Forbes, Shenika McPhee, Natasha, Adrian, Romell Perks, Rochelle Hanna, Cherhonda Lesie, Omar, Lewis Roberts, Jaychelle Hanna, Jayson Hanna, Davleo Thompson, Nakia Mortimer, Destinee Parks, Jason Hanna Jr., Desiree Roberts, Phylesha Burrows, Reginique, Lyndesha Burrows, Rashad, Charlton Babbs, Ethan Bain, Fredrick Rolle, Kendricka Williams, Donte Williams, Kenvonya Rolle, Kenvonya Rolle, Khamorie, Babbs, Ethan Bain Jr., Sayed Bowles; Great Great Grand Uncle: Bishop Shelton Newton, Andrew Armbrister, Alington Armbrister; God Mother: Mia Lockhart, Rossie Johnson; God Sister: Dwiesha Musgrove, Shaun Lewis, Kalia McKinney, Rozinique Russell, Omara Mish; Godfathers: Eldardo McKinney, Parblo, Dexter Lewis; God Brother: Omria Miah, Nathan Russell, Michael McKenzie; other relatives and friends: Princess Margaret Hospital Staff, The Sun Bound Family, Leisure Tours Family, JCMMI Family, Children Ward, North and East, Richville, DR. Family, Farquharson's, Pinder's, Bowe's and Jones Families, Dr. Nairn, Dr. Singue, Dr. Johnson, Dr. Bassette, Nurse Archer, Brown, Major and Dunli Jera.
Viewing will be held in the Halcyon Suite at Restview Memorial Mortuary and Crematorium Ltd., Robinson and Soldier Roads on Friday from 10:00 a.m. to 6:00 p.m. and at the church on Saturday from 9:30 a.m. until service time.