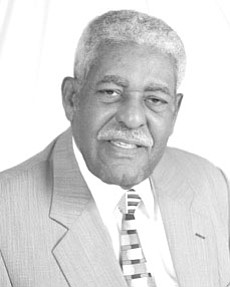 Former Member of Parliament Earl Vincente Thompson Sr
unknown - unknown
Funeral Service for the Late Former Member of Parliament Earl Vincente Thompson Sr. aged 84 years of #74 Infant View Road will be held on Friday October 5th 2018 at 11:00 a.m. at St. Francis Xavier Cathedral, West Hill Street. Officiating will be Fr. Glen Nixon assisted by other ministers of the Clergy. Interment will follow in St. Augustine Monastery, Fox Hill Road.

Left to cherish his memories are his Wife: Venencia, Children: Clinton Cooper Sr. (Kim), Earl Jr., Marici and Jacinta Thompson. Grandchildren: Clinton Jr. and Cindy Cooper, Dr. Earl "Trey" III, Vincent and Averi Thompson, and Trent Johnson. Great-grandson: Taylor Thompson. Sister: Beryl Adolph. Brothers-In-Law: Sir Arthur Foulkes, Samuel Hall, Philip Symonette. Sisters-In-Law: Joan Lady Foulkes, Gwendolyn Turner, Hariette Nixon, Betty Hall, and Mary Symonette. Nephews: Vincent Morgan (Dawn), Russell Dyett (Yvonne), Anthony Dyett (Jessie), Marvin Dyett (Lisa), Gaylord Newbold (Rebecca), Philip, Patrick and Dave (Karen) Thompson, Gerald (Gwen), Ronald (Edda) and Mark Adolph, Kermit Thompson Jr. (Cheryl), Brendan (Rosie), Hon. Dion Foulkes (Emma), Hon. Michael Foulkes, Leo, Joseph, and John, Carlos (Chandra) Foulkes, Keith Harris (Mary), Terrance Nixon Jr. (Jamie), Justice Bernard Turner (April), Eric Hall (Tiffany), Kenneth Bethel (Sherilyn). Nieces: Jaqueline Hill (Frank), Andrea Morgan, Phillippa Anne Armstrong, Cheryl Greene, Donna Sherman, Elaine Thompson, Penelope Thompson, Renee Knowles, Julie Herrera (Prospero), Chantal Okperee, Lisa Bethell (Hon. Carl), Dominique Johnson (Lee), Therese Jones (Dennis), Giselle Fielder, Karen Walcott (Kenneth), Cecille Green (Stafford), Anita Christie (Basilio), Venencia Hall, Stacey Adderley (Wayde), Yvette Nixon, Ninette Williams (Pete), Dee Dee Drain (Jesse). Adopted Children: Dwight and Jacinta Higgs, Randy and Khalilia Knowles, Keith and Wendy Armbrister, Ingrid Kerr and Judith Adderley. Cousins: Lloyd Johnson, Delice Lynch (Carl) and Shari Hall, Debbie Armstrong (Gurney) and Family, Mitzie Swaby, Peggy, Beverley, Shelly, Perry and Terry Archer, Esther Armbrister and Family, Bishop Ian Brathwaite, Vivienne Francis and Family, Oswald Francis. Other relatives: Ava Burke-Thompson, Dr. Tia Leon and family, Denneisha Dean & family, William Kyle Smith, Patricia Burke & Family, Anthony Sherman, The Family of Elaine Sands of Freeport, Grand Bahama, Joyce Shaw-Macey of Grand Cayman, Rolisia (Lisa) Newbold, Heather Morris and Lavar Ferguson Dr. Kevin Carroll and Dr. Demi Lyew Numerous Godchildren, Incuding: Patricia Francis, Monique Cox, Kenrick Kemp, Glen Saunders, Tyrone Christie-Rollins and Dwayne Murray. Life-Long Friends: Justin and Shirley Roberts, Fernley Palmer & Family, Andrew "Dud" Maynard & Family, George Edwards, Edward & Paula Carey, Joyce Drakes & Family, Alpheus Ramsey and Family, Rosie Fernander & Family, Mr. & Mrs Anthony Carey, Alpheus Ramsey, Zoe Galanis & Family, Patricia Schuck & Family of St. Paul, Minnesota, Debbie Armstrong & Family of St. Paul, Minnesota, Winston "Tappy" Davis, Other Family Friends: The Entire Major Family of Chippingham, Roxanne and Hubert Chipman, Mark and Carla Bastian and Family, Gregory Miller, Andy Sargent, Carlos Forbes and Family, Clifford (Cliffie) Humes, Mizette Coakley, Carl Taylor and Family, Drs. John and Sonia Lunn, Alice Johnson, Melanie Hanna and Family, Minister Deborah Lewis, Carlton and Porsha Robinson, John Saunders and Family, Richard "Lemon Tree" Johnson, Cephas Miller, Gloria Mortimer, Pleasant Gould & Family, Barbara Sweeting, Terry and Ronda Murray, Cora Dean-Rolle and Family, Mr. and Mrs. Carlos Sabala, Mizette Coakley, Althea Hudson, the Romer Family of Chippingham, the Reid Family of Chippingham, the Brice Family of Chippingham, Hon. Mark Humes, MP Fort Charlotte, Shonel Ferguson MP Fox Hill, the St. Augustine's College Family, The Entire Chippingham Community, St. Francis Xavier Parish Family, especially the Hospitality Ministry, Legion of Mary, The Men's Group, The SFX Senior Choir, St. Vincent de Paul Society, The Knights of Columbus, The Office and Members of the Free National Movement, Lodge St. Michael, Sting and Most Qualify Junkanoo Groups, SAC classes of 52, 79, 80, and 85, Holy Cross Anglican Church Community, The Nassau Beach Reunion Family, The Daltons Group, Staff of the Bridge Authority, and many other friends too numerous to mention; The Family would like to express sincere gratitude to those who prayed for and visited Earl during his illness. Special thanks to his devoted caregivers; Rolisia (Lisa) Newbold, Elisha Forbes and Manette Maycock, His devoted doctors: Dr. Darius Bain, Dr. Christine Chin, Dr. Dia Serville, Dr. Patton Adderley and Dr. Delton Farquharson. The dedicated Nurses of PMH. Hon. Carl and Lisa Bethell and Family, Dwight and Jacinta Higgs, Sherilyn Bethell, Hon. Mark Humes, Vincent Wring Jr., Patricia Francis, Heather Morris, Jeanette Forbes, Judith Adderley, Roxanne Chipman, Monsignor Simeon Roberts, Fr. Richard Cartwright and Deacon Samuel Mitchell for their spiritual support to both Earl and his Family.
Friends may pay their last respects at Bethel Brothers Morticians, #44 Nassau Street on Thursday from 10:00 a.m. to 6:00 p.m. THERE WILL BE NO VIEWING AT THE CATHEDRAL.