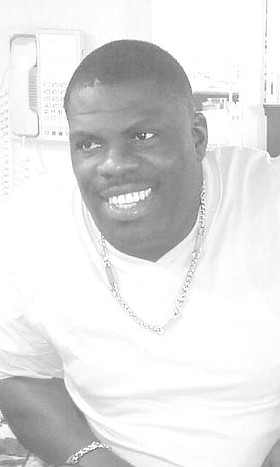 Terrance Lemont Brown Sr
unknown - unknown
Sapphire Service of Celebration
For
Terrance Lemont Brown Sr. Age 45 Years of #16 Willis Street, Nassau Village and formerly of Little Creek Andros, will be held on Saturday, October 06, 2018 at 10:00am at Southland Church of God, Soldier Road West. Pastor Howard Stuart, assisted by Bishops Christopher and Goliath Burrows, Bishop Fritz Stubbs, Pastor John Moore and Minister Sterling Moss will officiate, burial will be in Old Trail Cemetery, Old Trail Road.
The Radiance of this "Sapphire of A Gem" will always glow in the hearts of his:
Mother: Susanna Pearline Burrows-Barr;
Father: Leslie Brown;
Two Sons: Terrance Jr. and Trevon Brown;
Three Daughters: Clair, Tiaja and Chianna Brown;
Four Brothers: Darcy Williams (Sheena), Ernest Horton, Elvis Brown and Elvis Barr (Kezia);
Two Sisters: Tamara Brown and Nikeisha Morley;
Ten Nephews: Tyreke and Kylan Williams, Elvis Jr., Deshad, Tensisha and Jodel Brown, Ernest and Christopher Horton, Christian and Nakeisha Morley;
Five Nieces: Alicia Williams, Vandria Rolle, Altonise Watson, Nakisa and Nakaya Morley;
Eight Uncles: Neville, Raymond and Ken Burrows, Simeon, Carlton and James Brown, Frankie Scott and Chief Apostle J.B. Sands;
Thirteen Aunts: Shirley Clarke, Joycestina Scott, Lucille and Joana Brown, Cleo Anderson, Maureen Symonette, Aribella Johnson, Donnalee, Sarah, Erica, Satesa, Irene and Elanor Burrows;
Cousins: Anishka and Jamal Edgecombe, Dwight, Dealo and Enid Armbrister, Monique, Talia and Miles Banks, Melinda, Kathilyn and Keith Thomas, Ann-Marie, Shaniqua, Bernard, John Jr. and John Moore, Steven Rolle, Dion and Rayvon Clarke, Brenton Dames, Linda, Zhivargo, Romel, Samantha, Lawrence, Coren, Ian, Raymonte, Rayshante, Rayasia, Laresa, Deandra, Leroy, Keith, Kevin and Daniel Burrows, Alex and Sharice Brown, Fedor, Fedra, Dutchess and Richard Sands (Roston), Desiree Bain, Francoya, Felecia, Francina and Frankie Scott, Harrington and Reba Moss, Michael and Willie Smith.
Step Father: George Barr;
One Step Brother: Fredrick Barr;
Two Step Sisters: Gavana and Tiffany Barr;
Other Loving Family and Friends Including: Tonia Newton, Sharnette McKinney, Sharice McQuain, Geraldine, Tamaria, Priscilla and Frank Brown and their families, Atlantis Outdoor Food and Beverage to which he belonged, Genesis Junkanoo Group, Hon. Picewell Forbes, Little Creek Andros Burrows Families and the Nassau Village Families, R. M Bailey Class of 92, Ira Storr and The Spank Band, The Rhythm Band, Shield Of faith Church, Agape Church, MRF Church Families.
Public Visitation will be at "Curtis Memorial Mortuary" Robinson Road and Fifth Street on Friday, October 05, 2018 from 1pm to 5pm and at Southland Church of God, Soldier Road West on Saturday, October 06, 2018 from 9am to service time.
Services By: Emerald Memorial Mortuary.