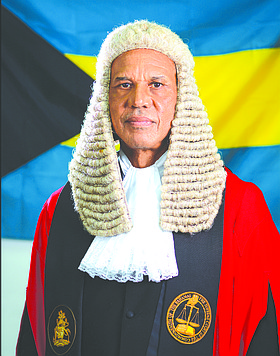 Chief Justice, Hon. Stephen Gerard Isaacs
unknown - unknown
State Funeral service for Chief Justice, Hon. Stephen Gerard Isaacs, age 63 years, of Highland Park, will be held on Friday September 7, 2018 at 11:00 a.m., at Christ Church Cathedral, George Street, Officiating will be The Venerable Keith N. Cartwright, The Most Reverend Drexel W. Gomez, The Very Reverend Harry J.L. Bain and The Reverend Deacon Bryton B. Ward. Cremation will follow.

He is survived by his children: Stephen V. Isaacs and Capri P.S Isaacs; siblings: Peter Isaacs, Theresa Moss, Rosalind Neely and Sonia Isaacs; aunt: Mary Bethell; in-laws: Michael Neely and Brian Smith; Jean, Camille and Dorothy Isaacs; nieces and nephews: Todd (Lanee ) Isaacs, Linda Carr, Gerald Isaacs III, Gerard, Ann, Neal (Gaynell) and Brenda Albury, Robin (Harry) McDonald, Darin and Alexander Isaacs, George-Patrick and Anna Isaacs, Louis, Gustavo and Rudyanne, Gary Moss, Chris Braithwaite and Anthony (Alveeta) Moss, Paul Neely, Jennifer (John) Godet and Samantha Neely, Robert Isaacs Jr. Leah (Tyrone) Archer and Chester Robards; loved by his numerous grand and great grand nieces and nephews; god child: Omarie Thompson; cousins: family of the late Edward (Ned) Isaacs, Maybel (May) Fountain, James Cecil Isaacs, Blanche Noami Archer, Olga Patricia Grant, Sybil Grace Thompson, Eloise Ulricka Bethel, Winton Patrick Isaacs and Audrey Virginia North; and many others too numerous to mention.
Chief Justice, Hon. Stephen Gerard Isaacs will lie-in-state on Thursday September 6, 2018 at the Supreme Court, Parliament Square, Bay Street from 9:00a.m until the body departs for Christ Church Cathedral, George Street.
Viewing for the General Public will be from 1:00p.m to 6:00p.m on Thursday September 6, 2018.
Funeral arrangements entrusted to Butlers' Funeral Homes & Crematorium, Ernest and York Streets.