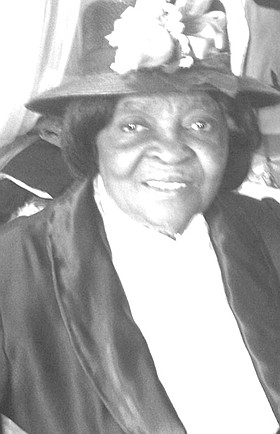 Evangelist Rev. Myrthelin Bastian
unknown - unknown
Funeral Service for Evangelist Rev. Myrthelin Bastian of Podoleo Street and formerly of Jamaica who died on March 29, 2019 will be held on Sunday April 14, 2019 at 11:00 a.m. at Gospel Truth Tabernacle Church of God, Johnson Terrace , Fox Hill. Officiating will be Bishop Franklyn Burrows assisted by Other Ministers. Interment will follow in Lakeview Memorial Gardens, John F. Kennedy Drive.
She was predeceased by her husband Rev Wilfred A Bastian (24 march,2018)
Left to cherish her loving memories are her Children: Vanessa Burrows, Tashana and Shantoya Bastian, Stepson;Anthony Thompson, Father-in-law: James Davis; Son-in law: Festus Burrows, Daughter-in-law: Monique Thompson, Grandchildren: Festus & Feshae Burrows, Kermit Moss 111 , Anthiniqua Thompson,Janeisha Bain; Brothers and Sisters: Sidney Gunzalles, Victoria Johnson, Sarah Tate, Inez Codner, Icey Roberts, Barbara & Madlyn Ferguson, Edwina Gibson; Brothers-in-law: Ustas Tate, Zachary & Caleb Beneby,James,Craig, Marvin & Rico Davis; Sisters-in-Law: Faye and Vera Gunzalles, Jacqueline Garcias,Loretta Beneby, Velma Ferguson, Janet Rolle, Sandra Russell, Beverley,Val,Michelle,Ann Davis. Aunts and Uncles-in-law: Patsy Humes, Marvin Davis; Nieces and Nephews: Sonia, Rosie,Patsy, Horace, Lynden Johnson, Michelle, Sharan,Shawn, Lilete and Monica Birdie Tate, Ulanda ,Donald , Davina, Shanoya, Spence, Sherekie, Kayan,Raymond,Carlton, Melissa Gunzell, Angella, Emerson, Dennison Culmer, Mark Gibson,Christopher Clarke, Atwell, Preston,Shawn, Donald, Cordero,Richard,Geno, Sintano,Kidtell, Gina Ferguson, Sheryl and Donell Carey, Patrice GibsonKahja Miller, Rademas and Ademas Garcias, Serena Soare; Cousins: Vera, Smiley, Marlon, Aniska Russell, Paulette, Pauline, Evang. Lisa and Martin Burrows Sr., Charisma and Raquiah Huyler, Theresa and Ellis Adderley, Wendy Humes, Edith, Shelly,Monique Bastian, Baricka Johnson, Eugene Pratt, Martin Burrows Jr. Diva and Chad Burrows; God children: Frankcina Ferguson, Loran Turnquest, Anfernee Moultrie, Gwendolyn Saunders, Ruis Knowles Jr.,Mona lisa Knowles,Dionte Rolle, Brianna Burrows, Naynay, Other relatives and friends including:Bishop Franklyn Burrows & Ruthmae Burrows & Gospel Truth Tabernacle Family, Rev. Tony Joseph & Tony's Cabinet Family, Pastor Reginald & Sandra Saunders & New Born Family, Mother sheila Kentiash & Family, Bishop Dion Mott & Family, Pastor Fisk & Gwen Burrows & Family, Pastor Patricia Cooper & Family, Pastor Stephanie Cartwright & Family, Pastor Kiethdrum & Inga Saunders & Family, Pastor Gloria Robers, Pastor Jermaine & Marie Jones & Forerunner Deliverance Family, Apostle Lindo Wallace & Famaily, Pastor D.W. Dorsett and the entire Podoleo street Family, Pastor Ben Pratt & Family,Bishop Alfred Rolle & Family, Pastor Ivan & Darnell Carey & Family, Gregory & Evadney Bascom, Ruthlane & Glen Saunders & Family, Daryl & Frankieanna & Delton Cartwright, Coleen Robert, Kevin Roberts, Franklyn 11, Frederick, Franklyn 111 Burrows. Keturah Rolle, Mary, Florinda, Frankiemae, Angel Burrows, Fransheva and Robert Pratt, Ameil & Felicia Minus, Staff of SSG Services, Wayne Treco and CGT Contractors Family, Peter Whitehead and Gunite & Osprey Developers Family, Franny and the Bahamas Waste Family, Michael Sweeting & Bam Auto Family, Keith Mccartney & Battery & Tyre Specialist Family, Michael Sweeting & Bam Auto Family, Ian & Portia Coerbell & the 48Hrs Auto Family,Isula Henfield & Family, Christopher & Lavaughn Higgs & Family. Sherry Turnquest, Hudley & Victoria Moss, Clement & Dellarese Williams, Audrey Farqueharson, Jason Agenor, Frederick & Larry Moultrie, George Bethell, The Henfields, Don Aranha & Family, Rick Pratt, Danny & Ricky Capron, Quincy Taylor & Family, Donna Thompson & Family, Colleen Roberts, Quincey Taylor, Kermit Moss,Perry Pratt and Family, Kim Stubbs, Alfred & Cheryl Kemp,Sue, Tika , Renaldo, Alpheus Rolle,Trevor & Allison Cox, Stephen & Nicole Johnson, John Whymns,Rick Pratt, Monique, Ruis, Terell Knowles, Idamae Russell &Family, Cedric Newbold and Family, John Whymns, Don Aranha, Delores Rolle & Family, Esther Williams, Edith Jones and Margaret .
Viewing will be held in the Legacy suite of Vaughn O. Jones Memorial Center, Mt. Royal Ave. and Talbot Street on Saturday from 12:00 noon to 5:00 p.m. and on Sunday at the Church from 10:00 a.m. to service time.