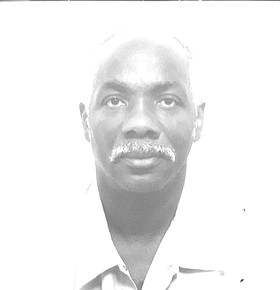 Neville Ruvelle Burrows
unknown - unknown
Funeral service for the late Mr. Neville Ruvelle Burrows age 64 years of #9 Chipps End, Fox Dale, and formerly of Little Creek, South Andros will be held on Saturday, August 10th, 2019 at 10:00 a.m. at St. Francis Xavier Cathedral, West Street North. Officiating will be Father Glen C. Nixon. Interment will follow in Woodlawn Gardens, Soldier Road.
Neville mourned the passing of his parents: Susan and George Burrows, son: Terran Burrows, granddaughter: Oriana Bain, sisters: Miriam Burrows and Victoria Sands, brothers: Prince, Ernest, Daniel & George Burrows.
Left to preserve his life and legacy are His wife: Donnalee King-Burrows; Daughters: Desiree (Jabez) Bain, Donerique (Ricardo) Collie, Djena Newbold; Sons: Ian (Lynette) and Koren Burrows; Grandchildren: Jamaal, Alycia and Indera Burrows, Jabez and Katelyn Bain, Danté Clarke, Rinique, Riché and Darien Collie, Demetria and Demetrius Butler; Great-Grandchild: Dawn Clarke; Sisters: Shirley Clarke, Susanna Barr, Joycetina Scott; Brothers: Charles and Leroy Burrows; Father-in-law: Rev. Hubert King; Sisters-in-law: Sarah, Eleanor, Erica and Irene Burrows, Doranell King, Prenell King-Rolle, Jacklyn King-Langer, Carolyn King-Williams, Rochelle King-Trabulsy and Icelyn King; Brothers-in-law: Apostle J.B. Sands, George Barr, Rev. Frankie Scott, Ricardo Rolle, Alexander Langner, Mark Williams, Norman Trabulsy and Rev. Brainard King; Nieces: Annmarie (Rev John) Moore, Monique Banks and Melinda (Keith) Thomas of New York, Anishka (Jamaal) Edgecombe, Francoya Scott, Felicia Blair, Francina Greene, Samantha Forbes, Reba Farrington, Lanaya, Rayasja, Lashante, Rayshanta, Levessa, Leandra and Toni, Starlette Gibson, Tamara Fraser, Alexia, Alexis, Anya Fernander, Alyscia & Brainaisha King; Nephews: Roston Sands of Texas, Alexander (Cherise) Brown and Darcy Williams of Freeport, Michael (Willie) Smith of California, Fedor (Dutchess) of Fresh Creek, Andros, Harrington Moss, Dwight (Enid) Armbrister, Elvis Barr, Deon, Frankie Scott, Jr., Kevin, Daniel, Devon Jr., Leroy Jr., Romell, Zhavargo & Lawrence Burrows, Cerio, Keric & Kinard Rolle, Alexander Fernander, Malcolm Williams, Brainard, Jr., Hubert II, Breon King & Malachi Trabulsy; Godmother: Catherine Johnson; Caregiver: Ms. Eliette Joseph; Other relatives and friends including: Steven & Deborah Rolle & family, Dewey Taylor & family, The entire Burrows & Munroe family of Little Creek, South Andros, Bloneva Gordon & family, Little Creek & South Andros community, Isadora and Martha Moxey & family, Isaiah and Cynthia King & family, Jay & Wendy Rahming & family, Margaret & Clayton Duncombe and the Duncombe family, Bharti Jones & family, Edmond and Iris Moxey & family, Mr. Neely & family, Shervin Bevans & family, Jerome Fitzgerald & family, Martha Smith & family, Patrick Edwards, Christopher Pratt, Samuel Hunter, Teddy Clarke, Coretta Bannister, Jennifer Lambert, Kim McLean, Diana Rolle and the LeAir family, Mr. & Mrs. Everette Hart, Sean & Elma Turnquest, Stacy Burrows, Mr. & Mrs. Michael Brooks, Mr. & Mrs. Hermes Laing, Mr. & Mrs. McQuay, Jeff and Delglicia Smith & family, Lynn Nottage & family, Deacon Samuel Mitchell, Archbishop Patrick Pinder, Father Glen Nixon, Bishop Laish Boyd, Fr. Scott Brennen, Fr. Roderick Bain & St. Georges Anglican Church family, Rev. R.E. Cooper, Jr., David and Miriam Thompson, Mangrove Cay Andros community, Bahamas Electricity Corporation Retirees, BEC Consumer Unit, BEC Exuma, St. Francis Junior & Senior Choirs, Rev. Timothy Stewart and the Family of Bethel Baptist Church, Shield of Faith Church, MRF church family, Donald E. Thompson Associates, Thomas & Mizpah Smith & family, Arneth Rolle-Hanna, Albert & Juanita Armbrister Keturah Ferguson, Fausteen Major-Smith, Carolyn Robinson, Sophia Ferguson, Anishka Bowleg, Director of Immigration, the Department of Immigration family, Allison Coley & family, Mr. Cecil and Mrs. Vanessa Smith & family, Dr. Sheena Smith-Wallace & family, Dr. Beverton Moxey, Dr. Don Deveaux, Dr. Pinto, Dr. Tinubu, Nurse Dawn Albury of Island Ostomy Wound Treatment Centre, Nurse Andrea Nottage and the nursing team of PMH Private Ward, Nursing team of Doctors Hospital, Doctor's Hospital Ambulance Service, Nurse Brenda Smith & staff of Angels Elite Nursing Services and many others too numerous to mention.
Viewing will be held in the "Serenity Suite" at Restview Memorial Mortuary and Crematorium Limited, Robinson and Soldier Roads on Friday from 10:00 a.m. to 6:00 p.m. and at the church on Saturday from 8:30 a.m. until service time.