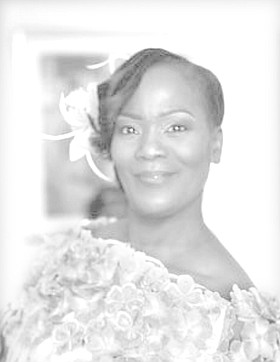 Yvonne Rahming
unknown - unknown
Funeral Service For
Yvonne Rahming Age 56, a resident of Romer Street Fox Hill, died at The Princess Margaret Hospital on Wednesday, November 26th, 2019 will be held at New Providence Seven Day Adventist Church, Soldier Road, Nassau, Bahamas at 11a.m. December 15th, 2019, Interment will follow The Western Cemetery Nassau Street
 
Cherished memories will forever linger in the hearts of her loved ones:
Children: Ron Rahming, Keturah Demeritte, Chavon and Charles Martin.
Grand children: Taleah Thompson, Kaelyn Demeritte, Ronnae, Ronique Rahming, Rah'shilo Charlton, Zuri Burnside, Charlize and Charles Martin Jr.
Son in Law: Cale Demeritte
Daughter in Law: Nordia Martin
Sister: Barbara Strachan
Brothers: Philip, Colin, Cedric, Daniel and Dereck Rahming
Sisters- in- Law: Eunice, Farida, Toya and Tanya Rahming
Brother in Law: Peter Strachan
Nieces: Anthea McKenzie, Tiniha Strachan, Shakara, Philicia, Annastacia, Vanessa, Samantha, Derecka, Tanisha, Derenique and Cedrinique Rahming.
Nephews: Lamont, Tehrad, Javon, Delmar, Dereck Jr., Rex and Antonio Rahming, Rashad Dawkins, Philip Hanna and Shaquille Ferguson.
Grand Nieces and Nephews: Kelita and Carter Fritzgerald and Wyette Rahming,        Kelaiah Oliver, Caranique, Careo Jr., Alicia and Latero Cash, Kiyano Davis,  Vano Rahming, Philip Jr. and Paulene Hanna, Alejandro Woods, Amani Miller and A'Myah  Francis,  Shaquae Ferguson
Aunts and Uncles: Maedean Rahming, Ettamae McKenzie, Marina Rolle, Ellamae Hall, Cecil, John and Gwedolyn Rolle, Lucy Rolle.
Cousins: Vernal and Raymond Butler, Agatha, Dale, Floyd, Lefred, James Jr., Vera Rahming, Jamella, Denise,  Jamelia, Demetrius, Earnest, Brenda, Delarese, Rollin, Cassius, Michelle, Lestine, Helen, Johnny, Hazely, Terecita, Valerie, Jacqueline, Gardell, Terrance, Peter, Lemuel, Norman, Ralph, Richard, Cynthia, Stephanie, Cleomie, Sandra, Gerald, Wendal, Wellington, Cecil, Joyce, Jenny, Amos, Leslie, Albert, Jameson, Dotlean, Montrella, Irene, Theresa and Edward.
 
Other relatives and close friends including:  Charles Martin and Family, Roberta, Ralph and Oscar Collie, Denise Shaw, Charlene, Santosh, Sankeira, Ezra Butler, Raymond Jr. Butler and Family, Cleveland and Dena McPhee, Isadora McPhee and Family,  Elijah Rahming and Family, Latera Forbes and Family, Warcara Hanna and Family Kental Ferguson and Family, Linda Demeritte and Family, Shekeiah Bain and Family, Ken and Elizabeth Pilcher, Drayton and William Pilcher, Gail and Trevor Thompson and Family, Rochielle Bevans and Family, Bahamas Hotel Association, The Staff of Consolidated Marine Group, New Life Christian Church, New Providence Seventh Day Adventist Church, Grants Town Seventh Day Adventist Church, Doctors and Nurses of PMH Female Medical 1,The staff at Atlantis Pastry Shop and Sun and Ice, The Nassau Airport Development (NAD); and a host of other relatives and friends too numerous to mention.
Relatives and friends may pay their last respects at THE CHAPEL OF MEMORIES THE NEW COMMONWEALTH FUNERAL HOME, INDEPENDENCE DRIVE Friday from 10:00-6:30 p.m. and at the church Saturday from 10:00 a.m. to service time