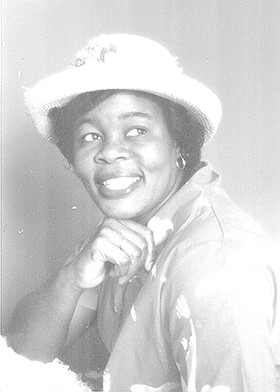 Beulah Mae Hart
unknown - unknown
Funeral service for
Beulah Mae Hart, 68
a resident of # 4 Smith's Lane, off Wulff Road and formally of Old Bight, Cat Island, will be held at Zion Baptist Church, East & Shirley Streets  on Saturday, February 2nd, 2019 at 10:30 a.m. Officiating will be Rev. Terrance G. Morrison, assisted by Rev. Anthony Sampson and other Ministers of the Gospel. Interment follows in Woodlawn Gardens, Soldier Road.
Left to cherish her legacy are her adopted daughter: Fredesha Edrisa Pearl Neely, of Oklahoma, Sisters: Susiemae Dorsette, Joyce McLean of New York, Deaconess Elnora Rolle of Cat Island, Geneva Dorsett, Mazie Simmons, Tezerine Gray and Barbara Smith, Brothers: Raymond Taylor, Ersom Dorsette (Vero Beach Fl) and Bertram Dorsette (Orland Florida); Adopted Sisters: Eloise Hart, Jaqueline Smith (Delray Beach) and Esther Forbes, Sister in Law:W/R/Supt. Ellamay Rolle, Brothers in Law: Alfred Dean and G. Arlington Rolle of Cat Island, Nephews & Nieces: Ryan (Garnell) Dorsette, PC 2084 Prince (Paulette) Dean, Benjamin Dorsette (Atlanta Georgia),Jaden Dorsette (Orlando) Fr. Dwight (Rochelle), Bradley, Lloyd (Channvon), Glenn (Sandra)Rolle and Lindy Knowles (Ft. Lauderdale), Alsaida (Rev. Ritchie) Newchurch, (Exuma) Marsha (Ian) Williams, Erica Dean, Wendy (Rev. Ezra) Russell, Dianette Dorsette, Patricia Tobin, Jacqueline Rolle and Candice McLean (New York), W/R/Sgt. 486 Philippa & W/R/C. 482 Helena Rolle, Karen (Barron) Missick, Delecia and Bridgette Rolle, Grandnieces & nephews:Cicely & Sean Stubbs, Regina & Eyvonne Newchurch, Felecia, Ethera & Tre Russell, Ashleigh & Diquan Dorsette, Samantha (Tampa), Clarissa, Sametha, Kaylissa, Samuel Jr, and Princess Dean, Travis Barnett (Oklahoma), Jaden & Richea Thompson, Antonio, Dion, Ashton, Ashley & Rasenio Rolle, Marine Mechanic Adrian Hinsey, Marine Seamen Dwight Rolle Jr., Horatio Outten, Branae Stubbs, Giavonni, Natasha & Isaiah Tobin, Amber & Jaelyn Dickens (New York) Grandaunt and Granduncle: Corene Davis and Charles Hart, Children and Families of the late: Buena, Viola & Cedric Cleare, Joanna Armbrister, Idena, Leviticus, Hensel & Hurtle Rolle, Cleveland, Ronald, Egbert & Alice Hart, Beatrice Seymour, Bessie Cartwright, and Amanda Dawkins, Godfather Getter Rolle & Godmother Leanna Rolle (Freeport, Grand Bahama), Numerous Godchildren; and a host of other relatives and friends: Bishop Benjamin Gibson, Bishop Neville E. Hart, Bishop Stanley Seymour, Bishop Lawrence Rolle, Pearline & Olga Johnson, Patricia Carey & Family, Dr. H.A Simmons, Amelia Wilson, Amelia Bowe, Isabelle Burrows, Dorrine Moss & Family, Eldora Bonaby, Leona Hepburn-Armbrister, Capt. Albert Rolle & Family, Apostle Delton D. Fernender & New Destiny Baptist Cathedral Family, Rev. Terrance G. Morrison & Zion Baptist Church Family, Glen Dean & Family, Beverley Rolle & Family, Ronnie Cash & Family, Inetta Hart & Family, Icelee Burrows & Family, Venera Russell, Laurel Butler, Frederick Neely, Gladys Miller, Ms. Edwards, Kasa Hanna, Hart, Rolle, Simmons, Dawkins, Brown, Romer, & Russell Families, Staff of Esso Wulff & Montrose, Administrator's Office Staff (Cat Island), SRC Staff, C-PRA Rubis Staff, Southside Boys, PaB's, Old Bight All Age School Scholars Association, Smith's Lane and the entire community of Old Bight, Cat Island; Special thanks: Dr. Fox & Staff, Dr. Moxey & Staff, Dr. Raliegh Butler & Team, Nurses Doctor's Hospital, Private Medical PMH & Ambulance Dept.
Friends may pay their last respects t Demeritte's Funeral Home, Market Street, from 12-6:00 p.m. on Friday & on Saturday at the church from 9:30 a.m. until service time.