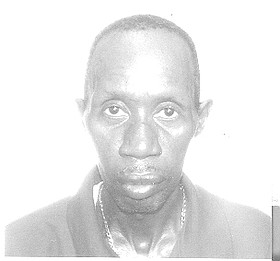 Jeffrey Dwight Gardiner
unknown - unknown
Funeral service for
Jeffrey Dwight Gardiner, 55
a resident of #6 Cottonwood Street, Pinewood Gardens, will be held at Church of God Cathedral, East Street & Lily of the Valley Corner, on Saturday, February 9, 2019 at 11:00 a.m.  Officiating will be Rev. Dr. Carlton J. Stuart, assisted by Rev. Kemuel Gardiner & Min. Sidney Pinder. Interment follows in Southern Cemetery, Cowpen & Spikenard Roads.
His memories will always be cherished by his Mother: Deaconess Yvonne Gardiner; Four Brothers: Andrew Jr. (Kay), Derek (Belinda), Robert Jr. (Denise), and Kemuel (Jolanda) Gardiner; Three Sisters: Jennifer (Leroy) Gardiner-Bannister, Jeanette (Shervin) Green and Shanreikah (Shane) Faustin; Three Uncles: Robert, Franklyn and James (Stephanie) Ferguson; One Aunt: Rosemary Ferguson-Rolle; Two Adopted Aunts: Angela Campbell and Heslyn Fernander; Eight Nephews: Andrew III, Omari, Armani, Judah and Kairos Gardiner, Ramon Forbes, Shervin Jr and Anzio Green; Seven Nieces: Kay-Andra and Zara Gardiner, Roddia Paul, Shakara Green, Brianna, Sharina and Bethany Faustin; Two Grand Nephews: Isaiah Knowles and Breon Ferguson; One Grand Niece: T'Ayjah Faustin. Numerous cousins including: Clifton, Leroy, Arlington Jr., Sidney and Othyniel Pinder, Rose Marie Roberts, Kara Brooks, Jessica and Joshua Ferguson. Special Friends: Stephen Culmer and Olga Clark; his Cottonwood Street and South Beach Estates Families.
Friends may pay their last respects at Demeritte's Funeral Home, Market Street, from 12-6:00 p.m. on Friday & on Saturday at the church from 10:00 a.m. until service time.