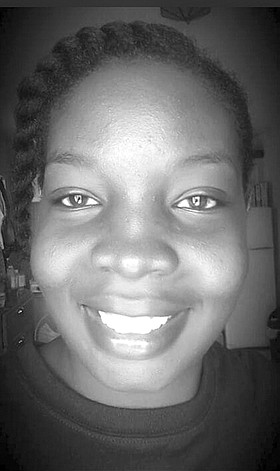 Trishka Antoniece Rozella Humes
unknown - unknown
Funeral service for
Trishka Antoniece Rozella Humes, 28
a resident of  Duncanson Estates, will be held at Remnant Tabernacle of Praise, Carmichael Road, on Saturday, February 9, 2019 at 10:00 a.m.  Officiating will be Rev. Melvin Grant, assisted by other Ministers of the Gospel. Interment follows in Woodlawn Gardens, Soldier Road.
Memories will be cherished by:  Mother: Stacey Clarke; Father: Mark Humes; Step Father: Shane Clarke; Grandfather: Charles Taylor; Grandmothers: Jacqueline Gibson, Viola Mae Sweeting; Sisters: Tristia Aranha, Kiara Bodden, Ashanti Humes; Brother: Mark Humes Jr.; Aunts: Tanya Reckley, Portia Rahming, Barbara and Shirley Mae Taylor, Pandora Joseph, Dianna Sweeting, Angelica Humes; Uncles: Chad Gibson, Elvis Reckley, Glenroy and Trevor Taylor, Dennis Rahming, Clifton Sweeting; Godmother: Samantha  Hamilton, Grandaunts: Laura Duncombe, Pamela Hanson, Nurse Beulah Carroll, Carnetha and Robertha Knowles, Nurse Beulah Carroll, Carnetha and Robertha Knowles, Retired Petty Officer Christine Gibson, Shelia, Pastor Barbara R and Barbara E. Gibson, Jackelyn Fergususon, Patrica, Pamela, Creola, Heather, Zelda, Faydale, and Marsha Humes, Rose, Nancy, and  Kimberly Humes; Granduncles: Dr. Issah Hanson, Michael Carroll, Ian and Darin Knowles, Cyril Gibson, Robert and Don Gibson, Kenneth, David, Donald, Bertrum and Joseph Sweeting, Fred Mckinner, Robert Humes, Reginald Wilson, Earl Thompson, Earlyn Taylor; Cousins: Able Woman Marine Aniska Bonaby, Kingsley, Chania, Jermaine, Jamal, Charise, Dekera, Decarlo, Anthony, Brandon, Bria, Antanae, Rickesh, Mekayden, Ka'my, Jasmine, Jermaine Jr., Jamal Jr, Kayden, Kh'Mayah, Brandon, Miguel, Meleena, Garrett, Cadish, Gayland, Garth, Cynric, Cyrano, Shaquille, Don Jr., Zhavargo, Jessica, Theresa, Cohen, Leading Lady Yolanda Gibson, Robert Jr., Renaldo Gibson, Yindi, Brinae, Andriell, Antonio, Ambrozine, Steve, Kemmy, Jamal, Solomon, David, Donald, Timothy, Joan, Shefield, Coletta, Shezzy, Janet, Dawn, Dennie, Dion, Duro, Donald, Dien, Trevor, Kevin, Bertram, Joyce, Donnell, Joseph, Joel, Esther, Ricardo, Jasmine, Paul, Donna, Clarence, Robert, Damien, Andrew, Dion Humes, Divinia, Patria, Melody, Marvin, Montgomery, Gregory, Calvin, Tammy, Michelle, Kendra, Pete, David Humes, Prya, Petra, Bryanna, Donovan, Kianna, Asia, Jade, Christoff, Davien, Valdez, Amparah, J'Dia Shantavia, Ashley, Kandis, Joshua, Kevin Jr, Connor. Numerous family and friends: Oval Bain and Family, Prophetess Melissa McMinns, Dr. Eslyn Jones and family, Ms. Lathera,Pastor Curlene Roberts and Family, Jeannette Generus, Janite Penn and family,  Prophet Sylvan Farquharson and family, Prophetess Fredricka Minus and family, Pastor Patricia Sweeting, Darlene, Shenique Thurston, Five Porches of Deliverance Center Family, Vice President Office of the University of the Bahamas Family, Pastor Rudolph Cooper and family and Shenique Thurston.
Friends may pay their last respects at Demeritte's Funeral Home, Market Street, from 12-6:00 p.m. on Friday & on Saturday at the church from 9:00 a.m. until service time.