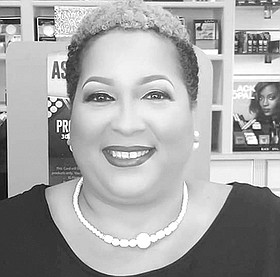 Victoria Alice Darville-Whyms
unknown - unknown
Celebration Service in Recognition, Acknowledgement, Appreciation, of the Legacy and Many Profound Memories of the Late Mrs. Victoria Alice Darville-Whyms age 52 of Christie Avenue, Stapledon Gardens service will be held on Saturday February 9th, 2019 at 10:00am at United Faith Ministries, Fire Trail Road (East). Officiating will be Apostle Phalmon Ferguson assisted by Bishop Buford Curtis and other Ministers of the Gospel. Interment will follow in The Woodlawn Gardens Cemetery, Solider Road.
Her phenomenal spirit and warm-hearted personality will forever linger in the hearts of Her son: Kendido Whyms; Mother: Cynthia Darville; Fiance' : Nelson Ricky Sawyer; Adopted children: Wilshire and Nadia Beneby and Roberto Roberts; Step-sons: Kennali, Kendale, and Kennard Whyms; Brothers: Albert, Alexander, and Leading Seaman Gary Darville; Sisters: Elizabeth Kelly, Alexandria Darville, Myrmidon Mcphee, Kenva Neely; Sisters in law : Shavanna and Indiana Darville; Uncles: Henry L. Rolle, Joseph Roberts, James Darville, Percival Johnson; Aunts: Ethel Mae Moss, Roberta Roberts, Christine Rolle, Dorothy Johnson, Carolyn and Pandora Darville, Sharon Rolle, Maxine Roberts; Grand-uncle: Milton Saunders; Nephews: Seth Mather, Wilfred, Willis and K'trell Kelly, Able seamen Ashton Darville Tylor, James Jr, Robert, Albert Jr., and Ali Darville, Travis Meadows, and Yori Carrol , Danmari Fowler; Nieces: Alexe's Black, Santebra Kelly, Lavette, Indira and Hanna Darville , Casiea and Aliciea Greene, Myrkeeva and A'rianne Johnson , Josette Mcphee, Sasha Taylor; Grandchildren: Empress Nakria and Kamari Roberts, Mahkai ,Wilshire, Malik, Maison Malayah and Mateo Beneby; Grandnephews: Tamico Hamilton, Alex & Gary Black Jr., Julian Taylor Jr.; Grandnieces: Orianna Kelly, Skylar Marie Darville, Tajah & Summer Taylor. Godchildren: Kava Mackey, Antanae Adams, Anderze Grant, Kenneth Darville, Kenso Beneby; Cousins: Janet, Kathy, Junamae , Laurae, Laurice, Kayleaser, Karen, Horenst, Donette, Chamell, Joevashka, Thomisaine, Cassandra and Andre Roberts, Onasis, Odino and Otis Darville Corey, Kimberly Mashel and Braiden Darville, Vessy Neisha Joevanna and Vonate Thompson, Dakota and Gewel, Onan, Henry, Marvin, Donald and Christopher Rolle, Zella Symonette Maxine, Patricia, Dretrex and Dick Brown, Ruthemae Williams , Sylven Mario and Nado Roberts; Valerie Pecentie; Joseph, Joneiska, Cristoff, and Chineska Roberts, Thomanika, Keishana, Nicola, and Edwina, Garcia & Alvin Cash Jr., Kathier, Kyien, Zephia, Lynette, Collie, Peterson, Moss, and Ferguson Families ; Other Relatives and Friends Including: Kenneth Whyms, Antione Roker, Deidre Adderley; Brianique Capron, Wildred Kelly Sr., Dwayne Ferguson, Obie Wilchombe, Christopher Roberts, Lillian Taylor, Carla Mejias, Olivia, Riche, Ieasha, Rickey Jr, Ricardo, and Riche Sawyer; Sebas Bastian, Adrian Fox, Adrianna Fox, Alia Sands, Dirk Simmons, Antionette Lotmore and the Management and Staff of Island Luck and Ultra Games; Anthony Miller, Stuart Bowe, Gene Albury, Mario Smith, Louise Benette, Christopher Wilchombe, Quincy Coakley, Gerard Rolle, Valentino Laing, Damien Hall, Tracy Carey, Marva Morrison, Blanche Sears, Cheryl & Judith Thompson, Donna Higgs, Inga Thompson, Taron Wallace, Clarice Knowles, Hilda Cartwright, Ruth Smith, Glenroy Pratt; Nurse Linda Mcphee; Nurse Kendra Adderley; Apostle Phalmon and Lady Sophia Ferguson and the family of United Faith Ministries; Members of The 40 days of Prayer Small Group; Dr. Hallanday; Dr. R.Butler; Dr. Bowe, Dr. Regall, and Staff of PMH Private Medical, Gynae Ward, and Oncology; Marsha Thompson; Malvina Wallace; Trevor & Sheryl Sturrup, Tomar Higgs, Patrice Fox, Kara Neely; Pastor Chester Thomas; Sister Bless Miller and the family of Fresh Anointed Ministries; Judy Neely Thompson; Patrice Homer; Dianne Neely, Duke Davis, Richard & Lavone Percentie; Larry & Chad Cleare; Michael & Wayde Higgs, Anita Martin, Marion Mcphee, Michael Johnson, Troy Higgs, Peter Deveaux Isaacs, Prince Timothy, the Roberts Family, Percentie and Duncombe Family, Ilraice Ifill and the Harbour Island community.
Relatives and friends may pay their last respects at FOR THE BEST….SERENITY FUNERAL HOME AND CREMATORIUM #153 BAILLOU HILL ROAD (DIRECTLY OPPOSITE B.E.C) ON FRIDAY FROM 12:00NOON to 5:00PM AND AT THE CHURCH ON SATURDAY FROM 8:30AM UNTIL SERVICE TIME.
"WHERE THE NAME IS SERVICE AND YOUR LOVED ONE IS OURS."