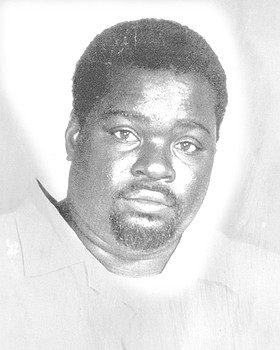 HOLLAND "POO-CHEST, BLACKBOY" IVAN ROLLE JR
unknown - unknown
HOLLAND IVAN ROLLE JR.
"POO-CHEST, BLACKBOY"
age 50 years of Mt. Thompson, Exuma will be held on Saturday, 16th. February, 2019 at 11:00 a.m. at Mount Hermon Union Baptist Church, Mt. Thompson, Exuma, Bahamas. Officiating will be Rev. Garth E. Rolle assisted by Rev. Dr. Glendon E. Rolle LLB and other Ministers of the gospel. Interment will follow in the Public Cemetery, Mt. Thompson, Exuma, Bahamas.
Loving and fond memories will always linger in the hearts of his Wife: Hannah "Rose" Rolle, Children: Shkobe and Hayland Rolle, Father: Holland "Papa George" Rolle, Sr., Mother: Francina "Fanny" Rolle, Sisters: Patricia Hamilton, Violet Brown, Yvette Rolle, Brothers: Chief Petty Officer (Capt.) Lincoln, Eugene and Demiko Rolle, Stepsons: Ricardo, Rage & Brmonta Rolle, Mother-in-law:  Florance Humes, Brothers-in-laws: Frederick Hamilton, Edwin, Lincoln, Pat, Garfield, Cadwell, Clinton, Felton, Martin, Anthony & Hank Rolle of Leesberg, Florida, Sisters-in-laws:  Chara, Elean, Mod, Cindy, Castina & Karen Rolle, Nieces: Rashimah (Samuel), Gaynell (Diego), Lacoya (Kyle), Bralinca, Brittney, Lyniesha, Gabriel, Myia, Khylie, Jade, Bria, Gardina, Camryn, Cierra, Camila, Rickera, Brittny, Elea, Kera, Martinique, Shanny and Bianca, Nephews: Dino, Shaquille, Rashawn, Edward Jr, Demiko Jr, Brandon, Jamal, Karnardo, Martin Jr, Sanchez, Reggie, Tarvis, Amri, Jaran, and Juvantae, Grandnieces:  Gabrielle Rolle & Jonique Edwards, Grandnephew:  Valdez Godet, Uncles:  Able Michael Sr., Gary V. Lord Rolle (Lady Dianne Rolle), Kendal (Dianne), Gregory (Barbara), Henry, Sgt. 1244 Kenneth Barr and Don Barr, Principle Lin. Coakley Sr High School, Aunts: Ethlyn Nixon, Jeline (Sonny) Laing, Petral Lok and Natasha Barr, Great Grand Mother:  Mother Adline Rolle, Grandaunts:  Gwendolyn Brice, Dr. Clarice Ingraham & Alicia Thompson (Newton), Granduncles:  Minister Ivan (Clementene), of Flordia, Elder Amos ( Rev. Pauline), Benjamin (Linda), Rev. Levi (Nurse Laura) and Lessiah Rolle – Attorney at law, (Nurse Melony), and Cleveland Stuart, Cousins: (Barr) Brian (Marissa) of Pennsylvania, Bernadette, Inspector Livingstone Barr II, Lynden, Deneko, Mohica, Myncharhi (Vincent), Owen (Arianne), Praquel (Simon), Terrence (Nadia), Monique, Kadijhra, Nicarnor (Kayanna), Desiree, Lauretta. Felton, Kendia, Corrections Officer Keeann, Corrections Officer Kea, Able Seaman Bernard Barr, Samantha, Tangi, Benton, Henricka, Mathew, Ethan, Kenneth Jr, Brandi and Cannan; (Rolle) Michelle (Abby) Mckenzie, Petty Officer Gary V. Rolle Jr., Rev. Dr. Glendon E. Rolle LLB, Glendina, Tannzania, Dwyane, Alveras "Big Al",   Lisa, Patrice, Michael, Sharmaine, Sherelle, Stacy, Phyllis, Travis, Rodney, Carl Jr, Lavar, Ryan and Michelle Mckenzie, Jermika, Geo and  Jamal   Rolle, Other Loving Family and Friends including:  Descendants of Papa Dobbie and Mama Dell; Decedents of Henry William Smith, Descendants of Rev. Cephas N. Rolle,  Descendants of the Rolle, Barr, Curtis, Clarke, Sears, Brice, and Humes; Anthony Ferguson Commissioner of Police Royal Bahamas Police Force and family, Edison Bruce and Family, Helen Ferguson and Family; Annual (Juila), Faydora, Mildred, Isadora, Betty, Cheryl and Annie, Cleora, Agnes, Rose, Hartmon, Eric and Gretel;  Rev. Cedric Smith and Family, Lizze Rolle and Family,  Namoi Rolle and Family, Nurse Lydia Rolle and Family, Rev. Garth Rolle and Family the Mt. Herman Union Baptist Church Family; Rev. Huther Rolle and Family; Jimmy ang Gayle Davis and FamilyThe entire Exuma Community especially Mt. Thompson and Ramsey; Management & Staff of Gordon's Trucking; Mailboat Management and Staff, Grand Isles Resort Management and Staff; Zion Yamacraw Baptist Church Family; PMH HR/Training and Medical Departments; Prince Hall Masonic Lodge Family; Chester Cooper M.P and Family; Royal Bahamas Defense Force; Petty Officer Rowena Rolle; Special friends: Norman Gordon, Nad Thompson, Craig Taylor and Freeman Wright and numerous friends and family too many to mention.
Friends may pay their last respects at Newbold Brother's Chapel on Palmetto Avenue and Acklins Street on Thursday 14th February, between the hours of 9am until 5pm and on Friday 15th February, 2019 from 12 noon until service time on Saturday 16th February, 2019 at Mt. Hermon Union Baptist church, Mt. Thompson, Exuma. 
*A pre-Wake Service will be held at 7:30pm on Friday 15th February, 2019 at Ebenezer Mission Baptist Church, Mt. Thompson, Exuma.*
Funeral Arrangements are being handle by  House of Paradise Mortuary.