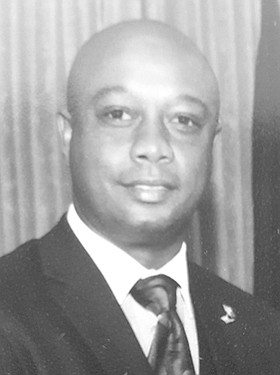 Mario Jermaine Knowles
unknown - unknown
Funeral Service for Mario Jermaine Knowles age 44 of Cassandra Close who died on January 31, 2019 will be held on Friday, February 15, 2019 at 2:00 p.m. at St. Joseph's Catholic Church, Boyd Road. Officiating will be Monsignor Alfred C. Culmer assisted by Deacon Peter Jones.
Interment will follow in the Catholic Cemetery, Tyler Street.
 
Left to cherish Mario's memories are his Beloved Mother: Maria Victoria Knowles; Grandmother, Muriel Holmes; Grandaunt, Mae Scott; Adopted Brothers, Patrick Huyler, J'Ramando Horton, and Marvin Rolle; Aunts, Deborah Clarke and Rd. Nelson Clarke, Andrea Bain and George Bain, Myra Rodgers and Jackie Rodgers, Idell Hanna, Tezel Whitfield, Eleanor Bullard;  Adopted Aunts, Julia Burnside and Family, Hatty Brown and Family, Sharon Ferguson and Family, Veronica Cleare, Bernita Clarke and Family, Linda Adderly and Family, Wendy Cooper and Family, Uncle and Spouse: James and Martha Rolle; Godmother, Cestina Ferguson; Godchildren,  Felicia Clarke, and James Johnson and numerous other Godchildren; Cousins,  Marvin, Patrice Armbrister, Omar, Omar Bain Jr., Lynden, Ricky Bain, Mesha and Vacarro Cooper, Mychaella Davis, Jamyren Rodgers, Clamico, Malike, and Kyden Johnson, Tamika Horton, Omanico, Shanico, Omaya, Omanica, Omake Low, Trevor Bethel Jr., Nardo, Radisha, Narado Knowles Jr., Delano Whitfield, Natasha Strachan, Phillipa, Philip , and Sean Cox, Jackson and Sandra Rolle;  Friends,  Leah Williams, Mrs. Zella Sturrup, Shaiqua Clarke, Stefan Rahming and family, Clayton Hepburn, Wingolette Rolle, Nigel Brown and Family, Peter Williams, Chancey Brown, Gweneth Barr and family, Stephanie Forbes& Family, Laverne Bostwick & Family, Tina Knowles & Family, Daphne & Eloie Huyler, Dwight Allen; Judicial Dignitaries:  Acting Chief Justice Jon Isaac, Justice Bernard Turner, Justice Ian Winder, Justice Indira Charles, Justice Keith Thompson, Justice Donna Newton, Justice Diane Stewart, Justice Carolita Bethell, Justice Guillimena Archer-Minnis, Justice Andrew Forbes, Justice Deborah Fraser, Justice Renae McKay, Justice Cheryl Grant Thompson, Justice Gregory Hilton, Justice Estelle Gray Evans, Magistrate Dervy Ferguson, Registrar Camille Darville Gomez, Deputy Registrar Carol Misiewicz, Deputy Registrar Edmund Turner, and Deputy Registrar Constance Delancey;   Colleagues, Samantha Butterfield, Andy Saunders, Thomas Grant, Nolan Scavella, Jermaine Dames, Ricardo Russell, Wayne Duncombe, Daval Higgs, The Probate Department Staff, the Entire Supreme Court Staff and the Neighbors, Cassandra Close, Carmichael Road.
Viewing will be held in the Legacy Suite of Vaughn O. Jones Memorial Center, Mt. Royal Ave. and Talbot Street on Thursday (TODAY) from 12:00 noon to 5:00 p.m. and on Friday from 10:00 a.m. to 12:00 noon and at the Church from 1:00 p.m. until service time.