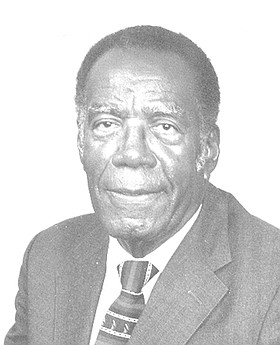 Bishop Joseph M Swann
unknown - unknown
A Memorial Service for
Bishop Joseph M. Swann, 91
a resident of Stapledon Gardens, will be held on Thursday, January 3rd  at 7:00 PM at The Church of God of Prophecy, Community At Heart Tabernacle, Coral Road, Freeport, Grand Bahama. Officiating will be Bishop George Thompson, Bishop Rudolph Arthur & other Ministers of the Gospel.


Funeral service for Bishop Joseph M. Swann, 91 yrs., a resident of Stapledon Gardens, who died on December 15th will be held at The Church of God of Prophecy, East Street Tabernacle on Saturday, January 5th at 10:00 a.m.  Officiating will be Bishop Dr. Franklin M. Ferguson and Bishop Rudolph Arthur, assisted by other members of the Clergy. Interment will be in the Woodlawn Memorial Gardens, Soldier Road.
He is survived by:
Wife: Roselyn Swann
 
Children: Lera (Laurence) Smith, Bishop Ghaly (Angela) Swann, Rosetta (Charles) Robinson, Deacon Joseph Jr. (Mary), Michael (Lillisbelle), George (Sharon), Rufus (Dorothy) Swann, Jessica (Zin) Hawkins, Melvin (Sophie) Swann, and Francene (Edward Jr.) Virgil.
 
Grandchildren:  Kymra Robinson, Annka (Devaughn) O'Brien, Miquelle (Jamal) Nairn, Le'Keisha (Henry) Terrell, Ghaly II (Natasha), Joseph III, Joshua, Angelo, Ghalysa, Athalia, Melissa, Megan, Allie Swann, Edneka and Edward Virgil, Donahue (Cutell) Adderley, Onassis Johnson, Melanie and Christopher Smith.
 
 
Great-grandchildren: Janae Thompson, Jaliah Nairn, Takiyah, Tianna, and Tahj-Hailey Swann., Kamran and Jehan Raji,
 
Brother: Clifford Swann
 
 Sisters: Leo Palmer, Theresa and Cecelia Handfield, Jane Parker.
 
Brothers-in-law: Willis and Nathan Handfield, and William Parker.
 
Sisters-in-law: Herma Swann and Delores Lightbourne.
 
Nieces and Nephews: Elaine Cartwright, Vera (Dazel) Bailey, Samuel (Helen) Swann Jr.,  Bethsheba (Robert) Cleare, George E. (Carolyn) Swann, Bernice Cean, Margaret Bruno, Wendal (Christine), Willette (Susan), Brian (Maryland), Oliver (Jenette) and Kay (Peter) Stubbs, Louise (Henry) Williams, Zenneth (Charles) Palmer, Edith (Ron) Crum, Maxine Swann, Barbara (David) Ferguson, Brenda Jenoure, Paula Smith, Philip (Heather), Jacqueline, Madge and Dale (Tonya) Swann, Cassandra, Douglas (Lynette) and Leonard Swann, Alvin Jr. (Michelle), Edwin (Cynthia), David (Lisa), Douglas, Dr. Phillip E. (Leslyn), Samuel E. (Roshell), Nathan and Emily Swann, Norman Lightbourne, Rev.  McPherson (Dimple) Duncanson, Pauline Forbes, Bishop Enos (Evelyn) and Minid Gardiner, Leo Jolly, Myrtis Roberts, Cecelia (Benjamin) Forbes, Delores (Sam) Francis, Maxwell (Evelyn), Howard  (Verna), Lincoln (Lucille) and Kenneth Grant, Kenneth (Gwen) and Benton "Mack" (Olivia) Handfield,, Cecelia (Basil Sr.) Butler, Janette (Lynden) Hall, Dr. Dorothy and Pamela Handfield, Courtney Swann, Yvonne McGee, Llewellyn (Roslyn) Astwood, Cynthia (Alfred) Taylor, Perry (Stephanie) and Timothy Jr. (Linda) Lightbourne, and Beverley (Al) Rolle.
 
Numerous grand and great-grand nieces and nephews.
 
Extended (Adopted) Family:  Children of the late Edmund and Logetha Rigby (Rev'd Edmund, Franklyn and   Karen Rigby, Eulease Beneby); Children of the late Julius and Cleomie Cox (Felton and Julius Cox); Children of the late Robert and Hattie Johnson (Dedreanna Bain, Jacqueline Clarke, Patsy Forbes, Ruby Dean, Veronica Bowe, Joseph Johnson, Lydia Miller, Dianne Coverley, Cleo Pratt, Melvern Davis and Bernadette Burrows; family of the late Bishop Solomon Humes; Bishop Clarence Williams, Pastor Leroy Lightbourne, Theo Farquharson, George Henfield, Danny Wilson, Inell Williams, Dennis and Pearl Hall, Bishop Caleb and Elmira Evans., and Lowell J. Mortimer, OBE.
 
Cousins: Kathleen Jones, Lorraine Moss, Lozetta Stubbs, Alfred (Angela) Phillips, Prince Phillips, George, Gershum, Eugene, and Oriel Swann, Roseanne Minnis, Sandra Curry, Peggy Hamilton, Ethelmae Clark, Hon. Washington Missick, Hon. Michael Missick, Dr. Lofton Missick, Gloria and Philip Bethel, Maxine Bolden, Maurice Missick,  Jeremy Swann, Elaine Swann,  Felix Walkine, Beatrice Henfield, Isula Henfield, Dennis Henfield, Darville "Sonny" Walkine, Emerald Lightbourn, Fr. Crosley Walkine, Fr. Dr. Roland Hamilton, Aphrodite Cooper (Bishop Uzziah), Isabella Harris, Gertrude Walkine, Pamela, Barton and Kim Duncanson, James and Leo Missick, Cynthia (Alexander) Swann, Bishop Clifford Handfield, Isadora Burrows, Descendants of the late: Margaret Phillips and Frank Green, Nathaniel Phillips, Florence Missick, David James Phillips, Patience and William Handfield, Melvina and Walter Jones, Phatima and Robert Forbes, Eliza and James A. Hamilton, Jonathan and Bernice Jones, Martha Handfield and John C. Gardiner, Ilene and George Astwood.
        
Other relatives and friends including:
Bishop Brice H. Thompson, Bishop Dr. Franklin M. Ferguson, pastors and members of the Churches of God of Prophecy throughout the Bahamas, particularly, the Districts of Grand Bahama, Abaco, North Andros and New Providence; management and staff of Doctors Hospital, Oncology Consultants, Bahamas Foot Centre, and Mortimer and Co.; communities of Pine Ridge, Riding Point, Eight Mile Rock, Lake City, Spring City, Owens Town, Conch Sound, Mastic Point, Morgan's Bluff and Stapledon Gardens; the Swann, Lightbourne, Phillips, Missick, Hamilton, Forbes, Outten families and many others too numerous to mention.
Friends may pay their last respect at Demeritte's Funeral Home, Market Street, on Friday from 10:00 A.M. to 6:00 P.M and on Saturday at the church, from 8:30 AM until service time.