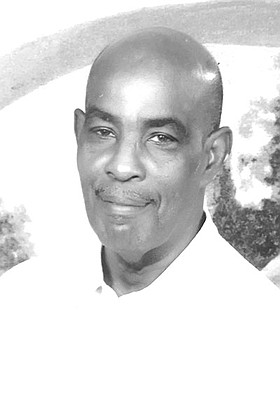 ANDREW MORRISON
unknown - unknown
Funeral Service for the late MR. ANDREW MORRISON age 66 years of Sapodilla Boulevard, Pinewood Gardens will be held on Friday, January 11th, 2019 at 11:00 a.m. at Bethel Baptist Church, Meeting Street. Officiating will be Pastor Timothy Steward assisted by other Ministers of the Gospel. Interment will follow in Lakeview Memorial Gardens, John F. Kennedy Drive and Gladstone Road.
Andrew was predeceased by his Mother: Cleomi Ferguson: Father: Gladstone Morrison; Siblings: Andrea and Franklyn; Father in law: Anthony Bell.
Left to mourn his passing and treasure his memories are his Loving Wife of 29 years: Marva Bell-Morrison; Dedicated daughters: Sophia & Racquel Morrison, Candace Bethel and Brickell Rolle; Sons-In –Law: Carlos Bethel, Lavarse Glinton Sr. & Gary Rolle Jr.; Grandchildren: Nathan & Noah Bethel, Lavarse Jr, & Azaria Glinton and Gabe Rolle; Sisters: Phillippa Ferguson & Bernadette Woodside; Brothers: Whitfield, Phillip and Charles Ferguson; Mother-in- Law: Patricia Bell; Sisters-in Law: Vanria Prosper, Kim Stuart, Sophia Moss, Natasha, Clara & Christine Bell, Kayla & Georgia Ferguson and Marva Smith; Brothers-in-Law: Anthony, Keith & Shane Bell, Lloyd Prosper and Carlton Stuart and Wesley Woodside; Aunts and Uncles: Portia & Cessel Taylor, Faith Pennerman, Andrea & Dr. Moulton Keane, Pam, Barry & Stephanie Wilson, Claudette, Gladstone, Godfrey & Monalisa and Keith McAlpine, Otto & Marilyn McLounder, Peggy Strachan, Gregory Rox, Beatrice & Wellington Ferguson, Marilyn & Anthony Moss, Donna Rolle, Berthamae Ferguson and Lydiabell Adderley; Nieces & Nephews: Tamika & Amy Prosper, Lisa & Terell Young, Stacy & Saletheil Dean, Perriette Kemp, Preston & Tavaris Moss, Gabrielle Kelson, Sherika Barr, Keith Jr., Dominic, Nicholas, Roya, Angel, Leander Jr., Shane Jr., Ariana & Drew Bell, Herbert Ferguson Jr., Carla Stuart, Brittney & Jay Saunders, Nicolette & Marlin Farrington, Sonia & Clifford Sands, Monique, Charles Ferguson Jr. & Kaelyn Ferguson, Samantha & Noel Farquharson, Sonobia & Michael Smith, Lesley and Westel Woodside, Tony Colebrooke, Terrance & Mavis Moss, Shimon & Kishmir Young; Grandnieces & Grandnephews: Nickara & Neveah Farrington, Clishae Sands, Shaneil Fernander, Mickell Smith, Kaliyah Bain, Tamia Moss, Jarae Pierre, Khoe'l Johnson, Antonia, Tamara & Christelle Colebrooke, Jewel Dean, Kasi Parouge, Ariel Moss, Violet-Rose Saunders, Leo and Lando Poitier and Malachi & Dillon Young, Neko, Nickolas & Nickhail Farrington, Cohen Sands, Kishawn Young, Jackson Davis and Macai Smith; Cousins: Chrystal & Kendrick Hadaway, Iris Collie, Drexel, Tracy, Euneka, Ingrid Gaitor, Faith & Stephen Rolle, Lashonda Leary, Mortiva, Andrew Jr. & Shamiko Pennerman, Lisa & Travis Hart, Laverne & Dwight Charlow, Patrice & Gregory Bodie, Cecily & Pedro Seymour, Tubby & Trevor Taylor, Tamara & Warren Storr, Eltoya & Donovon Higgs, Bradley, Bradia & Vernishka Cash, Pakell Williams, Nicole & Dwayne Van Halen, Michael Keane, Donna, Wayne & Kenny Strachan, Vernon, Indira, Shira, Ottoneka, Eddie & Savannah McLounder, Anetra Bowleg, Barriel & Barell Wilson, Shante, Godfrey Jr., Keishell, Gabriel & Micah McAlpine, Thelma Rolle, Eulie Storr, Barbera & Patrick Munroe, Terecita, Charlene & Eric Fowler, Joanne Knowles, Pauline Ferguson, Alphine & Jerome Wallace, Dorothy & Clyde Ferguson, Rudolph Smith and Wayne Lightbourne; Relatives & Friends: Carnetta Munroe & Family, Sally Fernander, Lorenzo & Janet McKenzie, Gregory & Marilyn Rahming, Mr. & Mrs. Gary Rolle Sr., Tony Black & Family, Joann Adderley & Family, Mark Hall & Family, Pastor Kendyce & Sonia Moss-Moutrie, Randy Knowles & Family, Judith Thompson, The Managers & Staff of Harbourside Front Desk, Harbourside H.R. and Sales and Marketing, Blanche Sears & Family, Helga Knowles & Family, Shantillya Sands, Alexandria Roache, Bertha Adderley & Family, Deveral Ferguson & Family, Dorothy Roberts & Family, Phil & Sandy Wilson, Maurice & Hester Clarke, Mary Rolle & Family, Minerva Butler & Family, Merline Woodside & Family, Cynthia Davis & Family, Cleo, Ingrid and Dennis Brennen, Thomas Forbes & Family, Marverick Moxey & Family, Rose Green & Family, Barbera Marshall, Agnes Allen & Family, Sapodilla Street Family, Dolphin Encounters Famiy, Marcus Francis, Scott Cartwright, Jarron Goddard, Nassau Cruises Ltd. Family, Montagu Gardens Family, Past Employees of Pirate's Cove Holiday Inn, Pastor Timothy & Sharon Stuart & Bethel Baptist Church Family, Father Jay, Deacon Rahming & Holy Family Catholic Church Family, Dr. Herbert Olander, Dr. Darbrielle Hunt-Burrows, Family and Friends of Fox Hill.
If we failed to mention your name, please forgive us, and know that we truly appreciate your love and support.
Viewing will be held in the Celestial Suite at Restview Memorial Mortuary and Crematorium Ltd., Robinson and Soldier Roads on Wednesday from 11:00 a.m. to 6:00 p.m. and at the church on Friday from 9:30 a.m. until service time.