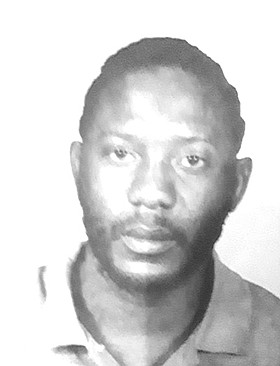 James Alexander Tucker
unknown - unknown
Funeral Service for James Alexander Tucker, Age 44 will be held at First Baptist Church, Market Street and Coconut Grove, Nassau, Bahamas on Friday 5th July, 2019 at 11:00 A.M. Officiating will by Apostle Nelson Strachan Sr. assisted by Dr. Rev. Diana Francis and other Ministers of the Gospel. Interment will follow in Old Trail Cemetery.
Cherished memories will forever live in the hearts of his:
Daughters: Alexshandria Tucker & Shalexis Ferguson, Most Cherished Companion: Elshardi Neymour, Grand-daughter: Branae Smith, Adopted Mother: Debbie Ferguson, Sisters: Merle Rolle, Sandi, Sheila, Vernita & Joycelyn Tucker, Pamela Newbold & Willamae Cunningham, Brothers: Hughie, Charles & Andrew Tucker, Uncles: Edgar Smith (Barbara), Tavares Florida, Wellington Stuart of Grand Bahama; Nieces: Teri Kemp, Aiesha Tucker, Charlese & Chelsee Daxon, Dericka, Jada and Aaliyah Moss, Michaela Burrows, Alexi Bannister, Angelina & Danielle Tucker, Carla & Carlissa Tucker, Crystal Davis, Italia & Candice, Rose, Janet (Audley) Munnings, Gaye (Apostle Ricardo) Dean, Petrona (Clement) Cartwright, Kayla Brown, Rosamond (Christian) Knowles, Nephews: Dario Brown, Damien (Chris) Tucker, Foster Rolle Jr., Chervez & Charles Daxon III, Charles Tucker Jr. & Stepfan Tucker, Jaden Moss, Alexander Bannister Jr, Oral (Ria) Newbold, Christopher Cunningham, Supt. Kent & Marvin Butler, Ricardo (Alison) Fields, Kevin & Kenton Tucker, Carl & Carlton Tucker, Sisters In-law: Ivon, Stephanie & Christine Tucker; Grand Nieces: A'nyah Rolle, Taelyn Kelly, Syriah Daxon, & Zion. Grand Nephews: Dario Brown Jr., Gabe & R'Kai Kemp, Michael & Maalik Storr, Chapelle Rolle & Foster Rolle Jr.; Brothers-In-law: Foster Rolle Sr., Alexander Bannister Sr. and Clifton Fields. Mother of Daughters: Shantel Ferguson.
Other Relatives and Friends including: God-mother: Naomi Deveaux & family, Lorenzo, Theodore, Anthony, Dwight & Franklyn & Roseanne; Sidney, Fritz, Carl, Frank, Prescott, Linda & Sherrine; Menesha, Kenneth & Timothy; Melba & Mavis, Ednamae Blount & Rudy; Barry & Ken Miller, Beryl & Elvis Neymour & Family, Zilpha Kinzer & Family, Michael Burrows, Barbara Rolle & Family, The Daxon Family, The Moss Family, Stephanie Tucker & Family; Apostle Nelson & Prophetess Valleria Strachan & Family, Bishop Hulan Hanna & Family, Arnold Strachan Sr. & Family, Deborah & Toni Mortimer & Family, The Nicoll's Family, Mack Forbes & Family, Shirley Bryant & Family, Althea Hanna & Family, The Bodie Family, The Rolle Family, Alicia "Nikki" Ferguson, Godfrey & Jeanetta Ellis, Odari & Agartha Francis, Raynor, Gerard, Kamala, Steph, Fatty, Pedro, Wesley & Kera, The Entire Soldier Road Crew, The Warwick Hotel Staff, The Reef Atlantis House Keeping Staff, The Fort Fincastle Straw Vendors, Atcun Security & Fireworks Unlimited, T & A Enterprise, Jet Blue, Natural Styles & Bahamar Housekeeping Department & A & E Dept., Princess Margaret Hospital.