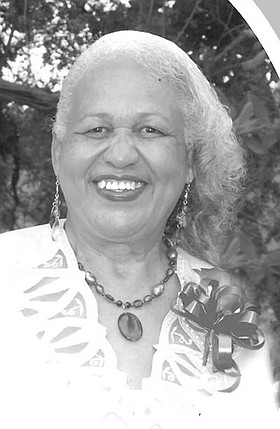 Wallis "Wally" Elizabeth Sargent
unknown - unknown
Funeral service for the late Wallis Elizabeth Sargent affectionately called "Wally" age 78 years of #19 Leeward Road, Imperial Park will be held on Saturday, June 8th, 2019 at 10:00 a.m. at St. Barnabas Anglican Church, Baillou Hill and Wulff Roads. Officiating will be Canon Basil assisted by Father Donald Kerr. Interment will follow Western Cemetery, Nassau Street.
Precious memories will remain in the hearts of her one daughter Alison Sargent and four sons Benedict, Kent, Marlon & Mars Sargent; Daughters in Law: Irgentina, Shenique, & Shalee Sargent; Grandchildren: Terea & Kerio Knowles, Yocomica & Robert Bethel, Terevia Davis, Benedict II, Neeko, Marlon II, Sebastian, Monica, Angel, Lacey, Shekinah, Marty, Jayde, Mckail & Makai Sargent, Shaquille Powell & Katavia Balfour; Great Grandchildren: Lauren & Gabrielle Knowles; Rhameko Butler, Rhamia, Rhamon, Rhamelo & Rhamiya Bethel; Cyron & Kitai Tillman; Treasure Sargent, Dheranaye, Dherad II & Dheraya Taylor; Marlon III, Sebastian II & Mariah Sargent; Sisters & Brothers: Regina & Phillip Huyler, Dorothy & Craig Miller, Claudia & William Knowles, Joseph Cumberbatch, Paul & Sybilene Cumberbath, Basil & Thelma Cumberbatch, Samuel & Jerry Cumberbatch & Kenneth, & Judith Cumberbatch, Brother & Sister-in-Laws: George Albury, Eunice Sargent, Pastor Edna Lopez, Ester, Stephanie & Juliet Sargent; Nieces & Nephews: Lisa Huyler, Phillip II, Phillipa, Antonio & Tamika Huyler, Racquel Farrington, William & Symphony Knowles II and Jonathon & Amy Knowles, Kanya & Corey Lockhart, Camilla & Mario Dean, Krishnoutie & Sheldon Moore, Shoshana & Audrin Pennerman, Kai & Cara Miller; Nadene & Stanford Charlton, Shane & Kenris Albury, Quintin & Ann Albury, Rick & Sherolyn Albury, Kenneth II & Chenique Cumberbatch, Lynette & Collin Thompson, Valerie & Delano Archer, Charmaine & Donahue Sasso Jr. Trevor & Sandrene Cumberbatch, Paul & Starla Cumberbatch II, Peter Cumberbatch, Sherilyn & Lamond Bastian, Julian & Antoinette Cumberbatch, Juliet & Jeff Cooper, Joan & Lionel Dobson, Brasil Cumberbatch, Stan & Giselle Cumberbatch, Nyoshi Bourne, Samuel II, Cameron & Ramon Cumberbatch, Jasmine & Keno Mullings & Sjuina & David Arnold, Janice, Iva, Sandra, Chanell, Ester, Grace, Trevor, John & Alvin Green, Vernon & Calvin Lopez. Many other friends and relatives including: Darren Smith, Terrence Cartwright, Nickia Sargent, Bethels, Heasties, Pinders, Saunders, Musgroves, Darvilles, and the Barrs; Special Thanks to Dr. Butler, Dr. Halliday and the entire oncology team., Dr. Phillip Laramore and also Reverend Mrs. Angela Bosfield Palacious, Canon Basil Tynes, & Father Donald Kerr and all of the St Barnabas family and other relatives and friends too numerous to mention.
Viewing will be held in the Irenic Suite at Restview Memorial Mortuary and Crematorium Ltd., Robinson and Soldier Roads on Thursday (TODAY) from 10:00 a.m. to 6:00 p.m. and at the church on Saturday from 8:30 a.m. until service time.