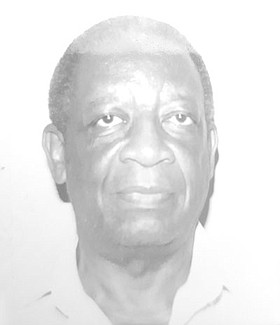 Basil Arthur Rolle
unknown - unknown
Funeral Service for Basil Arthur Rolle age 73 of Rugby Drive who died on February 17, 2019 will be held on Friday March 1, 2019 at 11:00 a.m. at Bahamas Christian Fellowship Center, Carmichael Road. Officiating will be Apostle Paul J. Butler assisted by Other Ministers. Cremation Was Held.
He is survived by his wife, Marilyn Rolle; his children, Antone Rolle of Boca Raton, Florida, Alaric Rolle of Austin, Texas and Denesia and Sean Rolle of Nassau; step children, Zhavago, Hashean, Tanya and Raquel Lockhart; daughters-in-law, Pamela Rolle of Boca Raton, Florida and Jackie Rolle; his sister, Antionette Rolle; brother-in-law, Sam Rolle; aunt, Mary Stubbs of Houston, Texas; grandchildren, McKayla, Zachary, Denesio and Alarick Rolle Jr. and Mark Wilkinson and Shanell Rolle; nieces and nephews including: Janice, Mandy, Asley, Erica, Phillippa and Shanique Fernander, Craig, Dwight, Richard, Terry, Frank, and Devon Rolle, Philip, Kenny, Narado and PJ Fernander; cousins, Marsha Stubbs-McClean and Donna Stubbs –Michael of Houston, Texas; other relatives and friends including: Mr. and Mrs. Bowe, Mrs. Johnson, Deanna Marshall, Agatha Dean, Caretaker, Beverley McCoy, Delores Wallace, Anna Dorsett, Mr. and Mrs. Damien Flowers, Dor, Kim and Frederick Wilson, Steven, Mr. Carroll, Mary Dorsett, Nina and Charles Dean, Pearlene Whylly, Auntie Phe and Pat, Vernita Symonette, Lesia Stubbs, Bahamas Christian Fellowship Center Family and the neighbors and friends of Rugby Drive, Winton Estates.
Friends and Family wishing to sign the book of condolences can do so at Vaughn O. Jones Memorial Center, Mt. Royal Ave. and Talbot Street on Thursday from 12:00 noon to 5:00 p.m.
Arrangements are being handled by Vaughn O. Jones Memorial Center.