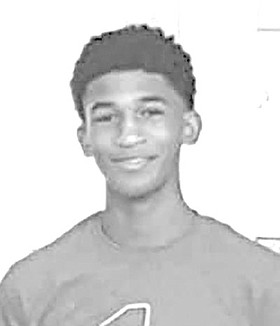 Bernard "Nardo" Antonio Saunders
unknown - unknown
Funeral Service for Bernard Antonio Saunders age 17 affectionately called "Nardo" a resident of Isabella Boulevard Marathon Estates, who died Thursday February 28th, will be held 1:00 p.m. Saturday March 16th, 2019 at St. Gregory's The Great Anglican Church Carmichael Road. Rev. Canon S. Sebastian Campbell assisted by Rev. Father Addison Turnquest and Father Harry Wood will officiate and interment will follow in Lakeview Memorial Gardens John F. Kennedy Drive and Carmichael Road.
Precious memories will linger in the hearts of:
His loving mother Arica Dean, Father Bernard Saunders Sr. ;
His Grandparents: Frank & Carolyn Dean;
Sisters: Lakeisha Deveaux, Lakeria Sweeting, Rodesha & Antwnya Saunders;
Brother, Kymani Henfield;
Brother-In-Law: Michael Sweeting Jr.;
Aunts: Clover Carey, Katrina Dean, Charmaine Burrows, Churaine Duncanson, Altrese Woods & Deandra Dean;
Uncles: Clete & Dudley Dean, Hesbond Burrows, Thomas Duncanson, Fabian Carey & Andrew Woods0
Nieces: Sanaj Lewis & Mi'Kayla Sweeting;
Nephew: Shaddai Nesbitt;
Cousins: Triquelle & Kevin Adderley, Justin & Ethan Burrows, Cierra Bain, Brianna & Brandon Duncanson, Tiffany, Dudley Jr., Pretia, Dino & Shaniah, Ravelle & Clethra Dean, Carolyn Major, David & Gabrielle Woods, Decarie, Zahkiya, & Adonis;
Grand Aunts: Elsa Richie, Linda Cartwright, Ceolah, Shirley & Valderine & Althea Turnquest, Lilian Fox, Sherry Smith, Naomi Devaney, Gwen Martinborough & Ruth Johnson, Hazel Turnquest, Viola Taylor, Marsha & Thelma Dean;
Grand Uncles: Rev Ft. Addison Turnquest, Mertland & Roderick Turnquest, Hezekiah Cleso Smith, Bernard Martinborough, Thomas & Cecil Dean of Roses Long Island; Godparents, Melvern Moss, Karine Joseph, Mandrell Stuart, David D'Shaun Cartwright & Lisa Williams;
Other relatives & friends include: Rykarah Rolle, Christopher, Kevano, Marcia, Deborah, Techelle, Janae, Nakaydie, Shaquelle, Aron Jr, Shante', Kamal, Devante', Manessah, Jaarona, Myles, Caleb, D'Erin, Shaquel, Jamel, Davinya, De'ja, Shaquille Nesbitt, Triston Sweeting, Elean Woodside & Family, Alyia Allens, Riche, Miesha, Kriston Simms & Family, Angelo Clarke, Kayreasa Miller & Family, Travania Connoly, Shanice Montague, Antallia Rahming, SashaGay Lovelace, Ashely Culmer & Family, Crystal Brown, Charlain Collins, Ivey Dean, Mr. Duane Deveaux & Family, Kim Clarke & Family, Coach Baker of C. R. Walker Senior High, Dotlean Flowers & family, Sherry Henfield & Family, Chadesse Turnquest, Eric Bain, Ritchie, Sweeting, Turnquest, Major & Dean Family, The Community of South Long Island, Mrs. Eileen Reece, Doramae Rolle, Portia, Sylvia, Rickia, Mr. Phil Duncombe, Anthony Duncombe, Ms. Donna Nottage, Ms. Rebecca Bethel, Management & Staff of Bahamas Food Services, Management & Staff of Caribbean Bottling Company, Mr. Wayne Wilson & Staff of Six N' Four, C. W. Sawyer Primary, H. O . Nash Junior High, C. R. Walker Senior Class of 2018, The University of The Bahamas Staff & Students, Mrs. Darville, Mr. Taylor, Mr. Grant, Alex Turnquest, Mr. King, Sandy Carroll, Bam Automotive, Freedom Farm, Grace Community Church, Remnant Ministries, Ms. Tina Rolle, Cannon Sebastian Campbell & Richard Wood & St. Gregory's Family, Rev. Fr. Atma Budu & Family, and many other relatives & friends too numerous to mention.
Relatives and friends may their last respects at THE CHAPEL OF MEMORIES THE NEW COMMONWEALTH FUNERAL HOME INDEPENDENCE DRIVE Friday from 11:00-6:30 p.m. and at the church Saturday from 11:30 p.m. to service time.