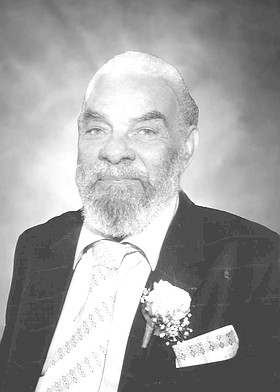 JAMES PRATT
unknown - unknown
JAMES PRATT, 87
Funeral Service will be held at St. Paul's  Baptist Church, Bernard Road, Fox Hill, on March 16, 2019 at 11:00am. Officiating Bishop Rev. Dr. J. Carl Rahming, assisted by other ministers. Interment will follow in Fox Hill Public Cemetery, Bernard Road.
He was predeceased by his eldest son: Rodrick Sidney Pratt.
Left to cherish wonderful memories are: His wife, Patricia Pratt, Children: Janet Hunt (Dawdson), Paulette and Belinda Pratt, Jamie Morris (Verney), Shantell (Ronnie Sr.) and Andrea Smith (Arlington "Ike"), Andrew Pratt, Sophia L. Smith (Harry), James (Audranique), Philip "Patrick" and John Pratt, Garbriel Ferguson (Densill), and Christina Pratt; Grandchildren: Shanell Pratt, Larvette, Cedenio, Liriano, Anisha, and Valerio Rolle, Shuba and Rodrick Pratt, Keithra Toote-Deveaux (Kriston), Shandeisha Pratt, Devonte Butler, Stephon Basden, Timagz'e Thosmpon, Odeisha Rolle, Jarlisa and Jarva Pratt, Richard and Romair Roache, Sharmarc Bastian, Ronnie Jr. and Rodrick Smith, Andrick Wright, Victoria Smith, Andrew Jr., Adrian, Trinity, Deandre and James Clarke, Rashante, Hazel, Sophia, James Jr., Jamyah, Densill Jr. and Danyull Ferguson; Great Grandchildren: Michael and Machello Pratt, Lauren, Deniah, Jasmine, Channa, and Tramecio Rolle, Aubrey Carey, Keithen Dorcent, Marcelous Galloway Jr., Aidyn Toote, Krystia Deveaux, and Egypt C. Ferguson; Adopted Children: Euterpie Pratt-Hepburn, Paulette Douglas-Darling, Ashley Douglas, T'shura Sinclair and Jean Edy Antenord of Miami, Florida; Sister: Joanna Allen; Nieces and Nephews: Sheila and John Pratt (Sister Felicitas), Elease Pratt-Smith, Shirley Cartwright-Gomez, Jelva, Eugenia and Matthias Cartwright, Rudolph Pratt, Margaret Pratt-Major, Kim, Lecona "Leo", and Edward Pratt, Feliciy Pratt-Walker, Alberta Pratt-Clincy, George and Margaret Knowles, Eldridge "Bonnie" Pratt, Maria Martinborough-Darville, Emily Martinborough, Ceolah Major-Turnquest, Elkanah Major, Paulette Major-Cartwright, Carmelita Major-Treco, Toinette Major, Julianna Major-Bullard, Dulcita "Dolly" Martinborough-Ferguson, Francillon, Bernard, Anthony, Cornelius, Joanna, and Nedley Jr. Martinborough, Genevieve Martinborough-Colo, Jacqueline Martinborough-Cooper, Nasha Pratt-Minnis, Nigel Pratt, Carla Pratt-Luna, Miguel, Lavar, David, Peter, Glenroy and Terrance Pratt, Erica Pratt-Kemp, Nicole Pratt-Holly, Margaret Pratt-Swann, Denise Pratt-Bordeau, Pamela Minnis-Smith, Patrick Hanna, Jonathan Pratt, Bernard Shephard, Michael, Maria, Nathaniel, and Kendra Rolle, Grace Pratt-Beneby, Kirk, Matthew, Robert, Raymond, David, Aaron and Joy Darville, Shirley Darville-Russell, Linda Darville-Sawyer, and Barbara Darville-Albury. A host of other relatives too numerous to mention. Special thanks to: The Smith family, Dr. Wendy M. Cash and the entire Evangelistic Temple Church family, Barrington "Dave" Brown, Pastor Finley and the William and Margaret Pratt Family Reunion Committee. 
 
Public Viewing will be held at Vaughn O. Jones Memorial Center, Mount Royal Avenue, on Friday, 15th March, 2019 from 10:00am to 6pm.