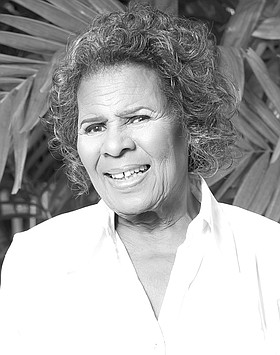 Ruth Mavis Adderley
unknown - unknown
Funeral Service for Ruth Mavis Adderley age 86 years, of the Eastern Road, will be held on Saturday, 16th March, 2019, at10:00 a.m. at Holy Cross Anglican Church, Soldier Road. Officiating will be Rev'd Canon Peter Scott assisted by Rev'd Fr. Travis Fernander and Rev'd Fr. Dwight Bowe. Interment will follow in The Western Cemetery, Nassau Street.
Pre-deceased by her husband Dr. Francis Adderley and brother Harold Daley
Left to cherish her memories are her children: Faye (Mitzi) E. Thompson (Andrew), Francis (Ted) E. A. Adderley (Yoandra), Robyn M. Adderley, Son of the heart Etienne Dupuch III (Leslie), Daughter of the heart Loretta Butler-Turner (Edward); Six Grandchildren: Alexander, Nicholas and Jessica Thompson, Haley and Jade Adderley, Adrian Adderley; Brothers: Noel (Gwendolyn) Daley; Sister: Merita Daley Clinton;
Nieces and Nephews: Dr. Catherine Adderley, Dr. Rosanne Adderley, Paula Adderley, Marva Daley, Michelle (Joshua) Sears, Keith (Vernita) Daley, Sonia Daley, Arlene (Leslie) Hutchinson, Laverne (Winston) Symonette and Tracy (Monique) Daley. Yvonne
Daley, Ricardo Daley, Khristine Wring, Janis Daley, Elizabeth Turner, Edward
(Ted) Turner; Godchildren: Gene Albury, Danielle Knowles, Ann Barnwell-Grayson

Many friends and family members including: Donald Collie, Yvonne Clarke-Jones
and family, Mrs. Phyllis Albury-Garraway (Peter), Mrs. Patricia Treco and family, Dr. John Lunn (Sonia), Dr. Jonathan Rodgers (Patricia), Patricia Rodgers, Emily Rodgers, Mrs. Iris Knowles and family, Mrs. Cypriana Fleischer (Fred), Mrs. Beverly Wallace-Whitfield, Nutella Melnechuk and family, the Blair Bridge Group, the Lockhart, Adderley, Lunn, Rodgers and Dupuch families and Margaret Sedeno Pugh.

Special thanks to: Dr. Kevin Moss and staff, Canon Peter Scott, Father Travis
Fernander, Father Dwight Bowe, the Medical staff of the Princess Margaret
Hospital, Dr. Johnson, Dr. Mark Weech, morning Gullaine Blanford-Bonenfant
and The Holy Cross family.

There will be no viewing

In lieu of flowers, donations may be made to the Holy Cross Good Samaritan
Outreach Program in Loving Memory of Ruth Mavis Adderley.
Friends are welcome to sign the book of condolences at Butlers' Funeral Homes & Crematorium, Ernest and York Streets on Friday 15th March, 2019 from 1:00 p.m. until 5:00 p.m.