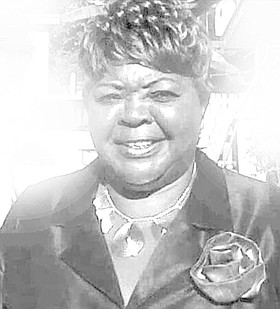 Adrianna Wright
unknown - unknown
Funeral Service for the late Adrianna Wright age 66 years of Abraham Street off St James Road will be held on Saturday at Kemp Road Ministries at 10:00am. Officiating will be Pastor. Ivan F. Butler assisted by other ministers of the gospel. Interment will follow in Lakeview Memorial Gardens.
Left to cherish her fond memories are her
3 sons : Leonard Butler, Mario Clarke, CPL 3023 Danny Wright
 
4 Daughters: Juanita Clarke Brown, Patricia Wright, Joanna Smith, Sparkle Adderley
 
13 Grandsons: Janeel & Leonardo Butler, Tavon, Cardero ,Tario Jr, Sanardo ,Demario Clarke, Kevin Jr & K'Juan Brown, Berlin & Dentro Wright PC4074 ,Danny Wright  Jr, Samuel Wright.
19 Grandaughters: Radeeish ,Kevricka Brown, Kadeeisha ,Tamara, Shamara, Marique,Taranisha, Janae,Tevinque, Maralee, Azaria Clarke ,Damai Smith, Elisha Bell, K'vanaya Adderley ,Danyel, Heavenique Wright, Destinee Wright,Troyanna Tinker, Julia Butler.
 
6 Great GrandDaughters : Andrea ,Carillia,Liyah, Kayshona, Cravonya,Darinque
3 Great Grandsons : Arkiel,Malachi ,Kye'Juan
2 sisters: Peggy Cambridge Roach of Freeport Grand Bahama Florence Sm of Miami, Florida
2 Brother: David Smith and Philip Ferguson
1 Grand uncle: Joseph William
1 son in law : Kevin Brown
1 daughter in Law: Betty Wright
1 Brother in law : Junior Roach
Sisters in law : Coreen Smith, Elder Enamae Wright, Mrs.Ferguson, Francita Brown Ft Lauderdale
8 Nephews : Pastor Fredrick Thompson, Minister Levein Stubbs, Jeramaine Knowles, Nester Smith, Maragret Cambridge,Ottis & David Wright.
12 nieces : Pastor Dellearese Jones, Aretha Thompson,Nicole Ash,Latoya Cooper,Rhonda and Ericka Smith, Emmy, Berth, Anadeldera McIntosh,Rochelle Wright, Louise Storr, Sharon Curry.
23 Great Grand nephews : Fredrick J. ,Dan, Pedrico Thompson, Bristen Ash, Richard Sr.,Ricardo Jones, Evangelist Ivan Thompson, Malik Thompson, Minister Kedar Campbell, Andrew Jr.,Cannon Jr., Christopher, Keshawn, Amarion, Leveine Jr. , Levone Jeramaine Jr., Jamarion,
Sheon,Emitt,Eric, Shelton, Theo Jr.
Great Grand Nieces : Fredricka, Chantell, Lakiesha,Dominique ,Tanica, Shelly,
Branderia , Minister IvrickaThompson, Racquel, Niceesha, Canesha, Nesternique , Ianthae , Katelyn , Shantina, Deneja, Shoniqua,Ta'keiyah, Cathea
 
3 nieces in law : Pastor Karen Thompson,Chiniska Smith, Robertha Stubbs
2 Grandnephews in Law: Lawerence Ash and Cannon Cooper Sr.
 
Grand Nieces in law: Leoniece, Lavette ,Jerricka Thompson and Deanka Jones
 
1 Great Grand Nephew: Theo Jr.
 
Numerous cousins:  Mary ,Majorie ,Donna ,Credric & Edna Family ,Paul and Slyvia Mackey Family, Suzanna ,Vicent & Denise Mackey Family, Wilfred, Shantell & Family, Cecil & Rosalee & Family, Frankie, Emarld & Family,Laura,Lucyann Rolle & Family,Monique, Nicola,Debbieann , Mary ,Kevin , Karon, Lavern, Nieece , Monlisa.
 
 
 
Other relatives and friends including: Pastor Christopher & Ann Russell , Elijah Clarke, Bloverna Rolle , Natasha ,Kizzie, Jewel, Rosa, Dena, Balton ,Ozzie ,Teddy, House Keeping  & Public Area Staff Atlantis Resort, Staff Warwick Hotel,Terry Delancey Virgo Car Rental, Lovely Rolle and Family, Hazel Wilson & Family, Pastor Alvin  & Terry Tucker & Family, Bretram Gray Rolle & Family, Joanna Rolle & Family, The Kemp Family , Johnny Jones, Mark Burrows, Sandiland (PHA) ( SRC) Family, Don, Dave & Tony Marshall , Five Pound Lot family , Pastor Micheal Francois & Family, Emarald Bethel & Family , Francita Munnings &Family,Vanda, Cherniece ,Bettymae Humes, The Children of the late Sandra Russell, Mrs. Pearline & Family, Karen Sands & Family , Pauline Knowles & Family, Jackie Clarke & Family, Ulamae, Melony Rahming  Sharon Hall& Family, Esther Rahming, Sherell Bascom & Family, Gerald Dean, Sharon Curry, Sonya Mackey, Roslyn Curtis, Mr. Dean, Mr. Bodie, Addenscence Ward, Kelly Ward, Jemale Ward, Mrs. Cleo Burnside & Family, Ms. Faye Bascom & Family, Rosemary Musgrove, Mr. Keith Strachan & Family, Prince Johnson & Family, Shawna Fowler &  Family, Barbara Fowler & Family, Nancy Bodie & Family , Julie Forbes & Family, Aniska Lewis & Family, Eleanor Major & Family, Judy Taylor & Family,Troy Tinker & Family.
Relatives and friends may pay their last respect at Evergreen Mortuary located on Collins Ave & 5th Terrace on Friday from 10:00 am to 6:00 pm and again at the church on Saturday from 9:00am until service time