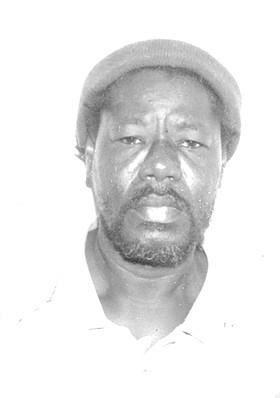 David McPhee
unknown - unknown
Mr. David McPhee, 56
a resident of Douglas Road, Gambier Village, New Providence, Bahamas, will be held on
Saturday, 11th May, 2019 at 11:00 a.m. at Mt. Zion Union Baptist Church, Gambier Village, West Bay Street. Officiating will be Pastor J.
Leslie Rolle, assisted by Deacon Moses
Capron. Interment follows in the Church's Cemetery.
Left to cherish his memories are his Brother: George McPhee; Sisters: Judy Davis, Rose Davis, Deloris Missick; 2 Aunts: Charolette McPhee and Hilda Farrington of New York; 1 Uncle: Jim Fernander; 1 Sister-in-Law: Georgette McPhee; 2 Brothers-in-Law: Marvin Davis and Darren Strachan; 24 Nieces and Nephews: Bronson, Darren, Dwayne, Rudolph, Patrick, Cyril, Rashad, Magarith, Danario, Georgentino, Dameko, Duran, Montez, Garrison, Jessica, Stephanie, Sylvia, Tori, Audrey , Hazel, Tobi, Quintinence, Gabriella, Georgia; Nieces-In-Law: Macey Davis and Laura Taylor; Cousins: Bernice, Monique, Mary, Ellen, Valencia, Beryl, Althia, Sandra, Sherice, Sheniqua, Christine, Anastacia, Hellen, Leon, Arthur, Kenneth, Kevin, Robert, Keith, Samuel, Jen, Tasha, Melinda, Jestina, Michael, Sarah, Eddison, Jefferson, Sally, Mary, Janet, Leonard, Chester, Judy, Hensel, Ricardo, Lavern, Christine, Obadia, Raymon, Stephen, Shem, David and Lillian; Other Relatives and Friends: Alrick and family, Pastor Gladstone and family, Sandra Knowles and family, Lanora Poitier and family, Cynthia Albury and family, Estherlita Mackey and family, Herbert Knowles and family, Michael Hopkin and family, Gladstone Thurston Junior, Naomi Pinder and family, Lythera Roach and family, Katia Ingraham, Vaslencias Huyles and family, Marina Fernasnder, The Rt. Hon. Hubert Minnis and family, Nikita Poitier and family, Neville Seymour and family, Neville Wisdom and family, Laren Rolle, Alexander Fernander and family, Luther Hanna and family, Mural Huyler and family, Nicole Smith and family, Sophia Mackey and family, Melissa Munroe and family, Ryna Culmer and family, Ken Morris and family, Andrew Thurston and family, The Gambier Community Association, The Gambier Clinic, Gambier Primary School, Accident and Emergency at PMH, Rhoda's Place, Pastor Rolle, and family, Mt. Zion Union Baptist Church family, St. Peters Native Baptist Church and family, Patricia Culmer and family, Marvin Davis Jr., Robbie Robinson, Davon Robinson and family, Patrick Adderley and family, Bethamae Lightbourne and family, Barbara Saunders and family, Taxi #199 Vince and family and the entire Gambier Community.
Friends may pay their last respects at Riverside Funeral Chapel, Market Street & Bimini Avenue on Friday, from 10:00 a.m.-5:00 p.m. & on Saturday at the church from 10:00 a.m. until service time.