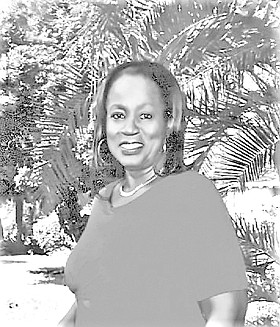 Jennifer Louise Johnson
unknown - unknown
Gem Service of Celebration
For
Jennifer Louise Johnson Age 70 Years of #05 Old Fort Bay Drive, will be held on Saturday, May 11, 2019 at 11am at St. Anne's Anglican Church, Fox Hill Road North. Rev. Hugh Bartlett Jr., assisted by Rev. Willish Johnson will officiate, burial will be in St. Anne's Church Cemetery, Fox Hill Road North.
Jennifer is preceded in death by her:
Maternal Grandmother: Ceva Rolle-Johnson;
Father: Wellington Carol;
Mother: Minerva Louise Johnson;
Sister: Paula Mae Johnson-Hurd;
The Radiance of this "Garnet of A Gem" will always glow in the hearts of her:
Two Daughters: Moneira Munnings and Kenris Albury;
Two Sons: Dr. Harold Munnings Jr. and Shane Albury;
Two Adopted Daughters: Shelly Nairn and Celina Jessica Thompson;
Two Grandsons: Harold Munnings III and Joshua Albury;
Three Granddaughters: Jennifer Munnings, Sari and Skai Albury;
Two Brothers: Anthony Van and Terrance Johnson (Dianne);
Three Sisters: Scieska Burrows (Nelson Sr.), Vernita Trotman (Dwight Rolle) and Lisa Johnson;
Three Nephews: Nelson Burrows Jr. (Apryl), Giovanni Hurd of Texas and Terrance Trotman;
Four Nieces: Waynette Golightly (Monterrio Sr.) of Texas, Tenovia Deveaux (Patrick), Teniesha Trotman and Neliscia Burrows;
Three Uncles: Keith Mason, Oswald and Solomon Ferguson of Miami;
Four Aunts: Mable Mason, Millicent and Virginia Ferguson and Carmetha Smith of Miami, Florida;
Three Grandnephews: Monterrio Jr., Sir Anthony of Arlington, Texas and Dylan Deveaux;
One Grandniece: Imani of Texas;
Numerous Cousins Including: David (Vandalee), Mary, Phillip, John, Francis and James Moss, Renee Hamilton (Joe) Marissa Mason, Alison Rolle (Roger), Komal, Arlene and Darlene Smith, Keitha Clarke (Lyn) of North Carolina, Alvin Smith, Gail Welch (Jake) Sabrina Jackson, Edward and Dedrick Ferguson, Bridgette, Isaac and Kenneth Johnson of Miami Florida;
Devouted Friends and their families: Sandra Walkes, Allison Sealy, Paul Bevans, Mac, Gail Byer and Jacqueline Bourque;
Other Loving Family and Friends Including: Gweneth Munnings, Alice Rolle, Bishop Chadwick L. and Minister Christine James, Father Crosley and Mrs. Walkine, Rev. Johnson, Father Hugh Bartlett and Mrs. Bartlett, St, Anne's Church, Mekaddish Ministries, Christ Church Cathedral Families, Grosvenor Medical Centre, Hon, Phillip Brave Davis, Hon Perry G. Christie, Hon. Glenyis Hanna-Martin and members of the Progressive Liberal Party. 
Special Thanks To: Her Caregiver Ms. Ruela Bale, Windsor Trustees, Caribbean Neurological Services, Mount Vernon Family, N.E.M.S Atlantis Casino family Physicians Dr. Raliegh Butler, Dr. Delton Farquharson, Dr, Theodore Turnquest, Dr. Williamson Chea, Doctors and staff at Doctor's Hospital, Dr. Elisa Krill and the Staff at Mount Sinai Medical Center Miami Beach, Florida. Many other family and friends too numerous to mention.
Visitation will be at "Curtis Memorial Mortuary" #68-B Robinson Road and Fifth Street on Friday, May 10, 2019 from 1pm to 5pm and at St. Anne's Anglican Church, Fox Hill Road North on Saturday, May 11, 2019 from 10am to service time.