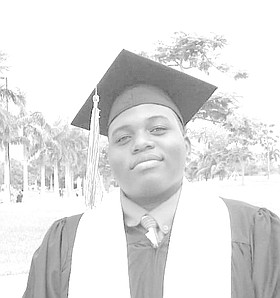 Sean Gibran Smith Jr
unknown - unknown
Funeral service for
Sean Gibran Smith Jr., 19
a resident of Miami Gardens, Florida & formerly of Nashville, Tennessee, will be held at New Covenant Baptist Church, East West Highway, on Saturday, May 11, 2019 at 11:00 a.m.  Officiating will be Rev. Trajean Jadorette. Interment follows in Western Cemetery, Nassau Street.
Sean Jr. was predeceased by his Paternal Grandparents Rev. Dr. William C. Smith and Rev. Merlene Peet-Smith and his uncle Brion D. Smith of North Andros.
Left to cherish his memories are his
Mother: Shantel Smith; Father: Sean Smith Sr.
Grandparents - Oswald Neymour and Catherine Butler
Great Grandparent – Kathleen Butler
Great Great Grandaunt – Maude Pickstock-Fowler of Mastic Point, Andros
Uncles - Drexel and Oswald (Jr.) Neymour, Orson (Yvette) Smith of Freeport, Grand Bahama and William (Portia) McFord
Aunts – Karen K. Butler, Debra Neymour, Crystal Neymour-Evans, Cherkimber Neymour, Chrystal (Byron) Stubbs and Yvette R. Smith Freeport, Grand Bahama, Tamia (Thomas) Carter of Atlanta, Georgia, Edith Cooper
Cousins – Kason (Amber) Moss, Taylor and Scottie Evans, Cydney Armaly, Robyn, Khan, Czar, Sherif, Trae, Rakeem and Jaden Neymour, Kiaro and Tensina Rahming, William and Shayne Stubbs, Chiniqua, Anteko, Cordero, Antonio, Chynna, Aaliyah, Shenea, Shanette and Brianne Smith, Draniqua Butler, Denzel, Kayla and Ethan Carter, William and Tellis McFord.

Grand Uncles – Anthony (Sylvia) Sweeting, Christopher (Desiree) Adderley, Joel Miller, Dane Butler, Arthur (Inez) Peet, Ellis (Vernincha) Peet, William Adderley (Florina deceased)
Grand Aunts – Marie Sumner, Patsy Adderley of Freeport, Grand Bahama, Paulette (Bruce) Beneby, Rev. Delores Butler, Joanne Miller, Dimples Butler of New Jersey, Nadge Butler of Florida, Sylvia (Rev. Fred) Russell, Arimintha Smith, Priscilla Fowler, Diane Beneby, Beverly Smith (Tellis deceased), Sheila Blanch

Godparents – Trajean Jadorette, Vincent and Donella Johnson, Jonathan McMinns, Lucy Johnson, Althera Brown-Colebrook, Delma Roper, Nathan Rolle
Other Relatives and Friends including: Claudina (Rico) Smith & Family of West Palm Beach, FL, Rolanda (Jason) Knowles, Antanice, Andrea and Anthony (Jr) Sweeting, Nickbert Emepue, Wayne Carey Jr., Charmaine Sumner, Doyle Peet (cousin), Henry (H) Murphy, Joel Jr. and Jody Miller, Edna Myers, Bernadetta Burnside, Shonique Miller, Alicia, Antonia, Anastacia and Bruce Jr. Beneby,
Special Thanks to Aleandra Pinder, Trevor Lewis (International Students' Recruitment Officer), Rev. Jeffrey Swain (FMU's Chaplain), Cynthia Curry (FMU's Executive Vice President for Finance and Administration), FMU Bahamian Association Family, T. Nicola McKay (Principal), Shavanna Darville (Vice-Principal) and C. R. Walker Family especially the Class of 2018, the H. O. Nash Junior School Family especially the Class of 2015, the Columbus Primary Family especially the Class of 2012, Christine Williams (Principal), Staff, Parents and students of P.A.C.E. Christian School Family, Christopher A. Roberts, Berean Baptist Church, Carmichael Road, Laron Astwood and the staff of Demeritte's Funeral Home, Wright and Young Funeral Home, Miami, FL, Kendall and Palmento General Hospitals, Miami, FL, Deno Rolle (President), Angela Farrington (Board member) and staff of B.C.P.O.U. Hall, Acting Deputy Commissioner of Police Paul Rolle, PC 2097 Lightbourne, Airport Police Station, Gilbert, Carmichael Road Police Station, Woman Sargent Wallace, Family Liaison Officer (CDU), members of the BAHAMAR Taxi Stand, Contributors of the Go Fund Me account and the Fort Fincastle Community. Other friends and family too numerous to mention. 
Friends may pay their last respects at Demeritte's Funeral Home, Market Street, from 12-6:00 p.m. on Friday & on Saturday at the church from 10:00 a.m. until service time.